The 70th International Astronautical Congress (IAC 2019, Washington, DC) landed on U.S. soil for the first time in 17 years (53rd IAC 2002, Houston) to celebrate man's first steps on the Moon 50 years ago and the latest breakthroughs enabling new sci-fi-like missions back to the lunar surface and beyond.
When the Trump Administration directed NASA to return man to the Moon by 2024, four years ahead of schedule, NASA responded with its Artemis plan — leveraging the best available technologies and programs, corporate/government collaborations, and commercial launch vehicles to make it happen.


Vice President
Mike Pence
The Artemis vision was on full display at IAC 2019, where Vice President Mike Pence opened the annual convention with a renewed call for American leadership in space exploration through cooperation with other nations. "We will use all legal and diplomatic means to create a stable and orderly space environment that drives opportunity, creates prosperity and ensures our security on Earth," he said, speaking to the event's massive international audience.


Jim Bridenstine
"We need international partners. We can all do more when we work together," NASA Administrator Jim Bridenstine said during an IAC panel session pitch aimed at recruiting International Space Station partners to help land humans on the Moon in record time. "If we're accelerating the Moon landing, we are accelerating the Mars landing," which he suggested can be accomplished by 2035.
It will take cooperation among commercial competitors, as well, to turn a lofty plan into reality.


Jeff Bezos
"I am excited to announce that we have put together a national team to go back to the Moon," Blue Origin founder Jeff Bezos told attendees, unveiling plans to work with Lockheed Martin, Northrop Grumman and Draper to develop NASA's lunar lander.
SpaceX aspires to get the company's new Starship spacefaring vehicle to orbit within the next year.


Gwynne Shotwell
"We definitely want to land it on the Moon before 2022," SpaceX President and COO Gwynne Shotwell shared during an interview at IAC. "We want to stage cargo there to make sure that there are resources for the folks that ultimately land on the Moon."
ULA President and CEO Tory Bruno agreed that ambitious initiatives will deliver.


Tory Bruno
"We're going to see that Artemis puts tremendous permanent infrastructure in place around the Moon that is going to enable new and exciting commercial activities on the lunar surface and in cislunar space," Bruno said during an interview with Satnews. "That is going to be the next giant leap for decades to come," he declared, noting technological advancements or "big steps" are being made every day at ULA and across the industry to make space access more efficient and affordable.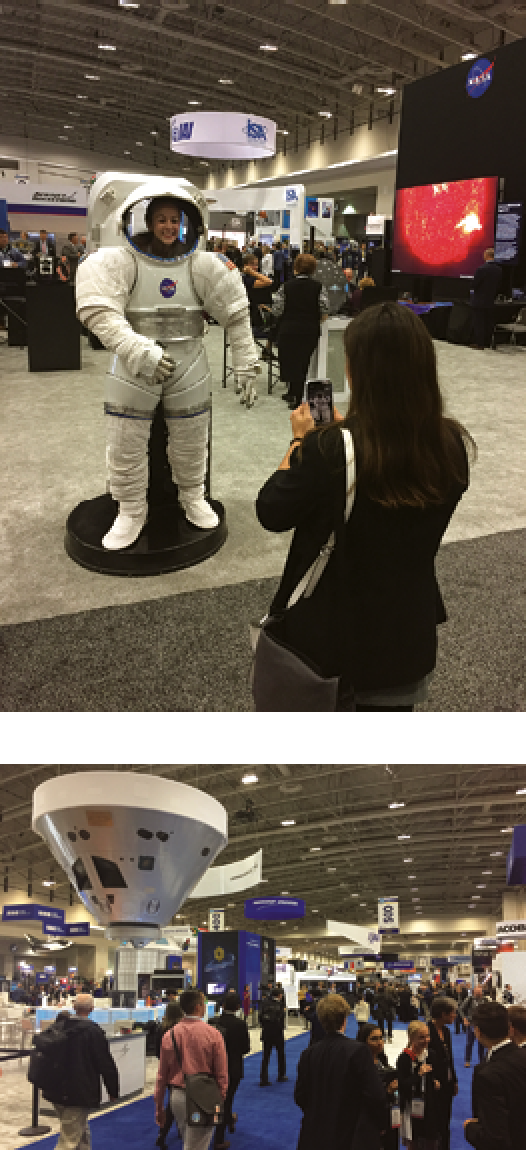 More than 6,000 space professionals and enthusiasts
from around the world attended IAC 2019.
Enabling Easier Access to Space
ULA is gearing up to facilitate a much higher launch frequency both at its rocket factory and on its launch pad 41 at Cape Canaveral. ULA's Centaur 3 upper stage "is a handcrafted high performance work of art with 180,000 welds," said Bruno. "To have our new Centaur 5 built and inspected with robotics, that's pretty cool and affords us much bigger scale."
As ULA transitions from its smaller Atlas rocket to the larger Vulcan Centaur, the company will launch both from the same pad for a few years, starting in 2021 when the first Vulcan Centaur is scheduled to lift Astrobotic's Peregrine lunar lander to the Moon.
"The pad can handle a big rocket like Vulcan and a smaller rocket like Atlas the next day. That took a bit of cleverness," Bruno noted, "We're not aware there's ever been a pad flying two different rockets."
While man's return to the lunar surface, the colonization of the Moon and manned missions to Mars may be the next giant leaps in space, countless developments by entrenched players like ULA and new space entrants such as small launch vehicle providers Rocket Lab and Firefly Aerospace are major steps in their own right — paving the way for immeasurable innovation.


Peter Beck
"The key difference between the current landscape and the 1960s is commercialization," said Peter Beck, Rocket Lab Founder and CEO. "It's not one government player with one single-minded goal, we're now in a world of thousands of commercial players with niche objectives, technologies, and ideas. The pace of innovation in space is lightning speed, so instead of a huge milestone event once every few decades, we're now seeing incremental breakthroughs every week in fields like Earth observation, weather analysis, and national security."
Rocket Lab is a launch vehicle company whose Electron rocket has been delivering diverse smallsat payloads to LEO for almost two years. "By the end of this year we'll be demonstrating a launch every two weeks, with plans to scale up to a weekly cadence by the end of 2020," noted Beck, who plans to leverage reusability to step up frequency and efficiency as the company eyes missions to higher Earth orbits and the Moon.
"One of the key differences for Electron's recovery is that we won't be attempting a propulsive landing," Beck said, referring to SpaceX's highly successful maneuver to recapture and reuse their much larger first stage. "The mass/fuel trade-off doesn't make sense for a small launch vehicle. Instead, we're working toward capture under a chute." Beck indicated Rocket Lab is on track for a stage recovery attempt next year.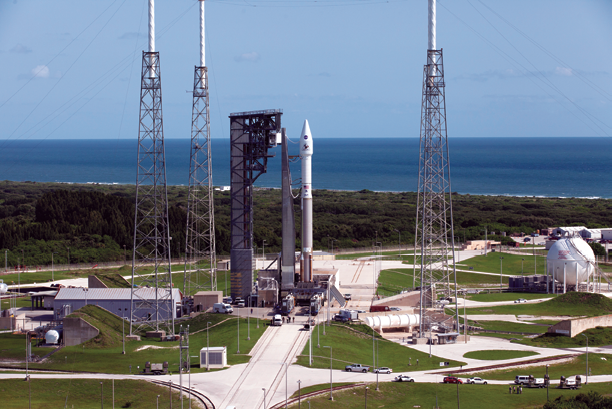 ULA's Atlas and Vulcan Centaur rocket will begin launching from
the same launch pad 41 at Cape Canaveral in 2021.
ULA's initial reusability plans for its Vulcan Centaur call for chutes to deploy on the engines only. "It's far easier to get the engines back than an entire booster, because you can recover them behind a heat shield on a parachute," said ULA's Bruno. "That's our approach for now. We have yet to see anyone make propulsive fly back economically practical."
Breakthrough Innovations in Spaceflight
Firefly Aerospace, a new launch vehicle and in-space services provider on the verge of launching their first small Alpha rocket from Vandenberg early next year, is also building the firm's larger Beta rocket to deliver bigger payloads to LEO, GEO, MEO and cislunar orbits, and eventually the Moon.. Firefly, like many launch providers, is using new age techniques and materials — from 3D-printed engine components to carbon-fiber composites for the entire airframe of Alpha.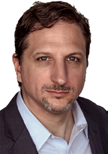 Tom Markusic
"Firefly represents a highly capable and cost-effective access to space solutions, as we create multiple platforms to enable a broad range of space missions," explained Firefly CEO Tom Markusic, who announced a collaborative partnership with Aerojet Rocketdyne at IAC 2019. Firefly is considering use of Aerojet's AR1 engine to power its Beta launch vehicle. Plus, the two companies are working on the development of Firefly's Orbital Transfer Vehicle (OTV) that is designed to ferry LEO satellites up to geosynchronous orbit.
Firefly is also developing their Gamma rocket plane, a reusable autonomous smallsat launch vehicle designed for horizontal runway landings. "We're ready to initiate our dedicated and rideshare missions in 2020 aboard our Firefly Alpha rocket as we plan to play a significant role in enabling the next frontier, the global information revolution powered by the proliferation of small satellites in LEO and GEO," said Markusic.
The on-orbit servicing of satellites has long been an elusive proposition; however, Northrop Grumman is among a shortlist of companies developing Mission Extension Vehicles (MEVs) to prolong the life of aging spacecraft and repair damaged or malfunctioning satellites in deep space.
Northrop Grumman's first-of-its-kind MEV was launched aboard a Proton rocket and released into orbit on October 9. Using its electric propulsion, the MEV will take about three-and-a-half months to reach geostationary orbit where it will dock with the Intelsat 901 satellite and provide the propulsion and attitude control needed to extend its life.


Stephen Spengler
"Intelsat 901 has been serving customers and orbiting the Earth since June 2001 and it is low on fuel but still very capable to meet our customers' business needs for years to come," said Intelsat CEO Stephen Spengler during an interview at the Satellite Innovation 2019 conference last month in Mountain View, California.
The MEV will extend the spacecraft's life for five years, then the servicing vehicle could detach and help out additional, aging spacecraft. "As these MEVs are further developed with robotics, we have a satellite that has a C-band reflector that never opened (Intelsat 28) and I'd love to see one of these service vehicles go up there with a robotic arm capable of putting that satellite into full service," said Spengler. "There are endless possibilities and opportunities that we can address as we make these new advancements in space with new satellite innovations."
New innovations in space are driven in part by experience — a big reason why established and new spacecraft manufacturers and launch vehicle providers are looking to firms like TriSept Corporation for launch integration and management expertise. TriSept has enabled the launch of more than 200 satellites over the last 25 years and the company is poised to play a lead integration role for a series of government and commercial missions over the next few years.


Rob Spicer
TriSept CEO Rob Spicer is especially focused on an upcoming mission early next year that is aimed at offering a solution to the mounting orbital space debris challenge. The company has brokered a rideshare slot aboard a Rocket Lab Electron and will serve as launch integrator for Millennium Space Systems' DRAGRACER mission devoted to testing new tether technologies designed to deorbit spacecraft in mere days or weeks (as opposed to months or years) after their missions are completed.
"Recent advancements in both traditional and new space markets are mind boggling, many that I'm honored to say the TriSept team has had a big role in conceptualizing and developing," Spicer shared, referring to cubesat rideshare innovations and orbital debris solutions. "As we collectively move into the new space era with thousands of big and small satellites launching into LEO, MEO and GEO, we must also take important steps to ensure the responsible operation of these spacecraft."
Focused on the Future in Space
ULA's top guy is thrilled with the prospect of transporting multiple payloads for exciting future missions, as his team vies for NASA's Psyche operation – a journey to a unique asteroid orbiting the Sun between Mars and Jupiter.
Whether NASA selects ULA for Psyche or not, to deliver an observation probe to the surface of what scientists believe may be the pure iron core of an early planet, the mission has had a significant impact on the design of ULA's Vulcan Centaur rocket.
"Psyche is a preliminary indication of future multiple payload missions to come. As NASA sends a probe to a distant mass circling the Sun, it will also send four additional spacecraft to study Mars and other asteroids," Bruno explained. "We're optimizing our Vulcan rocket with missions like this in mind, with a bit more performance and flexibility so we have greater mass to take to higher energy orbits and a much larger payload volume to accommodate multiple payloads. What excites me the most about this new age in space innovation is that we're building on the momentum that was created over 50 years ago," said Firefly's Markusic. "That momentum continues to grow at such a pace that we can only imagine what the next half century holds."
"Space is something that's never done. It's an endless opportunity that lures you in," explained Rocket Lab's Beck. "There's always something waiting to be discovered, a boundary to be pushed or a new capability to be developed. Space is almost a completely untapped opportunity, and creating better access to it invites innovation that will truly have positive and far reaching consequences down here on Earth."
Paul Sims is an award-winning reporter and industry professional with Sims Communications, where he specializes in traditional and new space, satellite, and connectivity markets. — visit www.simscomm.com.
---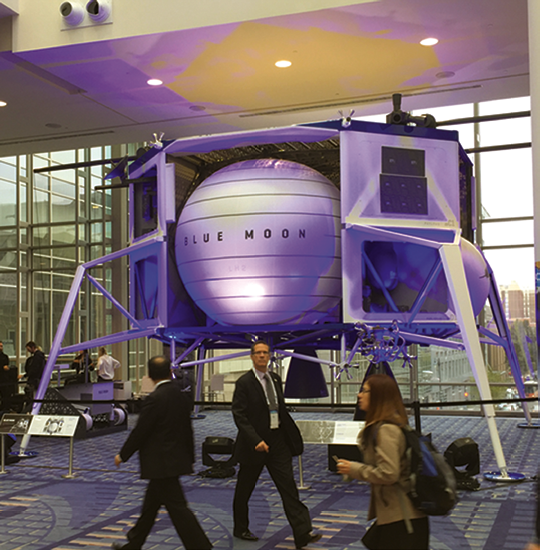 Life-size model of Blue Origin's Blue Moon lunar lander lands
at the IAC 2019 event.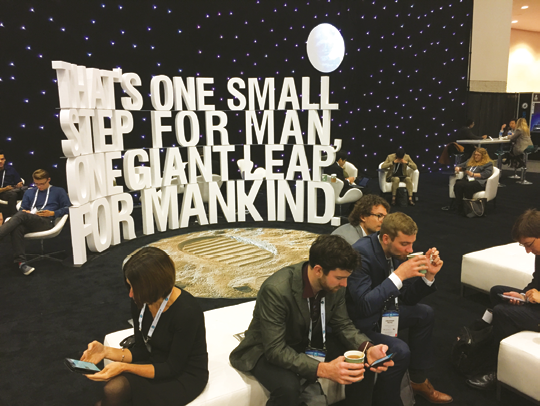 The IAC 2019 exhibit floor attendee lounge offers coffee and a reminder
of the first giant leap into space.