---
Eliminating the limiting factor for LEO Satellite COMMs
LEO smallsat operators, including the Department of Defense (DoD), have limited opportunities to communicate with spacecraft to ensure optimal operation. Troubleshooting of any issues is constrained to pass over windows where downlink stations are available leading to downtime, protracted recovery processes, and risk for catastrophic loss.
Continuous 24/7 connectivity through a space-based IP network will seek to increase asset utilization and efficiency while mitigating risks associated with limited communications links. Today, satellites are usually paired with a single ground station antenna on Earth.
---

Solstar payload team posing in front of the New Shepard Crew Capsule shortly after it landed on July 18, 2018 (pictured from left, Charlie Whetsel (Sr. Linux Programmer), Paul Frey (operations manager), Isabella Barnett (Payload Assistant), M. Brian Barnett (Founder and CEO)). (photo courtesy Blue Origin)
---
As a result, the communication time per day is limited. LEO satellite ground link communications typically follow the same operational model in use since the 1960s. This requires waiting for the satellite to fly over a ground station with a scheduled communication session on an available antenna.
When the connection occurs, spacecraft status, mission command information, and downlink payload data is transferred. Then there's nothing. Essentially, the satellite remains incommunicado until the next scheduled overflight.
While the satellite isn't within the scheduled windows, operations leaders cannot immediately convey spacecraft bus fault conditions, obtain diagnostic information, or send emergency commanding in orbit. This means nothing can be done that requires connectivity, aside from the small scheduled windows of communication.
As mega-constellations continue to grow in LEO orbit, communications with spacecraft become essential for everyday operations, not to mention safety and security.
Similarly, payloads on spacecraft are unable to send timely first-look data, data samples, or late imaging target updates, such as for natural disasters. Finally, the current technology lacks a secondary communication pathway for immediate cessation of operation or re-entry command in the event of harmful interference or loss of primary communications for space debris risk mitigation.
Enabling Continuous Communications for LEO Assets
To address these communications limitations, Solstar Space has proposed the use of Critical Data Relay (CDR) alongside the company's services platform. The CDR is a small device that integrates into the satellite bus and provides vital global narrowband communications coverage.
With the recent AFVentures SBIR Phase 1 award that Solstar Space earned, the company plans to demonstrate continuous connectivity from LEO to operators and throughout the mission orbit. This innovative, commercial technology will create potential new capabilities, fulfilling requirements for defense application(s) and serving the commercial space market. The CDR operation will be independent of DoD ground station infrastructure and thus will solve the communication window scheduling bottlenecks.
"Space-based connectivity is critical to providing immediate notification of spacecraft anomalies and to support worldwide recovery command capabilities. Today, LEO satellite communications are typically limited to a few minutes during each scheduled pass over downlink stations. Under this Phase 1 contract, the practicability of Solstar's short burst data (SBD) services and the Critical Data Relay will be assessed," said M. Brian Barnett, Founder and CEO, Solstar Space.
Solstar Space has completed three successful space missions since 2013. During these missions, the company successfully demonstrated rocket mid-flight acquisition of signal, proved commercial satellites can connect to a moving rocket, obtained a data uplink and downlink, and an uninterrupted internet connection from launch to landing.
Solstar's Schmitt Space Communicator SC-1x flew on two Blue Origin New Shepard rocket missions in 2018. The Solstar Space Critical Data Relay, along with its services platform, will build upon the company's proven success across multiple sub-orbital Blue Origin New Shepard and sounding rocket flights, that demonstrated in-flight internal wireless connectivity between components and external wireless connectivity to commercial communications satellite constellations.
The Solstar Space CDR enables access to U.S. commercial LEO infrastructure for critical burst data communications. As a participant in the Phase 1 cohort, Solstar Space will conduct feasibility studies with the DoD to demonstrate how its onboard satellite Critical Data Relay supports continuous connectivity and provides vital global communications for spacecraft in LEO orbit.
Subsequent phases in the program will seek to demonstrate continuous connectivity for LEO-to-LEO communications. There is also a roadmap to higher bandwidth capabilities with additional options for enhanced internal communications and new broadband constellation connectivity in follow-on development.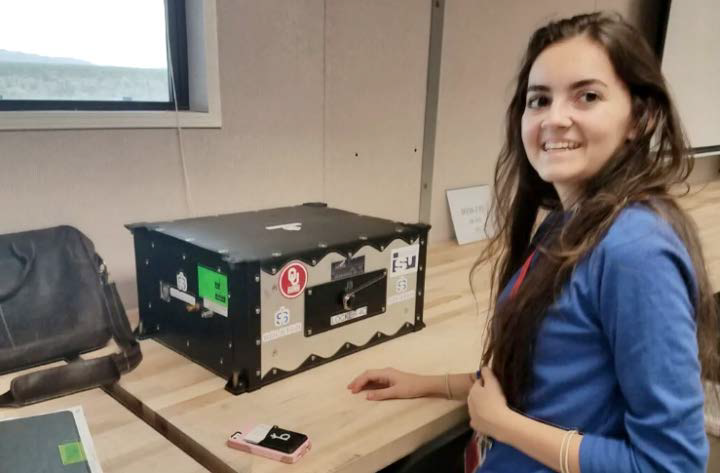 Payload Assistant, Isabella Barnett, with Schmitt SC-1x Space
Communicator Payload
Adding Functionality of Connectivity
The Solstar Space CDR will provide smallsat developers with the ability to integrate additional end-user functions such as GPS, microprocessor-based logic control, digital and analog inputs and outputs, power supply and antenna and it is operable without incorporating a SIM card.
"Having been a crewmember on three NASA Space Shuttle missions where I spent a total of 3 weeks in space, I can say communication is critical to mission success. We experienced limited communications availability, and dropouts in connectivity, while dealing with onboard maintenance and software issues. Having solid and redundant communications systems that can be secure would be a boon for the industry," said Charlie Walker, veteran industry astronaut and Solstar Space advisor.
With the Solstar Space CDR, mission performance is expanded through frequent spacecraft health and safety monitoring, 24x7 emergency commanding, and faster diagnostics and recoveries from anomalies — all resulting in more uptime for spacecraft in orbit.
In the event of a serious anomaly, such as the loss of the primary communications subsystem, Solstar Space CDR provides a redundant communications path for sending reboot or de-orbit commands.
Reliable Continuous On-Orbit Communications & Connectivity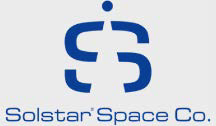 • Reliable and cost effective LEO satellite communications
• Ruggedized communications hardware from terrestrial and aviation has been already demonstrated in three sub-orbital flights (including twice on Blue Origin's New Shepard)
• Modest mass, volume and power have a low impact on spacecraft design.
• Short Burst Data services from anywhere in orbit via commercial infrastructure provides critical and timely data for corrective action.
• Increased up-time for valuable AF orbital assets drives greater reliability and efficiency.
• Protect valuable space assets through enhance two-way communication opportunities for troubleshooting, diagnosing, and resolving issues.
• Improved efficiency in the use and resultant impact of deployed space assets.
The author is M. Brian Barnett, a senior executive, entrepreneur, management consultant, project manager, and scientist, with nearly 30 years of experience in the commercial and civil space industries, and the mobile satellite services Industry. As an entrepreneur, Barnett founded and grew a space satellite communications and solar energy company into two of the fastest growing high tech companies in New Mexico. At Satwest, he was the Principal Investigator for the mission that sent the first text message to space using entirely commercial infrastructure (#TextsToSpace). At Solstar Energy Devices, he developed a line of portable solar chargers that have become the leading international brand for charging satellite phones and other satellite communications devices.
As a scientist and project manager at NASA, Barnett successfully managed the development teams of multiple scientific experiments that flew on the Space Shuttle, Spacelab, and the International Space Station. He was responsible for the success of two experiments that flew on the Space Shuttle STS-26, which was the first Space Shuttle mission after the Challenger disaster.
He was an aerospace technologist at Marshall Space Flight Center's payload project office, and trained as an Astronaut Crew Interface Coordinator at Marshall's Mission Operations Laboratory, and at Johnson Space Center's Mission Operations Directorate. As a manager at KPMG Consulting's Space & High Technology Group, Barnett founded and managed a million-dollar commercial space consulting practice for one of the largest consultancies in the world. His clients while at KPMG included NASA, Boeing, Matra Espace, and the State of New Mexico, where he led original business planning project team for Spaceport America.
He has conducted commercialization assessments for dozens of advanced technologies developed at Sandia National Laboratories and Los Alamos National Laboratory. He has advised and consulted for over ten high tech startups, two of which have been acquired. He is skilled in the areas of high-tech start-up formation and executive management, payload development and integration, product development and testing, strategy, project management, market research, and business development and sales.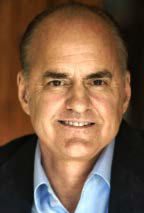 Mr. Barnett earned a B.S. in microbiology from the University of Oklahoma, an M.A.S in business and project management from the University of Alabama in Huntsville where his thesis topic was, "A Commercial Assessment of Protein Crystal Growth in Microgravity". He received a Certificate of Space Studies from the International Space University in Strasbourg, France.
Solstar Space is a leading, space-based, connectivity company pioneering the use of continuous communications services for LEO/ NGSO) satellites. The firm provides bandwidth for smallsats, bi- directional data services for payloaders, and enables orbital and suborbital communications for crewed missions.
The company's services, space-tested routers, WiFi hotspots, and satellite space communicators deliver continuous, on-orbit connectivity for crew, spacecraft as well as Earth-based satellite operations teams and are supported by 24/7 customer care.
---