In April 2008, the U.S. Department of Defense (DoD) empowered a new task force called Task Force Odin (TFO) to significantly improve Intelligence, Surveillance and Reconnaissance (ISR) capabilities in Iraq and Afghanistan. The DoD needed its airborne platforms to have a persistent and pervasive ISR capability with sensors and communication systems capable of simultaneously delivering real-time full-motion video (FMV) and 3D images, Signal Intelligence (SIGINT) and Communications Intelligence (COMINT) to both field and command personnel.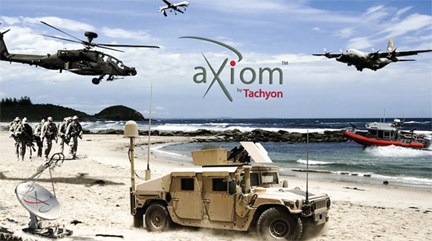 A critical requirement was for high bandwidth communication links from ISR aircraft to
Beyond-Line-of-Sight
(
BLOS
) locations. To achieve this, a global commercial satellite footprint was necessary to ensure worldwide coverage as required, especially in active hotspots. Other critical requirements included the airborne
Comms-on-the-Move
(
COTM
) equipment
size, weight and power
(
SWAP
), integration with existing aircraft power and navigation systems, performance and remote manageability. Airborne COTM solutions were expected to achieve commonality across multiple manned and unmanned platforms, wherever possible. Airborne systems integrity, accuracy, resiliency and availability were absolutely critical and of paramount importance for the forward deployed warfighter and command centers alike.
Tachyon was awarded the MARSS contract for airborne COTM systems supporting TFO. In fulfilling this contract, Tachyon identified and acquired the exclusive rights to satellites ideally suited for BLOS airborne communications, and even relocated one to cover both Afghanistan and Pakistan.
Tachyon designed and built the onboard system, integrating Tachyon's
aXiom 9300
Terminal with third party equipment, including an 18-inch satellite parabolic antenna,
Antenna Control Unit
(
ACU
) and satellite modem, aboard C-12 aircraft. Tachyon also designed, built and installed a completely redundant Earth station in Bagram, Afghanistan, which linked with its San Diego Network Operations Center (NOC) and the corresponding satellite equipment for the aircraft, enabling full remote monitoring, reporting and control. Tachyon's solution almost doubled the original speed of the SATCOM link, which allowed for both SIGINT and live video to be transmitted simultaneously between aircraft and satellite and delivered in real time to monitoring stations around the world.
Tachyon's turnkey
End-to-End
(
E2E
) solution met all of the U.S. Army's critical requirements, including a proven solution with a classical SWAP terminal, increased bandwidth throughput to support real-time video feeds, and the ability to support required commercial space segment capacity in-theater. Multiple
aXiom
systems are flying missions in Afghanistan today, delivering ISR data and video in real-time to command centers on the ground with worldwide reachback.
The deployment of a successful Airborne COTM Network relies on unwavering focus and dedication in executing each and every step of the total E2E solution:
– Remote Customer Premises Equipment:
Integrate field-swappable custom terminal equipment on various aircraft platforms, using multiple antennas, ACUs, IRUs, routers and modems
– Teleport:
Design, build, install and test completely redundant satellite gateways
– Network Operations Center:
Perform seamless 24x7 monitoring of all aircraft and teleports from US-based NOC by developing customized NMS tools to increase operational efficiency and customer visibility while providing the industry's only financially-backed Service Level Agreement (SLA)
– Tech Support:
24x7x365 customer support helpdesk with professional support personnel
– Space Segment:
Acquisition and deployment of extremely scarce satellite capacity for Airborne Networking
– Training:
Educate field personnel in the operation of airborne satellite systems
Tachyon's aXiom 7000 Series of E2E solutions include hardware, software, engineering services, network services and space segment – integrated, tested, certified and managed for specific mobile platforms – all enabled by Tachyon's aXiom Services Platform (ASP).
About Tachyon
Tachyon was founded in 1997 and is headquartered in San Diego, California, from where the Company operates its world class Network Operations Center. Tachyon was the first 100 percent TCP/IP standards-compliant, carrier-grade, true satellite broadband network for the enterprise and government markets. With more than our 13 years of business, the Company has amassed a significant amount of engineering and operational expertise in delivering end-to-end satellite broadband communications solutions. We hold dozens of patents and maintain an important ongoing commitment to research and development.
For more information, access the Tachyon website:
http://www.tachyon.com/