---
Per Vices
Per Vices is a leading RF and digital systems innovator and integrator, supplying multiple industries with software-defined radios (SDR) for wireless communications solutions. Headquartered in Toronto, Canada, the company provides some of the world's top companies, governments, and organizations with SDR solutions for radar systems, GPS/GNSS, test & measurement (T&M), spectrum monitoring & recording, wireless communications, and interoperability, to name a few.


In the past year Per Vices has had several notable successes, with various new product launches and features that have expanded their capabilities to serve various clients and markets. Per Vices successes for 2021 included:
» Launching Chestnut; our latest mid-range SDR with extremely competitive pricing
» Offering a spectrum monitoring, recording & playback solution as a package
» Creating an extended channel option for our Cyan SDR platform
» Developing a high instantaneous bandwidth option
» Successfully navigating the supply chain issues that arose worldwide
Per Vices now offers three top-of-the-line products that meet various budget and configuration needs. Crimson TNG, Cyan, and now Chestnut, are all Commercial-Off- The-Shelf (COTS) products that can fit clients' needs or be modified for specific use cases and technical requirements. Chestnut has four receive (Rx) and four transmit (Tx) channels, 500 MHz of instantaneous bandwidth, and an operating frequency of near DC to 9 GHz to meet the needs of the evolving wireless communications market. Offering more power and performance than Crimson TNG, and a competitive mid-range price point, this product aims to fill the need in the market for an easy-to- integrate product for use cases such as wireless communications testing, signals intelligence and spectrum monitoring.
One of Per Vices signature products — Cyan — has launched three additional options: a host, storage and playback solution, high bandwidth (through extended digital backhaul capabilities), and an extended channel count option.
The fully configured solution for spectrum monitoring & recording, and playback, combines the Cyan SDR and a fully configured storage and playback solution that offers lossless data capture and storage at a rate of 160 Gbps. The high bandwidth option extends the RF bandwidth to 3 GHz per radio chain and the digital backhaul capabilities of the Cyan platform by upgrading to support up to 4 x 100 Gbps, making it the highest digital backhaul available in any COTS SDR solution.
The extended channel option, enabling multiple digital down-converters (DDCs) per physical radio port on Cyan, has been a huge success in addressing the complex needs of users that demand both high bandwidth and the option to only select channels within the given bandwidth needing to be streamed for processing on a host system.
These successes come amidst the challenge of managing the supply chain effectively to ensure that Per Vices can offer shorter lead times than others in the industry. The semiconductor chip shortage and the ripple effect of logistics and shipping problems due to the pandemic caused a compounding effect impacting manufacturing, design, production, and delivery.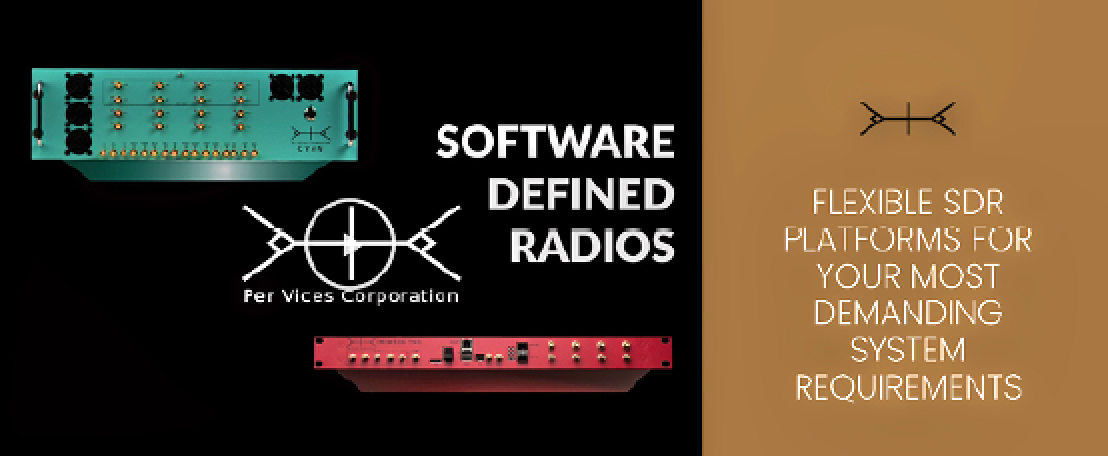 To mitigate this challenge, Per Vices spoke with all of the firm's suppliers to obtain accurate and up-to-date figures on lead times, sourcing components and informing clients of timelines for deliverables. Potential delays were worked into forecasts and production cycles, and work sprints were rearranged to ensure that there wasn't a loss of productivity or delay in output
Looking Toward 2022
Per Vices hopes to achieve a continued release of new upgrades, features, and options for their existing platforms while continuing to navigate the supply chain challenges faced worldwide. On the software front, the company will engage in a further expansion of the IP portfolio to move more of clients' application processing onto the onboard FPGAs. With the SDR market projected to grow to $14.5 billion by 2025 due to its impact in shaping radio communications, there will be an increase in SDR integration into various projects in GPS/GNSS, radar, low-latency networking, spectrum monitoring & recording, medical, interoperability, T&M, and defense applications.
As SDR is becoming more technologically advanced and versatile, more product families are emerging to meet customer needs that replace legacy equipment, improve compatibility and interoperability of equipment and devices, and reduce the costs of end products and services.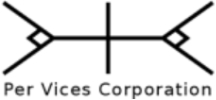 With the benefits of SDR being discovered for even more applications, Per Vices will continue to carve out its niche in working closely with clients to develop, build and integrate high-performance SDRs.
Email: solutions@pervices.com for more information
Author Brandon Malatest is the Chief Operations Officer and Co-Founder of Per Vices Corporation
---
SDRs have become even more relevant in many diverse industries; it seems like many people are seeing firsthand the benefits that SDRs have to offer and we will continue to position ourselves as a leader in SDR to meet the needs demanded by customers across multiple industries including radar, radio links/communications, test and measurement, and spectrum monitoring, recording, and playback. Many companies within this space have suffered from delays associated with component and material availability which has led to longer than anticipated lead times. One concern is that this will continue into the first half of 2022 and may disrupt other critical aspects associated with our customer's projects, especially in the government, agencies, and military fields. With shutdowns and lockdowns happening in various international regions, employees working from home, and manufacturers reducing the number of employees working in manufacturing facilities, the entire tech industry has suffered from supply chain shortages. From raw materials to components, to final assembly and distribution, there are numerous opportunities for delays due to the global nature of worldwide operations, trade tensions, and other factors.
The international supply chain is a complex system that balances precociously and needs precision and predictability to function. Once paused and restarted, cracks in the system began to emerge, such as backlogs in shipping ports, lack of containers, and business shut down due to Covid outbreaks. Each component is critical to the smooth continuation of operations but has its unique problems and solutions that need to be addressed and implemented – there is no blanket approach for all. Fixing the supply bottlenecks will take time, but as more and more supply chain operations start functioning, and materials and components start trickling through, the normal flow of goods will resume.
By creating sophisticated forecasting models and taking immediate and proactive action, Per Vices has ensured that impacts from supply chain delays are minimized. Per Vices will continue to work closely with suppliers to ensure productivity does not decline into 2022 and beyond.
---
Quilty Analytics
Looking Ahead To 2022's Continued Download Of SPACE 3.0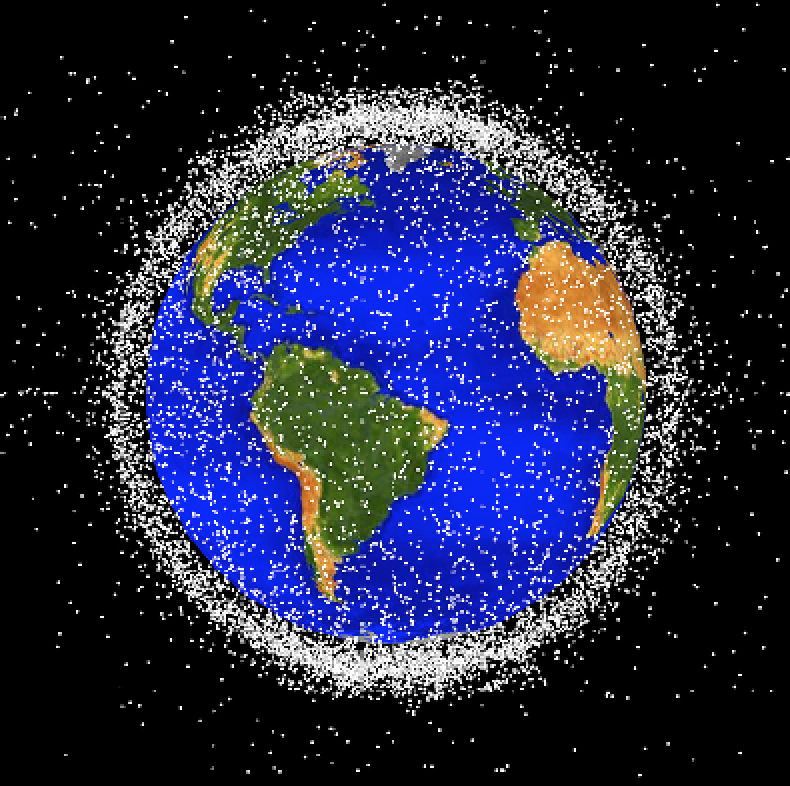 In its Satcom Quarterly sector report, the Quilty Analytics
team addresses the crescendo of concern mounting over space
debris. Image is courtesy of NASA's Orbital Debris
Program Office
The evolution of the Satellite & Space industry can be likened to watching a decades-long, slow-motion movie — until the early 2010s, when SpaceX hit the fast-forward button on what would become a Space Age blockbuster.
Chris Quilty, a leading Wall Street analyst and founder of research and strategic advisory firm Quilty Analytics, refers to this crawl-to-sprint progression in figurative downloads that started in the 70s, when an entirely government-funded industry defined his categorization of "Space 1.0." In the 90s, major corporations gave rise to "Space 2.0." However, it wasn't until 2010, with the first successful launch of the Falcon 9, that the space industry transitioned to the commercially driven, multi- billion-dollar economy with the many players that we know today. "We are ushering in a new era I like to call 'Space 3.0' where launch affordability, smaller satellites, government and commercial partnerships, and an unprecedented infusion of private equity and venture capital funds are paving the way to a lucrative, thrilling future in space," Quilty said before joking that his thoughts are gleaned from more than 20 years of analyzing the industry "long before SpaceX made it cool."
Government Innovations Catalyze CommercIal Growth
In the most recent Satcom Quarterly sector report, the Quilty Analytics team highlights several key developments contributing to Space 3.0, including the U.S. Military's pivot to Low Earth Orbit (LEO) with a new, military satcom (MILSATCOM) constellation developed by the U.S. Space Development Agency (SDA). The SDA's National Defense Space Architecture (NDSA) initiative is a mesh network of hundreds of proliferated, optically connected satellites in LEO (or PLEO— proliferated LEO) that will start launching in 2022. To maintain U.S. superiority in the domain of space, the constellation provides complete global coverage to deliver advanced capabilities, including missile tracking, secure communications, GPS augmentation services (position, navigation and timing – PNT), and support for other military missions. While not a commercial constellation, SDA employs a novel spiral development strategy that relies entirely on an open, multi- vendor commercial acquisition approach.
Quilty views this development as a positive for LEO operators, satellite manufacturers, terminal makers, and the retail satellite industry at large, including ground station support, optical relay services, and connectivity services.
"The NDSA should strengthen a vibrant ecosystem of companies, both established and newspace, workingtodevelopnewtechnologies that enable DoD's space assets to maintain the military's strategic and tactical advantages," he said. "Eventually, these technological advances will expand into the commercial sector and benefit satcom operators and the markets they serve, especially as hybrid architectures become the norm."
In addition to deploying its constellation, the DoD will soon issue RFPs for IDIQ contracts, with awards in August of 2022 for as much as $875 million in commercial LEO broadband capacity. Quilty expects commercial LEO systems to be integrated with the NDSA later this decade, resulting in significant and ongoing LEO service awards to OneWeb, Starlink, Telesat, and others.
Accelerated Space Sector Activity Heats Up Space Sustainability Debate
In the company's third-quarter report, Quilty Analytics highlighted increased transactional activity in the space economy as mergers and acquisitions set the pace for vibrant activity with a disclosed deal value of $5.1 billion. Public offerings totaling $2.9 billion in gross proceeds and venture equity financings raising $1.7 billion also helped contribute to the upward trend.
With steady industry growth, sustained LEO and SATCOM sector investment, and greater capital availability for early-stage investments as entrepreneurs capitalize on new ideas, disruption, and increased financing available for space companies, Quilty and other industry leaders are focusing their attention more on space debris mitigation and space sustainability. "It is unclear whether we have reached a tipping point yet on space sustainability that will lead to definitive action, but industry leaders and government officials are sounding the alarm, especially after Russia's ASAT test," Quilty said. "We expect 2022 to bring heightened regulatory efforts and increasingly complex technology demonstrations."
Staking Out a Place In Space
The FCC's spectrum processing round yielded plans from nine companies in November of 2021 for a total of 37,972 potential satellites.QuiltypointedoutthatFCCfilingroundsdonotguarantee any of the proposed constellations will be built. Instead, they are an essential preliminary step since "very little can happen, including fundraising, without having access to spectrum."

Quilty refers to the filings as a "land grab.." He continued, "Broadband companies like Amazon are looking at space like Walt Disney must have looked at Orlando in the 1960s,," Quilty said. "Acquiring the spectrum is the speed bump on the road toward building a LEO broadband network. Their ambitions are exciting, and I'm along for the ride. But staking a claim to space doesn't guarantee Magic Kingdom."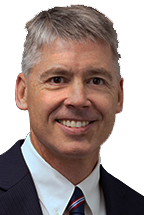 Quilty Analytics Founder Chris Quilty is a widely recognized Wall Street analyst with nearly three decades of experience in the Satellite & Space sector. Quilty Analytics is an integrated boutique offering research, strategy, and investment banking advisory services for the Satellite & Space industry. Quilty Analytics offers an unmatched combination of financial, technical, and strategic insights that help drive better investment and policy decisions.
---
Wavestream
Wavestream has shipped more than 40,000 systems to airborne, ground/mobile and gateway customers in support of commercial and military applications around the globe. Our company has earned a reputation across the SATCOM industry for innovative design, high quality, reliability, and performance of our Solid-State Power Amplifiers (SSPAs), Block Upconverters (BUCs), Block Downconverters (BDCs), and Transceivers.
2021 in Retrospect
As challenging as 2020 was for Wavestream, and indeed the entire satellite communications community, 2021 was a year of explosive growth for Wavestream. We saw a huge surge in orders from a surprisingly strong resurgence in business operations, investments in large projects, and an insatiable demand for more bandwidth in mobile and remote environments.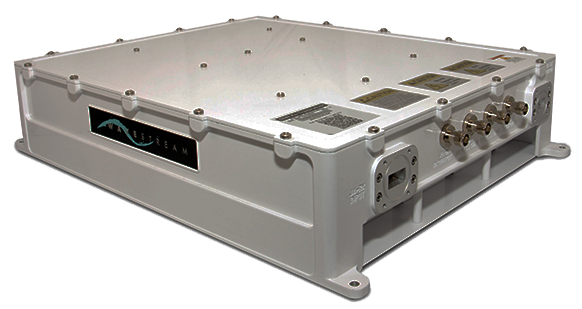 Wavestream's AeroStream Transceiver
Wavestream received several major contract awards in 2021. Most notably, we received purchase orders totaling more than $50 million for support of gateways a large Low Earth Orbit (LEO) constellation. These 160W Ka-Band SSPAs are designed specifically for networks using wide bandwidth uplinks and high-order modulation schemes. The customer asked us to accelerate our production and we are producing these units at about twice the initial anticipated production rate.
Additionally, Wavestream announced $10 million in awards from a Tier-1 U.S. terminal provider for a highly integrated RF frequency conversion and power amplification subsystem. We refer to these deeply embedded products as MicroStream. More than 1,200 MicroStream units were ordered in 2021 by multiple Wavestream customers.
Wavestream also saw our In-Flight Connectivity (IFC) business rebound in 2021. While still not back to the levels we saw in 2019, our orders for airborne equipment easily tripled the orders received in 2020 during the height of the pandemic and the near complete shutdown of airborne travel around the globe. As part of these IFC awards, Wavestream announced that we had received DO-160G Certification for the AeroStream 50Ku High Power Transceiver.
Innovation+ R&D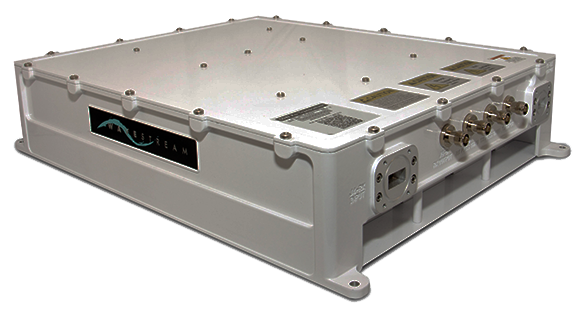 Wavestream's AeroStream Transceiver
In 2021, Wavestream continued a trend of significant investment in new products and technologies that we started in 2020. At the height of the pandemic, Wavestream looked at the changing marketplace and our product line and saw a misalignment with the new post-COVID world. We poured ourselves into a new modular product architecture that will allow us to mix and match components for faster product development and better supply chain resilience. This trend will continue through 2022 and beyond, and indeed will be the core of our RF architecture for a decade or longer.
In 2021, Wavestream announced several new products — two PowerStream units, one MicroStream unit and one AeroStream unit. Two new PowerStream 160Ka units are now available, one for one for MILSATCOM applications (30.0 – 31.0 GHz) and one for commercial wideband applications (27.5 – 30.0 GHz). The military version is part of DataPath's Gen-3 DKET terminal that recently received ARSTRAT certification for operations on the Wideband Global Satcom (WGS) constellation. Our unit was selected to replace a competitor's unit due to better overall performance.
Our MicroStream 20Ka Wideband unit already has more than 1,000 orders and is indicative of how Wavestream can work with terminal providers to build complex RF subsystems to fit inside and around a tightly integrated terminal. For tactical terminal providers, we are seeing an increase in interest for deeply integrated RF subsystems, with less interest in typical box BUCs (which we refer to as our Matchbox product line).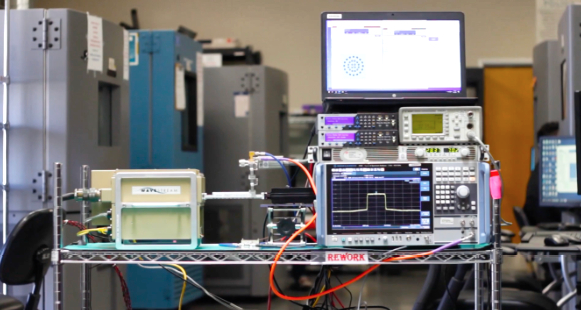 Wavestream's DIS demo.
As mentioned earlier, our AeroStream 50Ku High-Power Transceiver (HPT), which has received DO-160G certification, was announced earlier in 2021. This unit is our next-generation, aviation- grade transceiver designed to be used in commercial and private jet applications for customers with high bandwidth requirements.
Digital Interface Standard (DIS)
Also in 2021, Wavestream spearheaded an effort to create an open standard for a digital interface between the satellite modem and the block upconverter. This interface has traditionally been an analog one, with the Modem modulating a signal onto an RF carrier centered originally at 70 MHz, or more recently at L-Band, usually centered around 1500 MHz.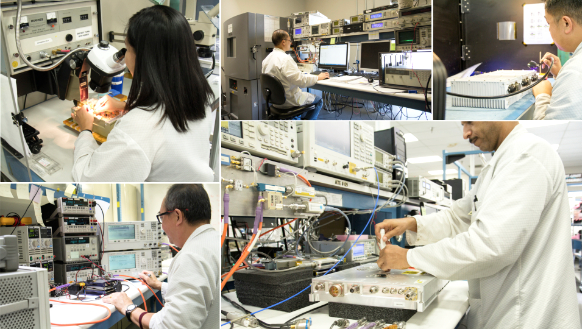 Wavestream manufacturing.
This L-Band interface worked quite well for 20 years since it was introduced around 2000, but with the advent of High-Throughput Satellites (HTS) with 2.5GHz wide transponders, it has become difficult to use L-band as the intermediate frequency between modem and BUC. The carriers are just too wide to be centered at 1500 MHz.
Some operators handle this by changing the IF frequency to something higher than L-band, usually in the S-band (around 3GHz). However, there are now so many fragmented IF bands that it's nearly impossible to build a standard block upconverter to work with all of them. One of our products can operate in 8 discrete IF frequencies, which is fantastic technologically, but imprudent from a business perspective.
With the support of several other companies including our parent company Gilat Satellite Networks, Wavestream created the Digital Interface Standard (DIS) Working Group and jointly built an open standard for a digital interface. This digital interface is explained further on our website and in this video found at this direct link. Wavestream has built a demonstration of this digital interface and will be demonstrating it to customers throughout 2022.
Looking Ahead to 2022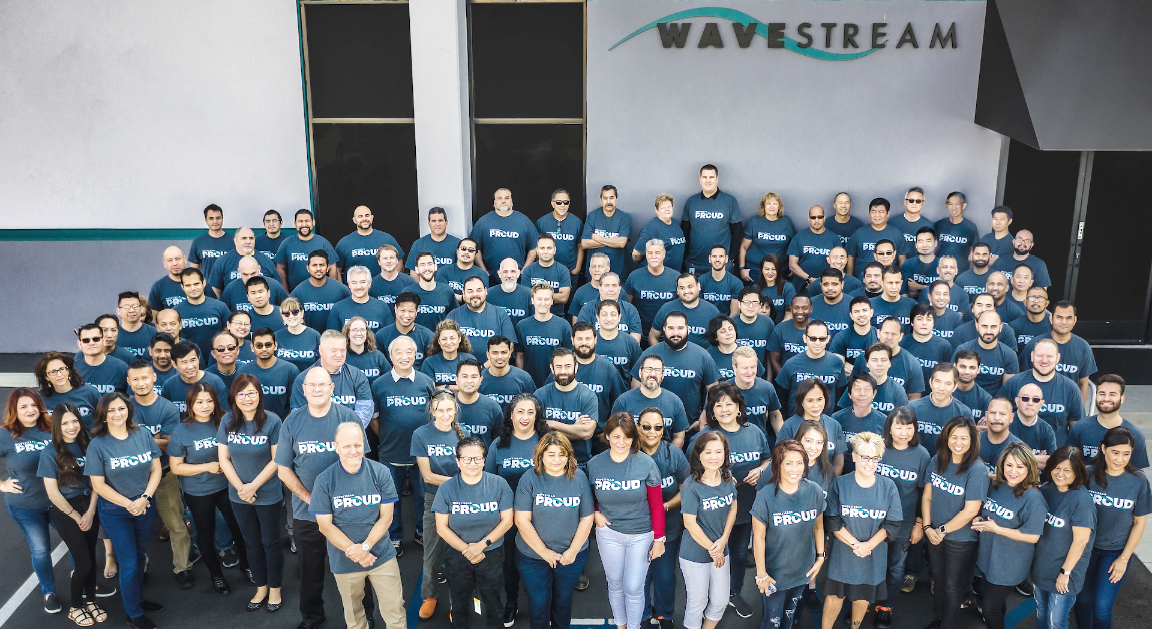 The Wavestream team.
Next year will be a big year for Wavestream. We will be doubling our production capacity as we expand beyond our current building into a second facility next door. We are also working diligently to modernize our internal processes and workflows to better streamline our customer care.
We will have several new products to announce for gateway, airborne and defense markets and we will be spending a lot of energy on Electronic Warfare (EW) and Protected SATCOM applications, as well as space-based RF technologies.
We expect to see continued pressure in the global supply chain which is driving our efforts to streamline and add resiliency to our product portfolio to try to reduce lead times of critical components for our products. We also expect to witness further adoption of non-GEO satellite communications technologies as well as the adoption of a digital IF interface between modems and BUCs.

From all of us at Wavestream, we wish you the very best for a prosperous and safe new year and look forward to working with you for years to come.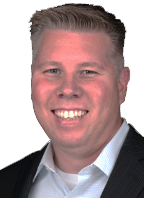 Author Tom Cox has been in and around the SATCOM industry for 25 years, starting as a Satellite Controller in the U.S. Army. He has held roles in Engineering, Product Management, Innovation, and Business Development at multiple systems integrators, and was the founder and CEO of two venture-backed technology startups. Tom has an MBA from Georgia State University.
Email: tom.cox@wavestream.com
---