---

---
SpaceX lifts 34 Starlinks + AST Space Mobile's BlueWalker 3 to orbit via a Falcon 9 rocket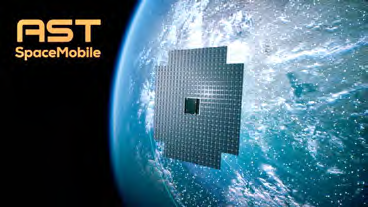 On Saturday, September 10th, at 9:20 p.m., ET, SpaceX launched 34 Starlink satellites to enhance their constellation, as well as AST SpaceMobile's BlueWalker 3 satellite, to orbit from Launch Complex 39A (LC-39A) at Kennedy Space Center in Florida.
This was the 14th launch and landing of this Falcon 9 first stage booster, which previously launched Crew Demo-2, ANASIS-II, CRS-21, Transporter-1, Transporter-3, and now nine Starlink missions.
---
Space Systems Command issues million$$$ contract to SciTec
Space Systems Command's (SSC) Future Operationally Resilient Ground Evolution (FORGE) program has awarded a Cost-Plus Incentive Fee contract for $272 million to SciTec Inc. for Mission Data Processing Application Provider (MDPAP).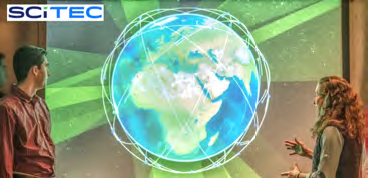 MDPAP will deliver critical applications for the nation's missile warning mission in direct support of the Space Based Infrared System (SBIRS) and the Next-Generation Overhead Persistent Infrared (Next-Gen OPIR) program.
MDPAP creates applications critical to the OPIR mission, consisting of Missile Warning (MW), Missile Defense (MD), Battlespace Awareness (BA), Technical Intelligence (TI), and Civil/ Environmental (C/E). Additional details... ligence (TI), and Civil/ Additional details...
---
Airbus' satellite communications are enlisted for Armed Forces of Czech Republic and the Netherlands
Airbus has signed contracts with the Ministries of Defense of Czech Republic and the Netherlands to provide satellite communications for a 15-year period. The Armed Forces of Czech Republic and the Netherlands will use 2 and 3 channels, respectively, of the Airbus UHF (Ultra High Frequency) military communications hosted payload on-board the EUTELSAT 36D telecommunications satellite scheduled for launch in 2024.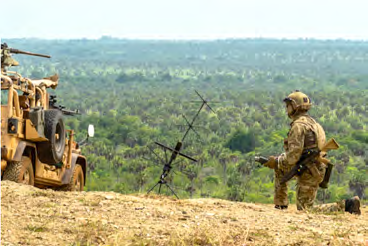 With this new UHF payload, Airbus will be able to offer a new UHF communications service to the armed forces, particularly those of European countries and NATO allies. As the UHF frequency band is a relatively scarce orbital resource, this offering will make up for the capacity shortage around the world. Airbus has already signed several firm orders for this capacity, well ahead of the satellite's scheduled launch.
The UHF payload will be operated from Airbus's Network Operations Center in Toulouse. Its 18 UHF channels will enable up to 200 simultaneous communications over Europe, the Middle East, Africa, large parts of Asia, as well as the Atlantic Ocean (to eastern Brazil) and the Indian Ocean (to western Australia). Additional details...
---
HawkEye 360 signs a CRADA with U.S. Army Space and Missile Defense
HawkEye 360 Inc. has signed a two-year, Cooperative Research and Development Agreement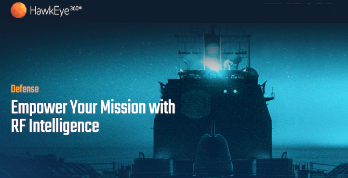 (CRADA) with the U.S. Army Space and Missile Defense Command (SMDC). Under the CRADA, HawkEye 360 will develop and demonstrate new commercial overhead RF-sensing capabilities that could provide relevant tactical support for the warfighter. SMDC will assist in the testing of these capabilities in relevant exercises to evaluate the utility to the tactical warfighter.
"We are excited to partner with the U.S. Army to rapidly develop and prove new techniques that can be quickly transitioned into high-value operational capability. This partnership will support the Army's modernization initiative to develop more efficient, effective, and resilient systems that strengthen how the U.S. Army mobilizes, protects, and sustains expeditionary forces leveraging tactically relevant commercial RF information. We aim to seamlessly integrate our space- based RF data into their Multi-Domain Operational environment," said Alex Fox, HawkEye 360 Chief Growth Officer.
SMDC develops and provides current and future global space, missile defense, and high-altitude capabilities to the Army, Joint Force, and our allies and partners, to enable multi-domain combat effects; enhance deterrence, assurance, and detection of strategic attacks; and protect the nation.
SMDC conducts integrated planning and synchronized operations in the execution of their space and missile defense missions and preparing for future conflict. Operating in all domains with allies, partners in the air, at sea, in space, in cyberspace, in the electromagnetic spectrum, and in the information environment. Additional details...
---
SCOUT wins two STTR awards from USSF's SpaceWERX
SCOUT Space Inc. has been granted two STTR awards through the Orbital Prime program by SpaceWERX, the innovation arm of the U.S. Space Force.

SCOUT was awarded two STTRs in collaboration with the Stanford University Space Rendezvous Laboratory (SLAB) and the Florida Institute of Technology ORION Lab.
SpaceWERX has awarded 125 contracts to develop technologies for orbital debris cleanup and other space services, of which SCOUT was awarded two STTRs (Phase I) for Real-time Autonomous Uncertainty and Risk Monitoring, and Robust Optical Tracking integration into Real- time Orbital Determination (RTOD).
The technical focus areas defined by SpaceWERX for Orbital Prime are on-orbit approach, on-orbit acquisition and on-orbit service. SCOUT provides solutions focused on the first two focus areas, which are recognized by the Space Force to be key enablers for widespread servicing and debris removal. Additional details...
---
Follow-up win for ND SATCOM with Poland's MOD
On the heels of a significant SKYWAN modem deal earlier this year, ND SATCOM has received a follow-up order worth 1.5 million euros from its Polish partner, GISS Sp.z o.o., to deliver 100+ Manpack systems to the Polish Ministry of Defence (MOD).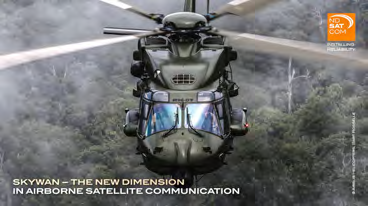 This project is part of the Polish MOD's ongoing process of expanding and upgrading its satellite communication capabilities. Extensive modernization began a couple of years ago with the deployment of an Earth station, followed by the launch of fixed and mobile communication solutions, and will continue with future investment in larger terminals.
Poland's MOD will receive Manpack terminals powered by the latest SKYWAN 5G technology with DVB gateways. This unique SKYWAN solution was customized to the specific needs of the military.
The flexible SKYWAN topology, spanning star to hybrid to pure mesh, is enhanced by a pointto- point mode. All topologies are supported by ACM. In addition, based on customer feedback, the master backup feature was upgraded to be managed manually. Additional details...
---
Space Systems Command is heading up the new tri-agency U.S. Combined Program Office to prevail against space threats
Space Systems Command (SSC) is leading a new, tri-agency, Combined Program Office (CPO) that is comprised of representatives from SSC, Space Development Agency (SDA) and the Missile Defense Agency (MDA).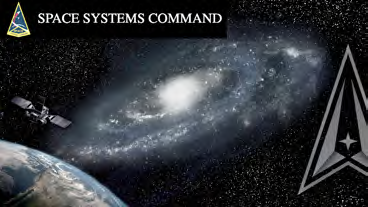 The CPO was established on August 19, 2022, to enhance the United States' ability to deter, defend and win against competitors' challenges in space.
The Space Acquisition Council, established by Congress to manage space procurements across the Department of Defense (DoD), concurred on the CPO proposal, enabling the coordinated development and fielding of capabilities in the missile warning (MW), missile tracking (MT) and missile defense (MD) mission areas.
The CPO will address growing challenges, resulting from the transition of space from a peaceful domain to one that is congested, contested, and competitive. Other nations now challenge access to, and movement in, space, and have demonstrated the capability and intent to hold U.S. and allied space assets at risk.
Establishing this partnership among MW/MT/ MD acquisition organizations will enhance the interface between requirements, operators, and users, optimizing the delivery of integrated and resilient sensor-to-shooter capabilities for the U.S. and its allies. Additional details...
---
CACI International awarded $80m for Mission Expertise
CACI International Inc (NYSE: CACI) was recently awarded a new task order worth approximately $80 million to provide mission expertise to the U.S. Army's Intelligence and Security Command (INSCOM) and the 116th Military Intelligence Brigade (MIB) in support of the Army's Solutions for Intelligence Analysis 3 (SIA-3) effort.
Under the task order, CACI will offer tactical intelligence and analytical expertise to assist in the ever- changing landscape of the Army's aerial intelligence, surveillance, and reconnaissance (ISR) missions.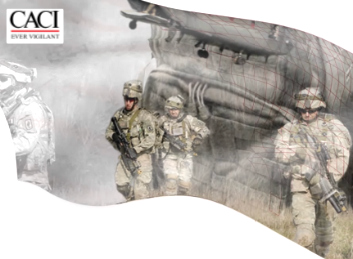 John Mengucci, CACI President and Chief Executive Office, said, "CACI brings highly-skilled and cleared personnel with a unique understanding of military intelligence operations. This new task order expands our support to INSCOM and the 116th Military Intelligence Brigade with additional expertise to enable mission success. Our support provides critical geospatial and signals intelligence across air, land, sea, space, and cyber domains."
Under this task order, CACI will serve as a force multiplier by directly assisting the warfighter with technical, functional, and general support to gather geospatial intelligence (GEOINT) and signals intelligence (SIGINT) in support of INSCOM and the 116th MIB.
The task order has a one-year period of performance with four one-year option periods. Work will be performed primarily in Ft. Gordon, Georgia.
---
General Atomics Aeronautical Systems (GA-ASI) has added The Optix platform
General Atomics Aeronautical Systems, Inc. (GA-ASI) has integrated the Optix platform (screenshot below) into its System for Tasking And Real-Time Exploitation (STARE) system.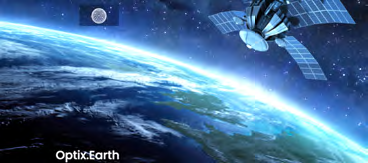 Optix delivers cloud-based, big data processing and analytics to STARE, providing operators with a common operating picture by integrating and displaying wide area surveillance information gathered by GA-ASI Remotely Piloted Aircraft (RPA) and commercial space-based and terrestrial data sources.
The new Optix capabilities enable customers to easily task and direct Intelligence, Surveillance and Reconnaissance (ISR) assets in real time, as well as to automatically identify and classify objects of interest using Artificial Intelligence and Machine Learning (AI/ML) techniques.
In addition, it rapidly exploits and correlates data collected from RPA, commercial satellites, and other sources into an easily shared common operational picture (COP). Having multi-source correlated data enables automatic detection of anomalous behaviors, such as dark vessels, ship-to-ship transfers, and Economic Exclusive Zone violations.
STARE provides end users with actionable intelligence. When anomalous behaviors are detected from the AI/ML models, alerts will now be generated for the end user to evaluate; these alerts include spatio-temporal location, details of the anomaly and data sources used by the detection. By automating the detections at scale, STARE decreases the number of people required to monitor and decipher all of the various feeds, while increasing the accuracy and delivery of critical intelligence to decision-makers.
Optix was developed by General Atomics' Commonwealth Computer Research, Inc. (CCRi), a company GA acquired in 2021. It has been deployed in production environments globally, for both commercial and government related use cases. Additional details...
---