MilsatMagazine (MSM)
Mr. Navarra, how did you decide upon a career within the SATCOM industry and, secondly, what drew you to Globalstar?

Tony Navarra
I 'decided' on a SATCOM industry career having been the U.S. Army Officer in charge of providing satellite service to the White House Communication Agency for the President of the United States from 1970 to 1972. Upon leaving the service, I went to work for a major supplier of ground-based satellite communications equipment, Magnavox. From there, I developed space based processors for satellites and ground stations at TRW and, finally, Loral Space and Communications, where I assisted in the formation of Globalstar and have been the President since 2000.
MSM
Please discuss the importance of Globalstar's second generation satellite constellation and how it can be used by the MAG (Military, Aerospace and Government) to ensure mission success, all the while saving lives?
Tony Navarra
The second generation satellite constellation was developed to enhance all the first generation satellite capabilities, services and product features that were used by our military and commercial customers. The second generation satellites and ground infrastructure are significantly increasing the number of features available to MAG users as well as offering the ability to fine tune special features and capabilities for end-users. Increasing the power from the satellites provides significantly higher data rates, going from tens of kilobits to thousands of kilobits, instantly. This really makes a difference operationally and the ability to meet many more applications.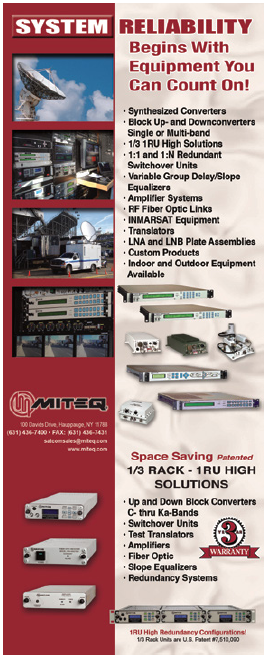 MSM
What are your plans to further introduce Globalstar product into the U.S. military and agency acquisition process? What steps must be taken to ensure you are "heard" by the purchasing authorities?
Tony Navarra
Our plans include working directly with the various services and research laboratories to develop specific software and hardware solutions to meet the needs of the government and the armed forces. We have learned that the best approach in communicating with MAG customers is to develop commercially proven products, and during the commercial launch process, to demonstrate their range of capabilities at the same time sharing sales and service terms with the procurement bodies, such as the U.S. General Services Administration.
MSM
Additionally, given the crucial role of NGOs and first responders during horrific disasters (natural and man-made), what can they leverage from the Globalstar constellation to help them with their good works?
Tony Navarra
Globalstar has already successfully demonstrated and sold multiple configurations of our handheld voice and data phones, SPOT (safety and security messaging devices) to hospitals, federal and state governments, first responders and MAG customer groups in emergency and remote configurations that provide satellite and cellular network services at critical facilities worldwide during emergencies.
These products assure that these organizations and facilities remain in contact, linking their network, employees, service personnel and headquarters. More importantly Globalstar's products, service and satellites provide interoperability across many organizations, federal and state, first responders and military services via ground stations which are 1) redundant geographically and 2) located well outside the natural disaster, emergency or area of operations. All of this is aimed at ensuring uninterrupted satellite based communication services.
MSM
What do you recall as the company's—and your—major accomplishments over the 18 years you have been with the firm?
Tony Navarra
The major accomplishments for Globalstar, include the introduction of ground-breaking industrial, commercial and consumer products worldwide as well as products specifically for consumers that deliver affordable voice and data communications and messaging for the safety and security of individuals as well as their property, including buildings, cars, boats and motorcycles. Additionally, launching our second generation of satellites—securing Globalstar services with backward compatible second generation products through at least 2025—this is a major accomplishment for the business and myself personally.
MSM
Why is SIMPLEX an important technology for the company? Please explain some of the products Globalstar offers to support SIMPLEX and what communication challenges this technology solves.
Tony Navarra
Simplex products include SmartOne, SPOT Personal Tracker, SPOT Satellite GPS Messenger, SPOT Gen3 and now, the recently introduced SPOT Trace product. All of these represent a highly reliable, worldwide signaling capability, providing position location and short messages combined with a long battery life, ensuring the safety and security of personnel as well as property.
These products provide real-time messaging to designated computers, cellular phones and smart phones. They help users by swiftly reporting position information, and help get emergency services back to the user. All of this is provided without a cellular or ground network. Rather, Globalstar's unique service is a high quality, CDMA-based, redundant messaging system that assures real-time communications from the Simplex device to the designated user terminal or mobile device, with optimum reliability.
MSM
What are SIMPLEX' capabilities that would, or could, be of interest to militaries and agencies?
Tony Navarra
Our Simplex products, SPOT and Trace products are capable of providing remote status, location and sensor information as programmed by the MAG. Today, many government organizations are using these devices for important assets that need to be tracked, obtaining real time location information of moving assets.
Additionally, sensor information such as fluid levels is readily available, as well as temperature, and pressure, fire and intrusion alarms. We assist in keeping individuals safe and provide very quick medical assistance or support to individuals, company's employees and provide the basic position location and messaging service to security organizations. Police, military police, fire fighters and first responders all rely on the capabilities of our network.
MSM
Globalstar offers what the company calls "Extreme Systems." Please explain what these systems are and what roles these products could play in the MAG environment.
Tony Navarra
Our products operate in extreme temperatures and in wet environments, both in water and in inclement weather. Also our solutions perform in environments where there are potential fire or explosive hazards, for example, during the manufacturing, moving and storage of volatile chemicals, munitions and hazardous materials. The MAG will find these products useful in providing personnel safety, facility security and rapid emergency response capabilities.
MSM
You have had a presence in most of the major Globalstar efforts, from its reorganization in 2001 to the launch of the second generation satellite constellation. What will comprise the company's next major efforts during 2014?
Tony Navarra
Globalstar's next major effort will be the completion of our second generation ground station and infrastructure enhancements. Globalstar will continue to provide high quality mobile and fixed voice and data along with our family of Simplex products using the second generation network. In addition to growing our sales in 2014 our focus will be the completion of our second generation products for our customers, delivering more features and at higher data rates.
MSM
As many are aware, there is a "talent" crisis forthcoming for our industry, that being the lack of trained applicants for the various technical positions within companies who need such resources to drive their projects forward. How does Globalstar cope with this need and how can the industry further STEM education within middle and high schools and at the college level? Is Globalstar involved directly in such efforts?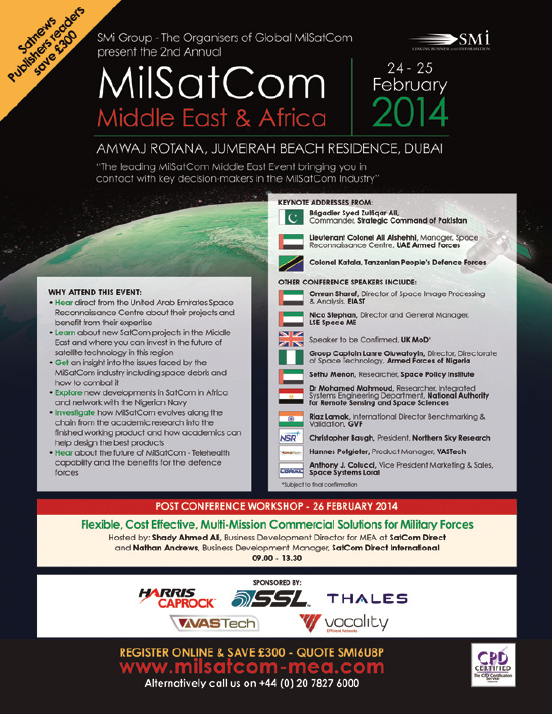 Tony Navarra
Globalstar recruits specialized engineering talent from the Silicon Valley, and also benefits from the universities in the San Francisco Bay Area. We also benefit from our alumni in our offices in California and Louisiana to recruit from their colleges and universities near San Francisco and New Orleans.
MSM
How do we, as an industry, market the potential within SATCOM to students as a career worthy of consideration?
Tony Navarra
In addition to state-of-the-art engineering, we speak with students by sharing our exciting sales and management opportunities in a worldwide business focused upon delivering voice and data communication and navigation services via low Earth orbiting satellites. We emphasize these messages by explaining the personal growth opportunities and career potential of being a part of an organization that has engineering and operations challenges at ground stations and control centers as well as sales and administrative offices around the world.
Globalstar provides many options for upward mobility to corporate headquarters, as well as all of the relationships you make within the industry, working with really talented people and the broad array of experiences that are possible in working with large corporate customers and suppliers. In addition, there are opportunities in related industries using satellite delivered services, e.g., communications, navigation and reconnaissance solutions. The satellite communications industry is populated with people who are technologically and commercially creative, so it's intrinsically interesting. We communicate this whenever we can.
MSM
Given your years of experience in this industry, when you look back over your career, what project or projects truly bring a sense of satisfaction to you?
Tony Navarra Looking back over the years the most rewarding projects have been the commercial and military upgrades in installations for major customers where early satellite technologies from the 1980s were updated with higher power satellites, ground station equipment and mobile or portable handheld products that even 10 years earlier were not feasible.
We provided a major petrochemical company with a real time position-navigation device with batteries lasting two years to support its worldwide operations. High data rate satcoms equipment was once the size of a refrigerator and now it's the size of a small suitcase or a single drawer. And a satellite phone is now the same size as a cell phone—all of this is remarkable and incredibly satisfying to me.
MSM
What has been the most unexpected change in the MILSATCOM sector in the last year?
Tony Navarra
I am most intrigued by how MAG customers have come to use commercial solutions and to explore hosted payload solutions from commercial satellite operators. They have shown real pragmatism in the use of the rapidly developing capabilities of our satellite technologies as well as our ground stations and terminal equipment.
MSM
What sector developments will be making the headlines in 2014?
Tony Navarra
New satellite technology, higher bandwidth, innovative signal processing along with additional spectrum allocations in 2014 will improve and increase services to the general public, the industry and the military.
MSM
What developments seen in the U.S. market might be seen in other territories around the world?
Tony Navarra
Multi-signal processing by ground infrastructure, gateways and switches will continue to enable U.S. and overseas customers to have multifunctional, navigation, text messaging, web surfing, voice telephony and local hotspot (Wi-Fi and Bluetooth) communications in a single portable device. Competitive pressures will lead to more devices and service providers will provide more products and services with new network capabilities.
MSM
As governments continue to cut military budgets, buyers of communication services need to be ever-more savvy in spending these diminishing funds. What new paradigms, commercial models do you foresee coming into play?
Tony Navarra
Successful deployment of hosted payload solutions and the enhancements of signal compression, increased use of software defined radios and encryption will allow governments to use commercial satellite services through local ground stations. These may become more prevalent. The availability of fiber and wireless broadband will also be a technology driver in the interconnection between the satellite operators and governments' termination points. Also the MAG's need for mobile vs. fixed and/or requiring both services may result in the business model requiring a change in satellite designs and potentially, satellite industry consolidation to meet the needs of commercial customers and governments.
* * * * * * * * *
Anthony J. Navarra, President of Space Operations and Special Projects at Globalstar, has been working with Globalstar for nearly 22 years. Prior to his appointment to his current position in September 1999, Mr. Navarra was executive vice president of strategic development and acting chief operating officer for Globalstar. In this position, Mr. Navarra was responsible for the acquisition of partners for Globalstar, developing the business plan and marketing the company's satellite mobile services. He also oversaw functions of all corporate departments including international business development, marketing, engineering, corporate development and production, finance and administration, regulatory affairs and system applications.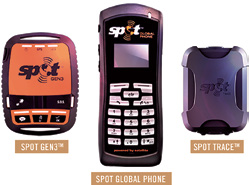 He is currently responsible for the design, development and management of the $ 1.1 billion second generation 48-satellite production and launch contracts with Thales Alenia Space and Arianespace. He continues to manage the control and operations of the first generation satellite constellation which provides SIMPLEX messaging, position location service and voice and data service to the Globalstar ground stations and subscribers.
Prior to joining Globalstar in 1987, Mr. Navarra served as marketing vice president at the Rolm MilSpec Computer Division of Loral Corporation, responsible for managing the product development of military computers, high speed mass storage device and satellite communication processors. He developed and manufactured the embedded computers and signal processor for the U.S. Department of Defense advanced data processing program on the Airborne National Command Post for the President of the United States, Air Force One, and various fixed, mobile and airborne satellite terminals.
From 1984 to 1987, Mr. Navarra worked for TRW in Redondo Beach, California, as Business Area Director of satellite terminal development responsible for the antenna technology and development of submarine systems, VHSIC technology based modems for the MILSTAR program and satellite signal processor for the Department of Defense. Prior to that time, Mr. Navarra worked for Magnavox Research Laboratories and Government Electronics Company in Torrance, California from 1972 to 1984.
Mr. Navarra holds a Bachelor of Science degree in Physics from the University of San Francisco and Master of Science degree in Systems Management from the University of Southern California. He received post degree work experience in the theory of Satellite Communications while attending the U.S. Army Signal Corps at Ft. Monmouth, New Jersey. Mr. Navarra has continued post-graduate work at Stanford University in business and management. He continues to provide guest telecommunications courses at the University of San Francisco McClaren Business School and is a member of the USF Telecom Board.
His current responsibilities include the operations of the Globalstar first generation satellite constellation and the delivery and launch of the second generation satellite constellation which was completed in August 2013. Additionally Mr. Navarra continues to grow the telecommunications and special applications for Globalstar in the government and commercial sectors.
He was key in the placement of both Globalstar IPOs in 1993 and 2006 and has participated in many road shows raising $4 billion since 1993. He most recently was instrumental in establishing a French government, CoFace, backed, $504 million loan, from a consortium of French banks in July of 2009.