Resolving global threats such as piracy and terrorism requires nations to work together to advance a coordinated strategy. These multinational operations present a unique set of challenges particularly in communication and coordination. A common view of shared information is essential for maritime domain awareness and paramount to mission success.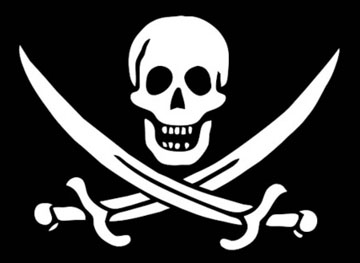 While terrorism is usually driven by political activism, the havoc caused by modern-day piracy is mainly a matter of economics — the rewards vastly outweigh the risks. The frequency of piracy-related incidents has been rising at a steady rate since 2005. At the 2011 meeting of the
International Maritime Organization
(
IMO
),
Efthimios E. Mitropoulos
, Secretary-General of the IMO, stated that piracy is costing the world economy between $7 and $12 billion per year.
Still, ocean transport remains the primary, most cost effective, and fastest means of delivering goods and food around the globe. In response to the threats of piracy-related incidents, as well as global terrorism, 25 nations joined in the establishment of the
Combined Maritime Forces
(
CMF
) in 2009 to promote security and stability across the approximately 2.5 million square miles of international waters in the Middle East. The CMF naval coalition in turn established individual task forces to focus on preventing piracy, defeating terrorism, encouraging regional cooperation, and promoting a safe maritime environment.
A key to the success of the naval coalition efforts is the ability for all members of the multinational task force to communicate effectively and efficiently despite differences in data network specifications. To achieve the level of communication and cooperation necessary for the CMF to execute effective strategies against piracy, terrorism, and other criminal activities, coalition forces required a common satellite communications system that could deliver high-performance at low cost, handle heavy data flow, and was easy to deploy on multiple vessels. The CMF found a solution that meets all of these requirements — the
TracPhone
®
V7
with
mini-VSAT Broadband
(sm) global service network from
KVH Industries, Inc
.
This end-to-end solution includes the 24-inch (60 cm) diameter TracPhone V7 maritime antenna, integrated below-decks equipment, and the global mini-VSAT Broadband service, built on a foundation of ViaSat's
ArcLight
®
spread spectrum technology.
Effective Communications For Effective Operations
The CMF consists of several Combined Task Forces (CTFs), including:
– CTF-150 – focused on maritime security and counter-terrorism including the illegal transport of weapons, personnel and income-generating narcotics
– CTF-151 – dedicated to counter-piracy operations in the Somali Basin, the Gulf of Aden, and the Indian Ocean
– CTF-152 – in charge of Arabian Gulf security and cooperation.
The CMF is also tasked with guarding vital Iraqi oil and gas platforms, with the assistance of
U.S. Coast Guard Port Security Units
(
USCG PSUs
)
When assuming command of the CMF and its task forces, Navy commanders discovered that some coalition partners were deploying vessels into the region that did not have adequate datacom messaging capabilities, leaving them unable to communicate with other task force vessels. CMT operations require the use of the
Combined Enterprise Regional Information Exchange System
(
CENTRIXS
), encryption software that enables ship-to-ship operational dialogue between vessels of other nations in both text and web-based formats.
CENTRIXS, which consumes a high volume of data, is vital to the success of the operations. Since the task forces operate in a widely dispersed fashion, line-of-sight communications do not meet daily needs. Additionally, when multiple nations speak English with varying dialects, ensuring that all parties have the same level of understanding can be difficult. CENTRIXS enables the secure use of such widely used tools as chat/instant messaging and e-mail, as it is easier to reach understanding with written communications.
Battling The High Cost Of Multinational SATCOM
Initially CMF provided various coalition vessels with Inmarsat L-band systems, which were desirable based on their small antennas, straightforward configuration, and coverage throughout the operational region. Unfortunately, the high cost of Inmarsat data, combined with the high data volume required by CENTRIXS, resulted in prohibitively high SATCOM costs.
Further, the forces in the operations are constantly changing. Various countries assign vessels, aircraft and personnel to the task force operations. Therefore, the Navy felt there was a need to offer SATCOM systems that were simple to install and operate, as well as being able to deliver global coverage with reliable high-performance like Inmarsat, but at a low cost.
KVH Industries' TracPhone V7 with the mini-VSAT Broadband network presented the solution to these multiple challenges of performance, affordability and ease of installation and operation.
Rigorous USCG Testing
Coalition forces drew on the extensive testing, evaluations, and operational experience of the U.S. Coast Guard in selecting the TracPhone V7 and mini-VSAT Broadband solution.
The Coast Guard was faced with meeting the challenge of many new applications that required, or would be enhanced, by broadband connectivity, as well as the need to provide Internet and voice calling capabilities for their crew members while offshore. With that in mind, the USCG began testing KVH's integrated SATCOM system shortly after the service was launched in September 2007.
The system's flexibility and power ably met the USCG's rapidly expanding requirements, driven by the new biometric technology that is used in immigration and law enforcement activities, missions that sent USCG vessels to the Persian Gulf in support of the U.S. war on terrorism and anti-piracy efforts, and natural disasters that required the USCG to support humanitarian efforts.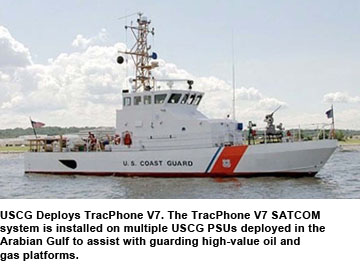 In addition, the 24/7 nature of USCG operations and the extreme sea and weather conditions in which these relatively small vessels operate are proof of the durability and reliability of the TracPhone V7 and mini-VSAT Broadband service.
The USCG began deploying KVH's TracPhone V7 systems on their 225-foot
Seagoing Buoy Tenders
and their 240-foot
Seagoing Buoy Tender/Icebreakers
. Their primary interest was to provide broadband connections for non-classified operations and to improve crew morale.
During the Buoy Tender fleet rollout, the Coast Guard inquired about an urgent requirement to augment broadband communications aboard the Inmarsat-equipped, 110-foot
Island Class Patrol Boats
stationed in the Persian Gulf. The Coast Guard needed an alternative commercial satellite service to meet the communications needs of the Coast Guard vessels operating in the Middle East. KVH provided the TracPhone V7 units and helped the Coast Guard integrate the mini-VSAT Broadband network into its communications backbone.
Recognizing the significant benefits offered by the TracPhone V7 and the mini-VSAT Broadband service, the U.S. Coast Guard next looked to equip their
High Tempo/High Maintenance
(
HTHM
) 110-foot Island
Class Patrol Boat
fleet with mini-VSAT Broadband service. These vessels use new biometric instruments to positively identify every person the Coast Guard detains, requiring large amounts of data to be transmitted between the Patrol Boats and the central database in Virginia. The TracPhone V7 systems deployed on these vessels offered a dramatic improvement in performance, including tracking in very rough seas and maintaining communications in rain and other adverse weather conditions.
In late 2010, the Coast Guard awarded KVH a $42 million contract to replace the satellite communications equipment on more than 200 vessels with the TracPhone V7 and mini-VSAT Broadband service.
Coalition Forces Select mini-VSAT Broadband
Following its assignment to the Combined Maritime Forces, the U.S. Navy purchased six TracPhone V7 units with mini-VSAT Broadband global service based, in part, on the success of the USCG's mini-VSAT Broadband testing and deployment. The U.S. Navy also encourages allied forces working in the combined joint task force in the region to equip their vessels with the mini-VSAT Broadband service.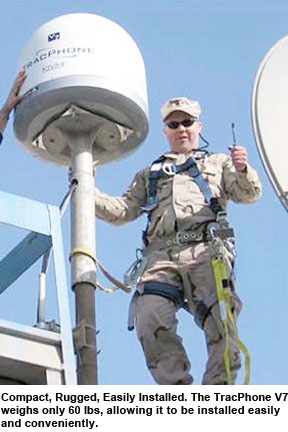 Today, TracPhone V7 systems are installed on high-value oil and gas terminals in the Arabian Gulf, and on U.S. Navy and coalition vessels participating in the Combined Maritime Forces. The units are available to be deployed as needed in the Gulf of Aden, the Gulf of Oman, and the Arabian Gulf. These systems have already been successfully deployed on vessels of the navies of Thailand, Pakistan and Bahrain, among others.
Based upon their experiences with the coalition, the
Republic of Korea Navy
, which recently took over command of
CTF-151
, purchased three of KVH's TracPhone V7 systems for installation in their vessels serving in the CMF task forces. Military forces using VSAT services travel all over the globe, switching from one regional network to another.
Bandwidth + Capacity
The mini-VSAT Broadband network is the first next-generation maritime SATCOM solution. The global spread spectrum satellite network, built with ViaSat's patented ArcLight
®
technology, offers more affordable airtime, voice service and Internet access as fast as 512 Kbps (ship to shore) and 2 Mbps (shore to ship).
The mini-VSAT Broadband network is based on ViaSat's
ArcLight Code Reuse Multiple Access
(
CRMA
) spread spectrum technology and is more than twice as efficient as older second generation
Time Division Multiple Access
(
TDMA
) technology used by all other maritime VSAT systems. Its spread spectrum signals can also be received by much smaller antennas while still ensuring high quality connections that withstand atmospheric interference, rain fade, and multipath errors.
In addition, mini-VSAT Broadband's transmission technology is highly efficient at managing network traffic and provides affordable, consistent data rates. This ensures that vessel commanders and crews get what they need with regard to service speeds, reliability, clear
Voice over Internet Protocol
(
VoIP
) phone connections, and performance.
The modern spread spectrum broadcast technology used by mini-VSAT Broadband permits the service to operate using smaller antennas like the TracPhone V7, which is 85 percent smaller by volume and 75 percent lighter than those employed in 1m VSAT equipment. By way of comparison, the TracPhone V7 is only 24-inches (60 cm) in diameter and weighs 60 lbs (27 kg), as compared to the 40-inches (1 m) or larger traditional VSAT antennas that weigh 250-400 lbs (115-180 kg).
With a wide range of affordable, flexible airtime plans, including always-on, fixed-price airtime plans and per-megabyte plans, TracPhone V7 customers can save as much as 85 percent or more per megabyte over existing maritime data services.
The Bottom Line
Reliable, high-quality SATCOM is crucial to successful multinational security operations, especially when coordinating multilateral military strategy. The effective deployment of coalition forces requires communications systems capable of supporting high-volume data use, such as Internet access and onboard video teleconferencing.
KVH's mini-VSAT Broadband network and TracPhone V7 system have proven themselves ideally suited for such operations thanks to compact antennas, affordable broadband service, and global coverage. More than 1,000 TracPhone V7 systems were shipped in the first three years after the product's introduction, making the mini-VSAT Broadband network the fastest growing maritime VSAT solution.
For additional information, please visit...
http://www.minivsat.com