USAF's SMC's Rogue Cubesat mission launches
The U.S. Air Force's Space and Missile Systems Center and its mission partners successfully launched the Aerospace Rogue Alpha/Beta Cube satellites on November 2, 2019.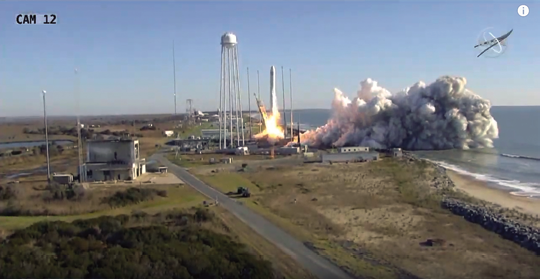 The Northrop Grumman NG-12 Resupply Launch, with the Cygnus
spacecraft aboard, lifts off from the Wallops Flight Facility in Virginia.
Image is courtesy of NASA.
Lift-off occurred at 9:59 a.m. ET from NASA's Wallops Flight Facility, Wallops Island, Virginia. The Cygnus capsule will mate with the International Space Station and the satellites will remain there until deployment in early 2020.
The Aerospace CubeSats have officially achieved their priority mission of developing a small LEO constellation in just 18 months.
The satellites will now collect data on cloud backgrounds to inform future LEO missions. The USAF will also use this program's data to investigate potential uses of the capability.
The Rogue CubeSat Program, a dual smallsat program co-developed by the U.S. Air Force Space and Missile Systems Center and The Aerospace Corporation, finished preparations for launch and was fully integrated onboard Northrop Grumman's Antares Cygnus launch vehicle at Wallops Island, Virginia, on November 1.

Colonel Dennis Bythewood, Program Executive Officer for Space Development, said the successful launch of the Aerospace CubeSats marks a huge achievement for SMC and its partners. This mission has set a precedent for speed and will also provide us with much needed data for future space development programs.
The cubesats were designed, built, and tested by The Aerospace Corporation, a national nonprofit corporation that operates as a federally funded research and development center dedicated to advancing the nation's missions in space.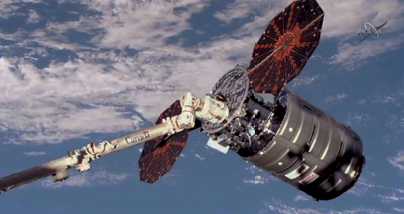 Northrop Grumman's Cygnus spacecraft berthing
with ISS. Image is courtesy of NASA.
The Rogue Cubesats design emphasizes Commercial-off-the-Shelf (COTS) sensors, non-exotic parts and features a high-speed laser communications system that will enable downlinks of large image files. These dual smallsats will also use novel wavelengths for infrared sensing.
The mission priority is to investigate the feasibility of developing small and low-cost satellites as a means of rapidly reconstituting a proliferated LEO constellation.
Rogue has succeeded so far by meeting its targeted 16-month design, build, and test timeline.
The satellites will also work on jump starting LEO cloud scene processing and provide test data for new short-wave infrared band satellites.
---
A rollercoaster approach to satellite re-positioning
When a natural disaster strikes or a national security emergency breaks out, every minute counts.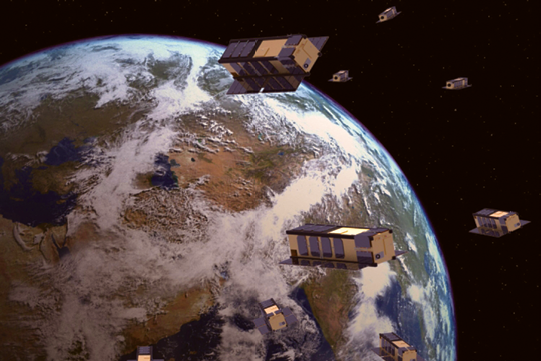 However, it can take a satellite in LEO 100 minutes to make one of the many passes needed to provide global coverage.
Larger satellites can provide continuous coverage of greater areas but require higher altitudes and still only cover roughly one-third of the Earth.
In critical, fast-moving situations, space operators can find themselves challenged by the stubborn inflexibility of satellite positioning, which, despite numerous technological advances, still requires satellites to rotate or orbit into viewing range to image a target.
The Aerospace Corporation is testing a new approach that leverages atmospheric drag to provide dynamic satellite re-positioning, enabling on-demand responsiveness to emerging situations on the ground.
This new concept, known as Project Rollercoaster, is an alternative to the current, static method of satellite imaging that leverages maneuvering and the atmospheric drag of LEO to rapidly and efficiently alter satellite ground tracks.
"If you want to get eyes on the ground, this will enable you to get there in a very short timeline", said Travis E. Swenson of Aerospace's Flight Design and Optimization Section. "The idea is you could deploy one of these Rollercoaster vehicles, use a chute and safely change your orbit so that you could image an area of interest much more responsively than you could have otherwise."
The Project Rollercoaster methodology is divided into three sequential phases: burn, drag and coast.
To initiate the process, a small maneuver is executed to lower perigee which alters the satellite ground track, giving the spacecraft access to higher density atmosphere.
Next, the satellite deploys panels or chutes to further modify its ground track using drag.
Lastly, the drag devices are stowed or jettisoned, and the satellite continues to orbit until the target flyover is achieved.
This enables global visibility access within a significantly reduced timeframe and with greatly reduced fuel requirements.
The technology required for Project Rollercoaster has already been demonstrated via cubesats, and computer simulation has upheld its feasibility.
If successful, the Project Rollercoaster method could allow for prompt surveying of natural disasters, provide intelligence during a national security emergency, and serve a host of other intelligence applications.
Rollercoaster could also facilitate targeted ocean re-entry of spacecraft, substantially reducing instances of land impacts while also enabling the orbit rephrasing required to avoid spacecraft collisions. This could ultimately enable the targeting of specific landing zones and the reduction of re-entry footprints.
Aerospace's Flight Design and Optimization Section, in collaboration with iLAB, is already exploring the application of atmospheric lift to target flyovers at specific local times, and the possibility of achieving repeated passes over a target area.
Another advantage to Project Rollercoaster is that it allows for a flexible mission architecture.
For example, a number of relatively inexpensive smallsats could be stored onboard a Cygnus cargo spacecraft, orbiting in stasis until called into action to provide rapid assessments of dynamic situations.
Most importantly, Project Rollercoaster underscores the nation's need for space assets that can respond rapidly to emergent needs, paving the way for even more control of spacecraft re-entry.
As always, Aerospace is forging new ground in this area and others, while demonstrating the feasibility of a more resilient and efficient space enterprise in the process.
aerospace.org
---
Certification process begins for Viasat's MMT for UK MoD Skynet SATCOM system
Viasat Inc. (NASDAQ: VSAT) has announced that the firm's Multi-Mission Terminal (MMT), the AN/TSC-241, has started the UK Ministry of Defence (MoD) Skynet SATCOM architecture assurance and certification process, which will authorize the terminal's operation on the Skynet X-band system as well as other government and commercial networks — Viasat expects to complete the certification process during December of 2019.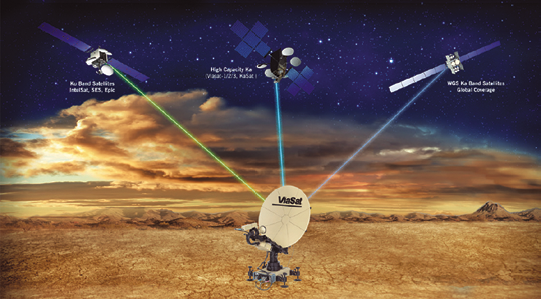 Viasat's AN/TSC-241 Multi-Mission Terminal (MMT)Transportable,
Multi-Band Satellite Communications VSAT.
Viasat's MMT, being a tri-band, multi-network software-defined solution, delivers high-quality IP-based voice, video and data networking across multiple networks in both highly contested and benign environments around the world. Using a portable terminal design, the MMT is an ideal networking solution for forward operating bases, as it enables users to securely access networks and establish command post communications quickly and easily.
During the 2018 multi-national Saber Strike exercise, which trained U.S., NATO and coalition forces on security and threat preparedness, field personnel were able to use the MMT's integrated smartphone app to easily establish communications with minimal training. Other field-proven performance advantages of the MMT included:
• Enhanced connectivity with a small footprint: Viasat's MMT provided forces with enhanced satellite connectivity with a very small logistical footprint. This enabled robust data to be sent to Beyond Line of Sight units, significantly enhancing situational awareness across
the battlespace.
• Resilient, high-quality performance on multiple networks: The MMT, which incorporates Viasat's CBM-400 software-defined modem capable of TDMA/FDMA, over X-, mil-Ka-, Ku- and commercial Ka-band networks, produced robust throughput on high-capacity Ka-band networks. In addition, Viasat's MMT, through a simple waveform switch to Viasat's ArcLight waveform, also demonstrated proven satellite connectivity in the Ku-band with enhanced upload and download performance when compared to other
legacy systems.
• Added flexibility: One of Viasat's MMTs operated entirely on standard military-use batteries during the Saber Strike exercise, demonstrating its logistical flexibility in an austere environment.
• Ease of use: Viasat's MMT was set up three separate times over the course of the 22-hour maneuver, demonstrating its portability and ease of use for U.S. and international coalition forces. When compared to other systems, the Saber Strike report noted improved ease of set-up/tear-down of the MMT, which can be done in 15 minutes or less.
The MMT is designed to switch between both government and private sector assured, resilient, integrated networks (ARIN). In addition, the MMT's CBM-400 software-defined modem will allow customers to switch between multiple waveforms as well as multiple networks and upgrade to Viasat's next-generation Ka-band network. The CBM-400 is also the first software-defined, multi-waveform, certified modem available to U.S. and coalition military organizations.
Ken Peterman, President, Government Systems, Viasat, stated that certifying Viasat's MMT on the Skynet architecture, the UK MoD will be able to maintain the operational and information advantage needed in today's escalating threat environment. The MMT will provide the UK MoD with easy access to secure, resilient, high-speed, multi-orbit, multi-frequency band and multi-network SATCOM architectures, which will deliver the advanced connectivity needed to integrate into the battle-network of the future.
Steve Beeching, Managing Director, Government Systems, Viasat UK, add this software-defined, tri-band, multi-network terminal further exemplifies Viasat's ability to rapidly deliver cutting-edge technologies suited for MoD and coalition forces' unique mission requirements. The MMT builds on the company's ability to deliver ARIN and the information connectivity needed to power the battle-network of the future. Viasat wants the ability for customer to better connect their forces across today's rapidly evolving battlespace with the aim to help weaponize information.
www.viasat.com
---
L3Harris VSAT obtains GX approval
L3Harris Technologies (NYSE:LHX) has received Inmarsat Global Xpress (GX) Category 1 type approval for the company's Ka-band 60 and 96 centimeter Very Small Aperture Terminals (VSAT).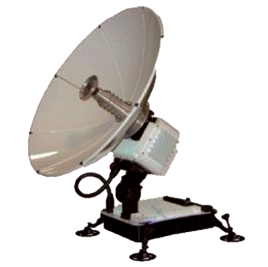 L3Harris' Panther II is the first terminal equipped with the iDirect 950mp core module to receive Category 1 type approval for operation over Inmarsat's commercial GX service.
GX is the world's first and only globally available, high-speed wideband network, owned and managed by a single operator.
The Panther II VSAT is fielded world-wide by customers who operate them over the Wideband Global SATCOM (WGS) constellation.
The Inmarsat GX Category 1 type approval now gives users the ability to own a single terminal that can be configured for use on a commercial Ka-band network.
Chris Aebli, President, Global Communication Systems, L3Harris, said obtaining Inmarsat type approval on the firm's Panther II terminal enables the company to provide customers with more end-to-end connectivity options and interoperability.
Keith Gammon, Director, Product Development, Inmarsat, added that as a long-time trusted partner to the U.S. government, the company designed Global Xpress with government mobile users in mind, thereby, boosting the effectiveness, flexibility and resilience of military satellite communication systems.
He added that with the Inmarsat type approval of L3Harris' Panther II terminal, expeditionary users now have more ways to access reliable and highly available commercial wideband capacity in parallel with their WGS network.
www.harris.com
---