To Fly Or Not To Fly
A pilot sits in his UH-60 Black Hawk on the airfield at Joint Base Balad and calls in for a preflight weather check. The Staff Weather Officer tells him there is a dust storm in route and there will be zero visibility at Camp Taji and that flying there is not recommended.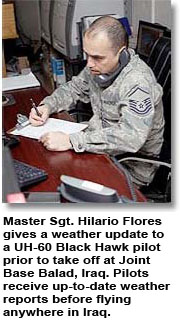 The pilot heeds the SWO's warning and goes into a holding area until the weather clears; possibly saving not only his own life, but the lives of his crew and passengers.

Several Airmen from the
California Air National Guard
are deployed to Iraq to support the
40th Combat Aviation Brigade
and other air and ground assets in the country.
"The Army needs to know what's going on with the weather throughout its area of operations," said Master Sgt.
Hilario Flores
, SWO for the
22nd Expeditionary Weather Squadron, Detachment Two, 163rd Reconnaissance Wing/210th Weather Flight
out of
March Air Reserve Base
, California, which is currently deployed to Camp Taji and Joint Base Balad in support of Operation New Dawn. "If something pops up, we have to let them know immediately so they can adjust fire accordingly and go from there."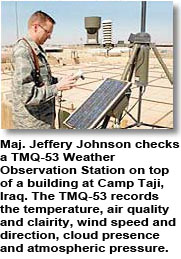 The weather plays a big factor in all military operations, both in the air and on the ground. From when a mission starts to when it is finished, the weather may change two or more times. A change in the weather can make a smooth operation grind to a screeching halt in a matter of seconds.
"The weather here in Iraq can change drastically in an instant," said
Flores
. "We always have to stay vigilant when we're at our post and we're always on our toes looking to ensure our forecasts stay accurate."
The 22nd EWXS uses a vast array of ways to gather its information to be able to accurately forecast the weather.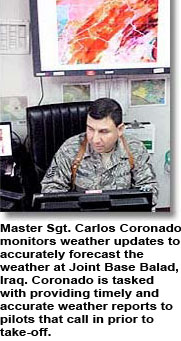 "We use satellite imagery and live feeds, we have automated sensors out at different locations that gather information, we send people up to the roof every hour to physically look at and feel the weather; plus, we use intel that we get from soldiers out in the field, among other ways to gather our information to accurately forecast the weather," said Maj.
Jeffery Johnson
, SWO officer in charge for the 22nd EWXS. "We by no means have a lack of intel to forecast the weather accurately up to four to seven days in advance."
In addition to accurate forecasting, the 22nd EWXS is efficient in letting the troops know what to expect and when to expect it when it comes to the weather.
"We brief the pilots before takeoff, during takeoff, when they're in route, and before they land, on the most current, up-to-date weather conditions in their area," said Master Sgt.
Carlos Coronado
, SWO non-commissioned officer in charge, 22nd EWXS. "We also brief the command on what is going on and what's about to happen so they can disseminate it to the troops."
The airmen of 22nd EWXS said they take pride in their mission: to provide accurate weather forecasts, visibility reports and temperature predictions to the pilots, commanders and to the everyday soldier on a daily and sometimes hourly basis.
Story and photos by Spc. Darriel Swatts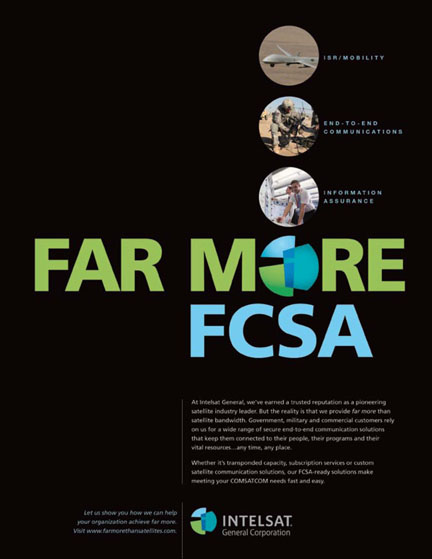 * * * * * * * * * * *
Operation Tomodachi Support
Exercise Key Resolve 2011 ended March 10, and 1st Marine Aircraft Wing, III Marine Expeditionary Force, assets used for the exercise are being sent to mainland Japan to support humanitarian assistance and disaster relief efforts there.
According to Sgt.
Kevin Medina
, a system administrator with
Marine Tactical Air Command Squadron 18, Marine Air Control Group 18, 1st MAW
, Key Resolve was an excellent way to train with the Air Force and use database exchanges between the services.
"The coordination between the system administrator, the interface control officer and the Hardened Tactical Air Control Center kept the commanding general's satellite picture up and operational at all times," said Gunnery Sgt.
Columbus Wilson
, an interface control officer with MTACS-18.
The data links between the Marine Tactical Air Communication Center and the
Air Force HTACC
worked with no connection problems throughout the exercise, according to Staff Sgt.
Michael Selden
, a crew chief with MTACS-18.
Due to current relief efforts in Japan, 1st MAW communication assets that would have been deployed back to Okinawa are being sent to mainland Japan instead.
"We are sending a Lamda antenna, a Lightweight Multiband Satellite Terminal and a Support Wide Area Network to help aid the disaster relief in Japan," said Lance Cpl.
Annalynn Delvalle
, an embarkation specialist with Marine Wing Communication Squadron 18, MACG-18. In all, Marines from MWCS-18 sent five pallets of communication gear to
Naval Air Facility Atsugi
, Japan.
"The gear is being sent to Atsugi to support the Air Combat Element Command Operational Center and Sendai to support the Forward Air Refuel Point," said 1st Lt.
Mike Parrott
, a detachment executive officer with MWCS-18.
The FARP was established by 1st MAW Marines at Sendai's
Yamagata Airpor
t to increase military airlift capabilities.
According to Delvalle, the squadron loaded about 25,000 pounds of gear to help support III MEF Marines already deployed to aid Japan.
Story and photos by Lance Cpl. Michael Iams
Addtionally, Marines assigned to Marine Wing Communications Squadron 18, Marine Aircraft Group 36, 1st Marine Aircraft Wing, III Marine Expeditionary Force, provided much-needed communication support to Marines and sailors, as well as their Japanese counterparts in Sendai, March 23.
In the wake of the earthquake and tsunami that devastated the coastal city of Sendai in northeastern Japan on March 11, Marines and sailors assigned to
III MEF
have been working steadily in support of the disaster relief efforts known as Operation Tomodachi with poor communication assets.
Although many different components are involved in the relief efforts, Marines in charge of restoring communication feel their mission is a top priority.
"We are here to support any communication-related needs during Operation Tomodachi," said Sgt.
Giovanie Maldonado
, a wireman with MWCS-18.
The squadron has spent the past week providing constant support to those in need, whether fellow Marines assisting the relief efforts or Japanese counterparts focused on rebuilding the damaged areas of their country.
"We are providing communication to our satellite sites of operation that are unable to communicate properly with the outside world," said Maldonado. The squadron is operating as they would on a deployment, handling the need for communication with an unprecedented sense of urgency.
Yarian
added, "We go to the next disaster site and provide crucial communications support to both U.S. and Japanese forces so they can coordinate the relief efforts."
"We leave when the mission is complete,"
Yarian
said.
Unsure as to when their mission will end, the Marines remain focused on providing communication support to the relief efforts.
As a part of
Operation Tomodachi
, the Marine Corps continues to work closely with the government of Japan to provide any requested assistance.
* * * * * * * * * * *
Bundeswehr Bundling (Comms)
Thanks to this new order, the Harris Corporation now supplies six countries with their tactical radios...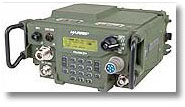 The Company has received a $1.6 million order from the Bundeswehr, the
Armed Forces of the Federal Republic of Germany
, for
Falcon III® AN/PRC-117G
multiband manpack radio systems. This order brings to six the number of countries that have adopted the AN/PRC-117G to provide defense personnel with nexgen tactical communications capabilities such as wideband networking. In connection with the order, Harris is supplying German forces with AN/PRC-117G radios and related accessories. Germany will deploy the AN/PRC-117G in support of national and NATO peacekeeping missions. The AN/PRC-117G radio provides warfighters with unprecedented situational awareness of the battlefield by enabling applications such as streaming video, simultaneous voice and data feeds, collaborative chat, and connectivity to secure networks. The wideband networking capabilities of the AN/PRC-117G give warfighters critical real-time information through a man-portable radio that is significantly smaller and lighter than previous manpack radios.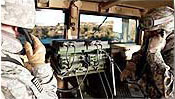 Product information at this link...
http://www.rfcomm.harris.com/capabilities/tactical-radios-networking/an-prc-117g/default.asp
* * * * * * * * * * *
Warrior Welfare
Afghanistan-based troops will soon have access to far more welfare comm services.
NewSat Limited
has won a new contract to provide MILSATCOM services to U.S. Military troops in Afghanistan. The contract is worth $4.4 million of additional revenue per annum, commencing in June 2011. The contract will see NewSat providing welfare communications for military personnel in over 15 locations throughout Afghanistan. The contract also has the option for NewSat to extend for a further year. This latest contract takes NewSat's year-to-date contract wins to more than $10 million in new revenue, in addition to NewSat's current contract base and high retention rate. For reference, NewSat's revenue in the year to June 30, 2010, was $25 million.
* * * * * * * * * * *
MILSATCOM Testing Prior To Deployment
Soldiers with the Arkansas National Guard's 39th Infantry Brigade are now testing a new satellite-based communications system as they prepare for their latest combat deployment.
The
Arkansas Democrat-Gazette
reported Sunday that tents housing computer terminals and satellite links went up last week at
Fort Chaffee
, allowing soldiers to test the
Warrior Information Network-Tactical
system for the first time in a virtual war scenario.
Sometime next year, soldiers from the brigade will head to Afghanistan for the unit's third combat deployment in a decade.
The new network gives soldiers at all levels access to one another's intelligence, data and procedures, said the brigade's commander, Col.
Kirk VanPelt
.
"It can be too much information, so the challenge is, how do you manage it,"
VanPelt
said. "We have a ways to go."
Brigade officials expect to receive this spring their formal alert, signifying a one-year countdown to deployment, but they wanted to be proactive and start preparing now. Brigade leaders attended a leadership workshop earlier this month at
Fort Irwin
, Calif., and in six weeks, the whole brigade will leave for a three-week exercise at the
National Training Center
at the same California post.
VanPelt
said the brigade remains about 300 soldiers short of its goal of 3,400 soldiers. Soldiers from the
Alabama National Guard's 1st Battalion, 167th Infantry Regiment
, have been told they will join the Arkansas unit for the deployment.
Although the brigade does not yet know what its mission will be when deployed, soldiers know know will be using the new communications system. Capt.
Marcus Pierce
, the 39th's signal officer, said the system will allow units spread across a region to share intelligence. He said last week's exercise proved helpful but "we're somewhere between a crawl and walk phase" in using the system.
"The real challenge beyond the initial training is how do we keep training up from month to month and how do we make sure we get software updates," Pierce said. "That can cripple us."
Story from the
Arkansas Democrat-Gazette
by
Amy Schlesing
http://www.arkansasonline.com
* * * * * * * * * * *
Gearing Up
The U.S. Army continues to move forward on Low Rate Initial Production of Increment 2 of the Warfighter Information Network-Tactical, or WIN-T. WIN-T is a mobile satellite communication and terrestrial network able to move voice, video and data across long distances for forces on-the-move in combat, Army officials said. WIN-T includes network management tools, radios, routers and small, vehicle-mounted satellite dishes able to transmit signals via terrestrial and satellite from the company level up to division echelons. It will also support communications connectivity to vehicles on-the-move, to other command posts, and higher headquarters, said Lt. Col. Robert Collins, product manager for WIN-T Increment 2.
The
WIN-T Increment 2
contract, which was awarded to General Dynamics and finalized on Dec. 30, will support procurement and fielding of 20 brigade-sized maneuver units and includes two years of LRIP with an option for one additional year of Full Rate Production. The initial Low Rate contract Delivery Order calls for delivery of eight brigades and one division headquarters worth of WIN-T gear, Collins said. The WIN-T network is designed to be self-healing and self forming. It is managed and configured via custom and commercial-based Network Operations software to ensure the most efficient and effective path is available to transmit valuable, combat-relevant information.
"The network components are designed with redundant paths in and out, so WIN-T has routing capability. If you are maneuvering through the desert and you hit some kind of blocking terrain where you don't have a terrestrial line-of-sight connection, the network can automatically re-route information to the next available path, such as a satellite," said Collins. The NetOps software allows the signal officer to monitor activity and prioritize information flows across the network. "There are protocols and policies that we use to make sure the network is constantly making decisions and pushing information out through the most efficient route possible. Additionally, the WIN-T Inc 2 system allows network resources to be weighted much like combat forces are in support of operational missions. The network can allocate bandwidth and prioritize traffic so that that critical messages get precedence on the network,"
Collins
said.
WIN-T Increment 2 has a key Initial Operations test coming up in early 2012 with the
2nd Brigade, 1st Armored Division
at
Fort Bliss
, Texas, he said. The WIN-T program is also continuing development on Increment 3 - that includes additional capability such as an "aerial tier"- in which the network will be extended to leverage the use of aerial "nodes" on Unmanned Aerial Systems such as the
Gray Eagle
to enhance overall connectivity and reliability,
Collins
said.
* * * * * * * * * * *
Nanosatellite's 3U CubeSat Success
The multiple payloads aboard this spacecraft have science operations under control and completed...
Dynetics
announced during the recent
NSS
event in Colorado Springs that
FASTSAT-HSV01
has successfully completed scheduled science operations for multiple payloads. Mission operations are managed and controlled at
NASA
's
Huntsville Operations Support Center
in Huntsville, Ala. FASTSAT is a commercial satellite developed by Dynetics in partnership with the
Von Braun Center for Science & Innovation
(
VCSI
) and NASA's
Marshall Space Flight Center
in Huntsville for the
Department of Defense Space Test Program
(
DoD STP
). The spacecraft launched on Nov. 19, 2010, carrying six payload experiments to low-Earth orbit. NASA's
Mini-Me
and
PISA
instruments onboard the satellite are successfully performing science observations as the TTI instrument continues sensor optimization. FASTSAT demonstrated the deployment of a 3U CubeSat from a microsatellite on Jan. 20. The
NanoSail-D
nanosatellite deployed its 100-square-foot polymer sail in low-Earth orbit and is operating as planned. Additional payload operations are planned.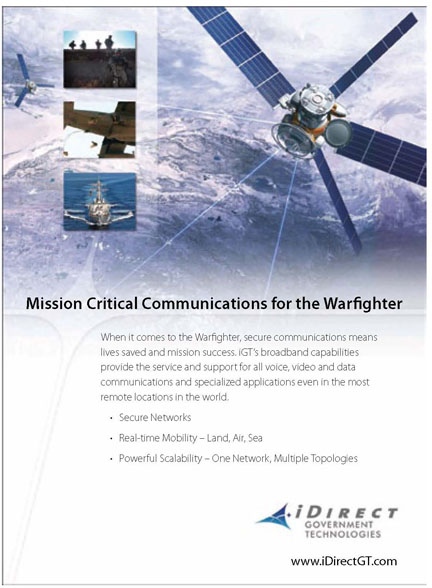 * * * * * * * * * * *
Atlas V Ascends
Lift off was successful for this NRO payload...
On Thursday evening of April 15, 2011 , the
United Launch Alliance
(
ULA
)
Atlas V
with the
NRO
's
L-34
payload stood ready to launch at
Vandenberg AFB
's
Space Launch Complex-3
. The weather forecast earlier stood at a 30 percent chance of acceptable weather due to ground level winds. This launch marks the 25th launch of the Atlas V vehicle since its first launch in August 2002. This mission is in support of national security. Lots of intrigue occurred as weather reports made the event sound tenuous, but at last the launch took place.
The Atlas 5 rocket takes an unconventional shape that provides just the right amount of power for its payload. The Atlas 5-411 vehicle's single solid-fuel booster is mounted to the first stage making this configuration unique because rockets typically fly with either no strap-on boosters or multiple motors. The concept of the Atlas 5 was that is was designed from its initial concept with the thought of each launch being tailored to the payload. If a cargo's weight needs the power of only one booster, then that's how the rocket will be built. Additional photos are available at the ULA's website,
http://www.ulalaunch.com/
Go Atlas V! Go Centaur! Go NROL-34! And it did!