Several months of research led to the recent publication of Euroconsult's Military Satellite Communications report. This research allowed us to enter into an unprecedented review of the use of satellite communication services and networks by military forces, and the future drivers for satellite use.
A Dramatic Increase In Satellite Use To Support Military Operations (MilOps) Over The Past Decade
The military was relatively peripheral to the commercial satellite communications market until 2001, when the start of the war in Afghanistan promptly led to a record amount of commercial leases and to the establishment of dedicated subsidiaries by the largest operators. The first of a succession of special contracting vehicles by the U.S. Defense Information Systems Agency (DISA) was also initiated at that time.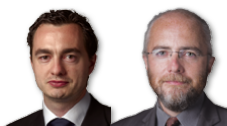 The DoD reported the total use of commercial fixed satellite capacity rose steadily from less than $100m million and 1,200MHz in 2000 to an estimated $655m million and approximately 8,500MHz in 2010.
Various statements by DoD and industry officials on the share of commercial leases in the DoD's total capacity (as opposed to that of traffic carried on its own satellites) reported that capacity increased regularly until about FY 2010, to a peak of approximately 80 percent across the entire enterprise and 96 percent of the capacity used in Iraq and Afghanistan. These figures appear to have returned to a lower level of 60 percent, due to the end of major conflicts and the launch of new DoD satellites.
A Transitional Phase
Following the peak in traffic observed at the end of the last decade, several events and drivers are helping to reshape the market: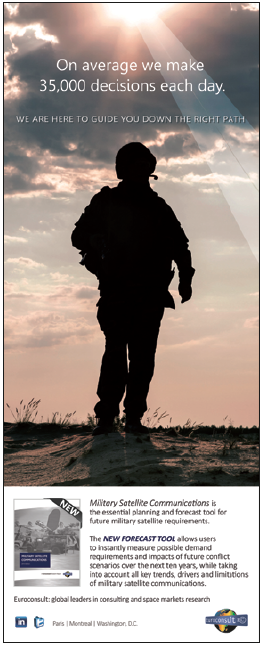 The withdrawal of troops from Afghanistan and the overall reduction of operations certainly represent major milestones. 2012 coincided with a reported decrease of capacity leased by several satellite operators.
A new generation of military satellites reached orbit in the late 2000s. These systems do not address all demand, but having received many billions of dollars and being tailored to military needs, they tend to be preferred by military users. In the case of U.S. satellites, their high costs have encouraged the DoD to share its WGS and Advanced EHF satellites with over a half-dozen of its allies. Other countries, from Turkey to Brazil and Qatar to Japan, are finding ways to launch proprietary satellites or payloads.
Overall, approximately 300,000 land terminals were owned by different military forces as of 2013. A large part of ground equipment deployed in the theaters was outdated, resulting in big inefficiencies in traffic management—large commissioning of new equipment has been reported. New equipment should have mixed effects. On one side, it should favor an optimization in transmissions and could reduce the capacity required. On the other side, new equipment should allow for higher data rate communications and bandwidth hungry applications which involve a larger number of mobile units. It should also favor the use of new frequency bands, such as the Ka-band.
While these items have tended to limit the use of commercial satellite capacity, other drivers should mitigate that trend and create opportunities in the coming years.
Smaller + More Centralized Ops
While the last decade was marked by major conflicts in Iraq and Afghanistan, the last two years have seen a rise in local operations for shorter periods and in different theaters. Examples include NATO operations in Libya in 2011, French and UN operation in Mali in 2013 and EU military operation in Central African Republic in 2014. Small conflicts have multiple consequences:
Troop deployments of up to several thousand soldiers along with equipment can occur in a short time period, with an onsite presence of at least a year
Strong focus is put on intelligence gathering, including the use of remote sensing satellites, including UAVs. The use of UAVs obviously depends on their availability for the involved troops
Large mobility of deployed troops in large theaters, with operations spread across long distances. This adds pressure particularly on logistics and the autonomous decision capability of troops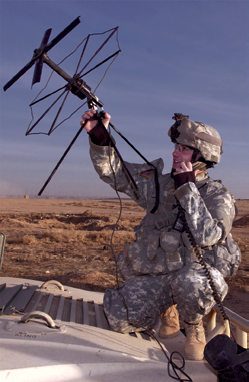 Compared to overall traffic of 5Gbps by 2017 over satellite in a peacetime situation, the advent of different, small conflicts involving the use of U.S. capabilities for at least part of them could boost global satellite usage to at least 8Gbps by 2017, or more than 10Gbps by the close of the decade.
UAVs—Important Drivers For Future Use
While more than 75 countries now operate thousands of UAVs around the world, only a small fraction of the most sophisticated and expensive UAVs are relevant to satellite communications. The rest use line-of-sight radio links when the range of 200 to 500km is considered sufficient, or relay aircraft. Overall, a review of all known satellite-linked UAV systems leads to an aggregate of approximately 450 aircraft, including approximately 410 belonging to the U.S. DoD and other U.S. government agencies.
First used in combat over Bosnia in 1995, satellite-linked UAV operations became routine in Iraq in 2003. U.S. Air Force statistics indicate that ISR flights over Southwest Asia and the Middle East tripled during the 2010 to 2011 timeframe, during the "surge" of U.S. troops into Afghanistan. Their use peaked in late 2011 at an average of around 120 sorties per day, and then declined by approximately 40 percent through early 2013, stabilizing at around 85 sorties per day.
UAVs have been the primary users of Ku-band capacity in recent years, essentially on commercial satellite systems. Several trends should have an impact on related use in the coming years.
The number of UAVs owned by the different military forces in the HALE (high altitude, long endurance) and MALE (medium altitude, long endurance) categories should increase. However, the level of use ( i.e., the number of flight hours that largely condition capacity needs) will depend on the intensity of military operations.
Beyond Line of Sight solutions deployed worldwide for the military, disaster relief operations and intelligence agencies. Photo courtesy of Rockwell Collins
The further spread of UAVs across different theaters could follow the end of large scale operations in Afghanistan. This will remain partly conditioned by the availability of ground bases, as the management and maintenance of UAVs require significant personnel and infrastructure.
Along with continued growth in UAV inventories and sustained deployments, the key driver in their future satellite usage is expected to be more bandwidth-intensive payloads, primarily for wide-area surveillance and full motion video (FMV). The availability of sensors precision has initiated different upgrade programs and requirements. More accurate sensors should contribute to an improved efficiency of operations. A counterpart is that those sensors require higher data rates to transmit their imagery.
Limitations in future use are still significant. Beyond the cost of programs, the efficiency of UAVs and/or their relevance for different types of conflicts could partly limit investments as opposed to other types of military equipment.
Future Capacity Planning Requirements Remains The Challenge
The planning of future satellite resources required for armed forces remains a challenge, largely dependent upon assumptions on the size and locations of potential future conflicts that remain largely unpredictable. Still, the review of usage patterns, and of equipment and troop capabilities, allows one to derive different scenarios and related satellite requirements.
We anticipate that the advent of multiple small conflicts could progressively drive use in the second part of the decade to 10Gbps, relatively close to the 2010-2012 usage levels. However, in the advent of a medium-sized conflict in the second part of the current decade, we estimate that total traffic over satellite could reach over 15Gbps— such could even stand at more than 30Gbps in case of a major conflict, which is up to three times the traffic of 2013. Such a case could, nevertheless, create tensions on the availability of satellite capacity, depending on the actual location of the conflict.
About The Report
Military Satellite Communications is the essential planning and forecast tool for future military satellite requirements. The report provides a comprehensive bottom-up assessment of all relevant military satcom user markets, including land forces, naval forces, UAVs and manned aircraft. The report also includes a forecasting tool that allows users to instantaneously measure possible demand requirements and impacts of any future conflict scenario over the next ten years, while taking into account all key trends, drivers and limitations of military satellite communications. The direct link for additional information regarding this report is: http://www.euroconsult-ec.com/shop/home/49-military-satellite-communications.html