According to The International Disaster Database (EM-DAT), 196 natural disasters occurred during 2011, worldwide, affecting more than 85 million people and resulting in an estimated $290 billion in economic damages. Combined with the amount spent on natural disaster recovery and response-related activities, the cost for worldwide natural disasters is estimated to be $380 billion.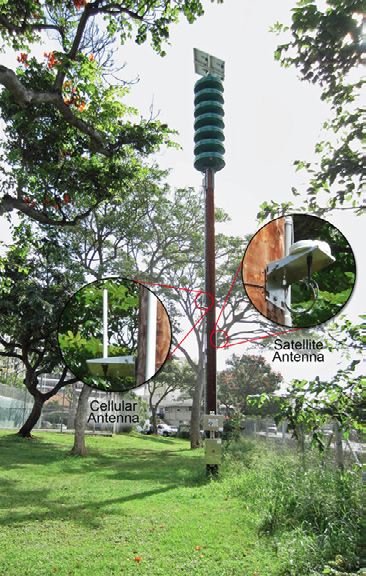 Fortunately for emergency preparedness managers, communication technology is quickly advancing with new, improved ways to collect and manage the vital information needed before, during and after natural disasters. One technology that is changing the face of emergency preparedness is satellite machine-to-machine (M2M) communication. The dependability of the technology results in better communication for emergency preparedness, quicker evacuations, and improved logistics during post-disaster crisis management.
Hawaii Improves Disaster Preparedness With Satellite Technology
Hawaii State Civil Defense is a cutting edge example of what can be accomplished with satellite M2M technology. As part of its mandate, State Civil Defense maintains the state-wide outdoor siren warning system. It is designed to alert the public to any emergency that may pose a threat to life and property. In addition to natural and technological hazards, the siren warning system could be used for terrorist incidents or acts of war.

Hawaii's siren system ran on a "decades-old high-frequency radio system", according to George Burnett, Hawaii Civil Defense Telecommunications Branch Chief. "Our sirens pretty well exceeded their life cycle. It was taking extraordinary efforts from our maintenance staff to keep them running properly. You can't just have a technician with a meter at each siren checking electrical currents to see if it's going to work."
The VHF/800MHz radio frequency sirens installed across all of the islands could not be monitored from a central location. Unless there was a reason to visit a specific siren, technicians had almost no way of knowing when a siren was malfunctioning or had completely stopped working. The preventive maintenance check was scheduled to be performed only twice a year.
As there were no remote monitoring capabilities defining when to follow up on reported issues, such as a failed siren, the crew needed to visit the site, conduct tests, return to the office to source replacement parts and then return to the site to make repairs.
Between the age of the siren system and the amount of time and budget necessary to maintain it, Hawaii needed to upgrade the state-wide outdoor siren warning system that would alert the public properly.
Any new state-wide replacement warning siren control system had to meet a long list of requirements:
– A state-of-the-art solution that would abide by the Federal Communications Commission's mandate that states move away from high bandwidth communications to one that uses lower bandwidth
– A unified and standardized control system that would work across all of the State's counties
– The ability to remotely monitor and test area-specific sirens regardless of the island they were located on
– Technology that withstood Hawaii's geographical topology and allowed sirens to be installed where previously not possible
– Communication redundancy to ensure all sirens were activated to ensure proper warnings
Hawaii worked with SkyWave and its Solution Provider, Federal Signal, a provider of safety and security solutions, to develop the new statewide siren system.
The system relies on M2M (machine-to-machine) satellite hardware from SkyWave and cell towers to transmit data from remote sites to the central office and provide total control and execution of the warning system. The new sirens use solar panels and batteries rather than relying on the electrical grid.
By the time the project is completed, a total of 490 sites will be using Federal Signal sirens and SkyWaveM2M terminals to warn residents of possible emergencies. The benefits of the alarm system include:

Redundancy: "The sat/cell solution gives us better ability to expand in areas where we don't have radio coverage," explained Tom Simon, Systems Engineer at Hawaii Civil Defense. "Everywhere we have a siren currently installed, we're able to verify that cellular and satellite service is available. This is the most foolproof way to make sure that the sirens will sound during an emergency."
Efficiencies: "Our standard system allows us to monitor and test sirens from our office in Oahu. We no longer have to rely on the public to report a failed siren," said Simon. "As well, the time spent having to physically verify the issue, head back to the office to find parts and then return to fix the problem, is eliminated. The new system includes the ability to query and change the status of specific sirens; confirm that sirens operate as expected during tests and emergencies; monitor the solar charger, battery voltage; and alert authorities if someone intrudes into the system."
Budget-Wise: "Buying new, lower bandwidth 800 MHz trunk radios costs about $570,000 more than leasing space on commercial satellite and cellular networks," Burnett said. "The service cost of operating sirens via satellite and cellular is $11 per month. Amortized over a 10-year period, combined with the lower cost of related equipment, there was a cost advantage."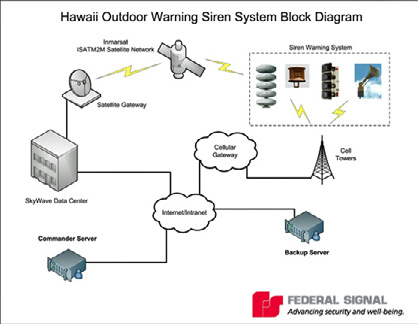 Total Visibility During Inclement Weather
Satellite M2M communication can also play a critical role in predicting the effects of natural disasters through weather monitoring. Early detection of natural disasters is a considerable part of public preparedness and safety. This type of weather monitoring often involves detecting and monitoring unusual geographic or weather fluctuations.
A variety of environmental elements can be monitored, including the strength of coastal tides; humidity, rain levels, wind speed, temperature; air pressure and air quality.
Satellite M2M is an efficient way to collect and transmit data from weather instruments or data loggers connected to sensors. This technology also offers the added benefit of near real-time data frequency, transmitting as frequently as needed at any time of the day.
By collecting full weather information in real-time, governments can model events that may affect public safety. Communities can be advised in advance of the high risk areas and how to protect themselves. Disaster warnings can also be issued earlier allowing the necessary precautions or plan evacuation procedures to be executed before the high-risk event occurs.
Fleet Management During Emergencies
Once the sirens have been activated, fleet tracking and logistics play a large part in rescue and recovery operations. From first responders to clean-up crews, fleets of vehicles are heavily used during and after the crisis. When cellular and radio systems are unavailable, mobile workers cannot report on the status of affected areas or request additional assistance.
Satellite M2M technology can play a huge role in fleet management and mobile worker communication during disasters. Because the system does not rely on terrestrial towers, satellite M2M service can be used for GPS tracking of rescue vehicles. When equipped with a handheld device, satellite M2M terminals are also able to send and receive text-messages and are significantly less costly to use than satellite phones.
Understanding the location and maintaining consistent communication with first responders and emergency management crews is critical for the safety of disaster victims as well as mobile workers. With satellite, stable communication is possible even in unstable situations.
In addition to tracking vehicles, satellite M2M terminals are also used to track trailers and containers of supplies. Their slim profile allows them to be easily installed in the grooves of containers. The terminals are typically self-powered with AA batteries, which means they can report their location even when they are not connected to vehicle power supply.
Post-disaster Resource Monitoring
During a natural disaster, the geographic landscape can change significantly. This puts many natural resource and resource management systems at risk, most significantly clean drinking water. For communities near oceans, rivers or mountains, the ground and surface water quality is most often at risk. After Hurricane Sandy, the United States Geological Survey (USGS) used measurement tools in existing wells to monitor water concentrations of nutrients, sediment, and contaminants in order to accurately report water safety information to the general public.

Many wells and pump systems are equipped with sensors to monitor water fluctuations like volume, flow, and sediment. After an emergency, sending out employees to check on these sensors can be dangerous as well as impractical. Satellite M2M can help with this issue. Equipping existing sensors and measurement tools with satellite M2M terminals provides a method for transmitting water quality data in real-time without the costs and time delays associated with sending employees to manually check the system.
With a distinct upward trend for economic damages caused by natural disasters, emerging technologies are becoming more important in lessening the impact of natural disasters. Early detection and management not only helps to save the people who are affected but also helps the rest of the connected global economy contribute to recovery and stabilization.
Satellite M2M terminals can play a critical role in providing a communication link before, during and after natural events. They provide a cost-effective communication link especially when terrestrial-based communication networks, like cellular and radio, fail or are unavailable.
For additional information, please access the company's website at: http://www.skywave.com
About the author
For the past decade, Anu Sood has been working with customers around the world to develop, promote and market their unique satellite-based Machine-to-Machine (M2M) solutions. Ms. Sood brings nearly two decades of technology expertise in the telecommunications, software development and satellite industries to her current role. Ms. Sood holds a Bachelor of Electrical Engineering from University of Western Ontario, is a published author as well as a regular speaker at international conferences.