FACT: MILSATCOM saves lives. Such requires constant work. No sooner is one technology implemented than another requires testing and consideration and then implementation. Certainly a never-ending process, but one that's crucial to those who are laying their lives on the line to ensure the safety of a nation's citizens. In this info-packed issue, we present a variety of topics to assist with this process that should be of interest to NGOs, government agencies, first responders and our military muscle to consider as routes to more secure, more reliable, and more effective communications.
I wish to add it would behoove all to read our current issue (July/August 2009) of our sister publication,
SatMagazine
, as this issue's — BEAM — section alone offers analysis regarding today's SATCOM market and where it may well be heading in the future. Articles from the pros at the
Satellite Industry Association
,
Near Earth LLC
,
World Teleport Association
,
Euroconsult
and
NSR
all tackle informative themes ranging from the state of our satellite industry, to what satellites are expected to be launching between now and 2018, with a most comprehensive overview of the
2nd Annual Space Business Forum
,
Earth Observation
, and
MSS Financing
, among other articles.
Select this direct link
to access that issue online in your web browser.
TWITTER
is a highly effective method of relaying immediate information to those who "follow" a specific individual… getting
TWEAKED
or
TWITTED
means you are receiving the thoughts and news of an almost instant nature, delivered directly from the sender to the display device of your choice.
SatBoy
is our publication group's TWITTED OUT representative and, daily, the latest info from
SatNews
is sent as a TWEET message to those who follow (subscribe) to his missives. To join in the fun and the information, head over to
http://www.twitter.com
and make your request to follow
SatBoy
… easy to do, and simple to receive. Additionally (we haven't told this to
SatBoy
yet), you can easily remove yourself from SatBoy's tweets anytime you wish! —
Hartley Lesser, Editorial Director
ARINC Incorporated
and its partner,
Impeva Labs
, have received a U.S. Army contract for additional test deployments of their mesh network, satellite-based, global asset visibility system, known as
Next Generation Wireless Communications
(
NGWC
)
for Logistics Applications
. This award follows recent successful testing of NGWC at Moffett Field, California, where the system demonstrated continuous visibility of large quantities of assets during simulation of depot storage as well as simulation of transport by truck or rail convoy. The new contract covers deployments of the NGWC system in two very different environments. The first environment, just completed, includes tracking of individual military assets during sea transport and offloading in the 2009
JLOTS
(
Joint Logistics Over-The-Shore
) amphibious exercise at Camp LeJeune, North Carolina. Later this year, the second environment will be tested, that being the NGWC tracking system at the Army's 36,000-acre
Sierra Army Depot
(
SIAD
) in California, where it will provide continuous real-time visibility of containers, rolling stock, and other selected assets.
Ball Aerospace & Technologies Corp.
has been awarded a $13.4 million
U.S. Air Force
contract to procure long-lead hardware for a second
Space Test Program Standard Interface Vehicle
(
STP-SIV
) spacecraft. The first STP-SIV spacecraft launch is expected in the first quarter of 2010. The contract follows the prime contract signed in April 2006 for the first
Department of Defense
(
DoD
) STP-SIV vehicle, that included a provision for as many as six vehicle orders for the
Air Force Space Development & Test Wing
's (
SDTW
)
Space Development Group
at
Kirtland Air Force Base
, Albuquerque, New Mexico. The system is a key enabler for the
DoD Space Test Program
. The contract is a follow-on to the first STP-SIV space vehicle, which recently completed the initial phase of system environmental testing including electromagnetic interference and compatibility, to be followed by vibration and thermal vacuum testing.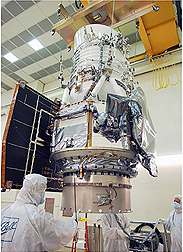 Ball Aerospace & Technologies Corp
. has also completed environmental testing for
NASA
's
Widefield Infrared Survey Explorer
(
WISE
) and has begun post-environmental performance testing. WISE is working to a date of November 1, 2009, for launch from
Vandenberg Air Force Base
, California. WISE environmental testing included thermal vacuum, electromagnetic compatibility, electromagnetic interference, vibration, shock and acoustic testing to confirm the design integrity of the spacecraft. Earlier this year, Ball Aerospace integrated the WISE infrared cryogenic science instrument built by
Space Dynamics Laboratory
. The
WISE RS-300
spacecraft derives from the Ball Aerospace
NextSat
spacecraft built for the successful Orbital Express mission launched on March 9, 2007. The flight system has an estimated mass of 560 Kg (about 1,175 pounds) and will fly at an altitude of about 313 miles. The spacecraft will be three-axis stabilized, with body-fixed solar arrays and use a high-gain antenna to transmit to ground through the TDRSS geostationary system. In addition to building the spacecraft, Ball Aerospace will perform testing requirements and flight system integration.
Craig Moen
has been promoted to lead the government sales and marketing effort for
EMS Sky Connect
, a division of
EMS Technologies, Inc
. The newly named manager of Government Sales joined EMS Sky Connect in 2005. He will work to expand the company's profile and build sales with a range of government customers, both domestically and internationally, who have mission-critical communications needs. Moen, like many members of the EMS Sky Connect sales and marketing team, is an experienced pilot with multiple ratings.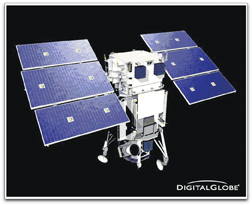 DigitalGlobe
has signed a contract to extend the Company's
Service Level Agreement
(
SLA
) with the
National Geospatial Intelligence Agency
(
NGA
) for $12.5 million per month. The SLA extension provides NGA with continued access to the
WorldView-1
satellite. NGA has agreed to extend the SLA through March 31, 2010, for a total of $100 million during the extension period, with an option for NGA to extend the contract for an additional nine months on the same terms, from April 1, 2010 to December 31, 2010.
General Dynamics SATCOM Technologies
recently received a $119 million modification to an existing delivery order to provide additional satellite communications Earth terminals and support services for
Increment One
of the U.S. Army's
Warfighter Information Network-Tactical
(
WIN-T
) program. Under the contract, the Company will provide 293
Satellite Transportable Terminals
(
STT
), six
Unit Hub SATCOM Trucks
(
UHST
) and 534 Ka-band upgrade kits and spares. The nexgen STT terminals enable network operation over Ku- or Ka-band satellite frequencies. The new UHST unit hubs provide Ku- or Ka-band access and more modem capacity. Both the STTs and UHSTs are interoperable with MILSATCOM units currently in use by the Army.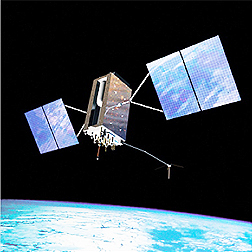 Harris Corporation
has submitted its proposal to provide advanced communications and information assurance solutions for the
Global Positioning System
(
GPS
)
Next-Generation Advanced Control Segment
(
OCX
) as a member of the
Northrop Grumman
team — the proposal starts the downselect phase of the program. The open-architecture, advanced control segment will support the entire constellation of current and future GPS satellites. The company's proposed communications architecture applies
software-defined radio
(
SDR
) technology to GPS monitor stations. This approach significantly reduces life-cycle costs by enabling software/firmware upgrades across the network, supporting new signals from new satellites, and enabling future re-use without requiring completely re-designed hardware. Five generations of Harris SDR solutions have been fielded for missions ranging from highly survivable Anti-Jam telecommunications to advanced signal intelligence receivers. This proven capability is currently in use by thousands of United States military personnel serving in global operations.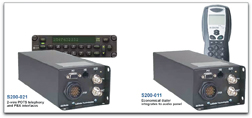 Latitude Technologies
has been selected to provide the
U.S. Drug Enforcement Administration
(
DEA
)
Air Wing Division
fleet of aircraft with a suite of SATCOM hardware products and related services. The Air Wing Division maintains a fleet of rotorcraft, light fixed wing aircraft as well as larger, pressurized fixed wing aircraft on which the Latitude
SkyNode
® equipment will be installed. The DEA was created in 1973 in order to establish a single unified command to combat "an all-out global war on the drug menace." Today, the agency continues that mission as the agency responsible for enforcing the controlled substances laws and regulations of the United States.
MTN Government Services
(a
SeaMobile
company) has been formed by
MTN Satellite Services
to offer expanded integration services and one stop turnkey solutions across multiple satellite technologies to government agencies. MTN Government Services already provide airtime, hardware, installation, network engineering and management, customer support as well as value added services to agencies such as the DoD, Federal and State Government agencies.
NASA
has awarded a contract to the
University of Colorado at Boulder
's
Laboratory for Atmospheric and Space Physics
for the development of the
Total and Spectral Solar Irradiance Sensor
, or
TSIS
, a key instrument for the future
National Polar-orbiting Operational Environmental Satellite System
, known as
NPOESS
. The total estimated value of the cost, no-fee contract is approximately $42 million. The UoC lab will be responsible for the design, engineering analyses, hardware and software development, fabrication, integration, algorithm development, test, evaluation and support for integration of the instrument with the NPOESS spacecraft. The sensor will continue key climate measurements of solar irradiance that contribute to determining the Earth's energy balance and understanding how Earth's climate responds to solar variability. The sensor will fly on the
NPOESS, C1
mission. NASA is developing the
TSIS Flight Model 1
under a reimbursable agreement with
National Oceanic and Atmospheric Administration
, or
NOAA
. NPOESS is a joint program to develop the nexgen of polar-orbiting operational environmental satellites that form the basis for weather forecasting, and is co-funded by NOAA and the Department of Defense, with NASA as a technology provider.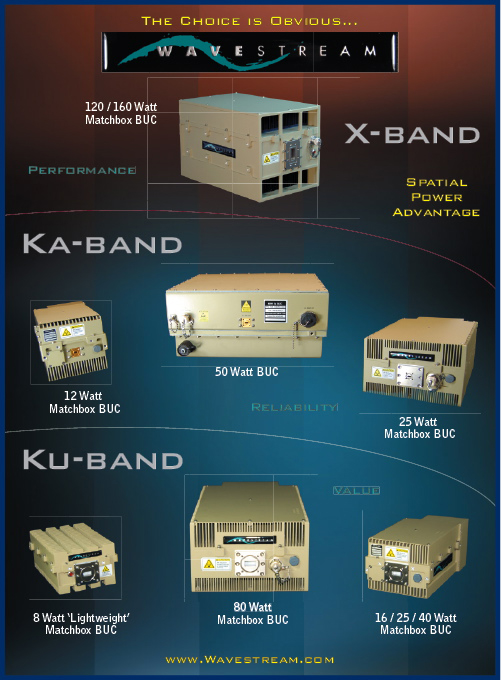 Raytheon Company
and the U.S. Army recently completed successful testing of the first
Advanced Extremely High Frequency
, or
AEHF
, satellite communications production terminals. Raytheon's
Secure Mobile Anti-jam Reliable Tactical Terminal
(
SMART-T
) offers the nexgen of protected communications with AEHF satellites. It is the first AEHF system across the U.S. Armed Services to enter production and achieve this first article testing milestone, verifying that it meets all performance, function and production requirements. The testing follows Raytheon's $97.5 million contract to produce and install AEHF upgrade kits that increase the data rate of existing SMART-T systems four fold. The award, which is part of an indefinite delivery-indefinite quantity contract originally awarded in 2007, increases the total value to $290 million.
Raytheon Company
and the
National Geospatial-Intelligence Agency
(
NGA
) marked the transition to an improved capability that will rapidly ingest and disseminate imagery from U.S. commercial satellite companies to warfighters and intelligence analysts worldwide. NGA has also tasked Raytheon to provide the nexgen of services to disseminate data from multiple sources to its users. The new
Geospatial Intelligence Data Transformation Services
, an effort under a current Raytheon program, permits NGA to ingest and disseminate data from numerous data providers with varying formats and sensor platforms. Integrating these data sources into the
National System for Geospatial Intelligence
will provide warfighters and the intelligence community with a broad set of new and improved geospatial intelligence products to meet mission needs. "Improved dissemination of imagery acquired through commercial sources is a key component of an ongoing mission objective of NGA," said NGA Director Vice Adm.
Robert Murrett
. "The data acquired by these sources provide a means to supplement and back up the existing national capabilities." The effort was related to the agency's NextView program, in which NGA receives imagery from U.S. commercial satellite companies. With the new dissemination capability, NGA systems can now ingest and disseminate greater amounts of commercial satellite imagery daily, providing it to users more quickly.
Research and Markets
has added
Frost & Sullivan
's new report
Military Satellite Communications - Business and R&D Prospects
to its offerings. Presently, satellite communications are the core of all military communications, especially during wars on foreign territory and unfriendly terrains. Contemporary satellite links support a significant amount of IP traffic, especially video feeds and high-resolution imagery, apart from conventional voice communications. The emergence of new applications such as
communications-on-the-move
(
COTM
) and ballistic missile defense are opening considerable business opportunities for technology vendors and solution developers in the MILSATCOM sector. The report also notes that technological developments such as improved satellite network communications protocols and novel compact antennas with signal locking capabilities are greatly speeding up the adoption of COTM solutions. COTM vendors feel hopeful as several militaries are keen on obtaining advanced communication capabilities. Moreover, there is a high demand for compact, transportable, and easily deployable satellite antennas, especially in vehicle-mounted configurations.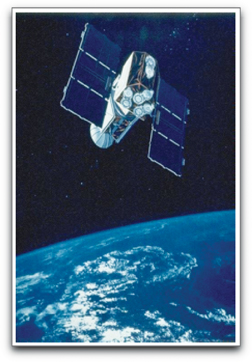 A Russian
Meridian 2
military satellite was placed into orbit in early May 2009 by a
Soyuz-2
carrier rocket that was launched from the
Plesetsk
space center. The Meridian series communication satellites will replace the older,
Molniya
series spacecraft and will provide for military uses as well as communication, navigation and surveillance services for civilian customers. The Soyuz-2 has been the launch vehicle workhorse of Russia's manned and unmanned space programs since the 1960s and features upgraded digital flight control and telemetry systems as well as a higher performance rating and higher payload capacity than previous Soyuz rockets. In addition to carrying Russian satellites aloft, the Soyuz-2 is also used for commercial space launches from the
Kourou
launch pad in French Guiana via an agreement with the
European Space Agency
. The
Molniya-M
,
Soyuz-U
, and
Soyuz-FG
rockets are all expected to be replaced by the Soyuz-2 in the future.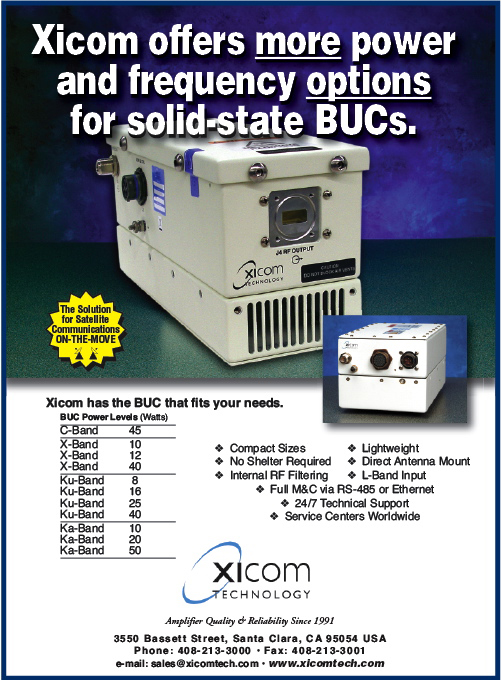 Scalable Network Technologies, Inc.
(SNT) has been awarded a
Phase 2.5 Small Business Innovation Research
(
SBIR
) grant, jointly sponsored by four DoD agencies:
U.S. Army ATEC
(
Army Test and Evaluation Command
); the
JTRS
(
Joint Tactical Radio System
)
Program Executive Office
(
JPEO
);
PM Future Combat Systems
,
Modeling & Simulation Office
; and
U.S. Army TRADOC
(T
raining and Doctrine Command
). The intention is to create an enterprise solution for network communications simulation for
JTRS Ground Mobile Radio
(
GMR
) testing, training, and experimentation. Tasks include leveraging the
JTRS Modeling & Evaluation Environment
(
JMEE
) that SNT developed under Phase I and II SBIR's to create a live-virtual-constructive test architecture that can accurately and realistically represent the operation of thousands of on-the-move radios, including verification and validation. The plan involves SBIR and outside matching funds totaling $2M and is scheduled for completion in October 2010.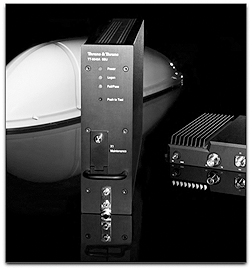 Thrane & Thrane
has received PMA certification for the Company's new
SwiftBroadband
solution, as their
Aero-SB Lite
becomes the lightest and most compact SwiftBroadband offering on the market to receive PMA. The
Parts Manufacturer Approval
(
PMA
) by the
Federal Aviation Administration
(
FAA
) was received on July 7th. The Aero-SB Lite with full SwiftBroadband data functionality harnesses the power of the Internet, email, VPN, fax and telephony in one package. Aero-SB Lite includes built in WiFi capability and VoIP technology, where users can use their own compatible handsets or WiFi enabled PDA devices. The data and voice functionality of Aero-SB Lite can be used simultaneously, ensuring total flexibility for the end user.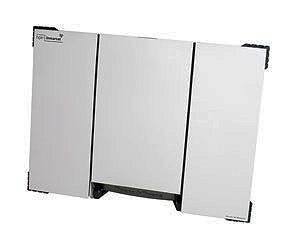 Thrane & Thrane
has also signed a sponsorhip agreement with
Télécoms Sans Frontières
(
TSF
). Thrane & Thrane will assist the high profile humanitarian NGO in providing a year long telecommunications training program for emergency responders from 40 international NGOs. The sponsorship involves the donation of Thrane & Thrane
EXPLORER BGAN
terminals for training courses, which start at the end of July 2009 at the TSF bases in Bangkok and Managua.To ensure that TSF training program covers all aspects of emergency communication, the sponsorship scope of supply covers the core of the EXPLORER portfolio:
EXPLORER 300
,
EXPLORER 500
and
EXPLORER 700
. All EXPLORER models have been proven to offer effective communication for disaster and emergency management anywhere on the planet.
The U.S. Air Force's second
Space Based Infrared System Highly Elliptical Orbit
payload and associated ground system has entered trial period operations in preparation for use by the warfighter — this is a major program milestone for the
SBIRS
team. SBIRS is designed to provide early warning of missile launches and simultaneously support other missions including missile defense, technical intelligence and battlespace awareness for unified commanders, Joint Task Force Commanders, and other users. A joint
U.S. Air Force/Lockheed Martin
team, the
HEO-2
payload has recently completed all testing and training necessary before beginning on-orbit operations for the user. During trial period and the operational utility evaluation,
Air Force Space Command
satellite operators will demonstrate the full range of HEO-2 capabilities to enhance the nation's
Overhead Persistent Infrared
architecture. The crews will also highlight the ability of the ground system to operate, schedule, and process two HEO payloads simultaneously. The two HEO payloads will provide additional infrared coverage with unprecedented sensitivity, timeliness and accuracy. The SBIRS development and operations team is partnered with the
Air Force Operational Test and Evaluation Center
to ensure a successful trial period and operational utility evaluation, leading to full
Integrated Tactical Warning/Attack Assessment
certification and operations. HEO-2 is operated by the
11th Space Warning Squadron
at
Schriever AFB
, Colorado. HEO-2 will now send data to the
Mission Control Station
at
Buckley AFB
, Colorado, to be fused with other OPIR sensor data, and released as operational messages to users in support of missile warning, missile defense, technical intelligence and battlespace awareness missions. Upon successful completion of trial period in late July 09, formal
USSTRATCOM/J65 ITW/AA
certification is expected to occur in August 2009. The
Space and Missile Systems Center
, located at
Los Angeles Air Force Base
, California, is the U.S. Air Force's center of acquisition excellence for acquiring and developing military space systems including GPS, military satellite communications, defense meteorological satellites, space launch and range systems, satellite control network, space based infrared systems, intercontinental ballistic missile systems and space situational awareness capabilities.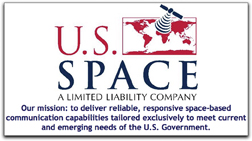 A new company has been formed by former military commanders that would build and launch MILSATCOM satellites. Named
U.S. Space LLC
, the focus will be on the manufacture of hardware that is relatively inexpensive and small in size, all designed to target and satisfy military needs. The warfighter requires immediate solutions in regards to battlefield engagement information. Mission commanders and those whose boots are on the ground are unable to count on the latest and greatest technologies to assist in their endeavors, due to the lengthy deployment cycles currently encountered This company hopes to change that paradigm. Three U.S.A.F. generals comprise the board members of U.S. Space: Major General
James Armor
, Major General
Craig Weston
, and Lieutenant General
Michael Hamel
. Individual and company backers include
William Cohen
, a former Defense Secretary, and
John Ashcroft
, former U.S. Attorney General, and
Orbital Sciences Corporation
. The latter company will be responsible for the manufacture and launch of the hardware using a super version of their
Minotaur
rocket. Although no contracts with the Pentagon have yet been signed by this fledgling firm, U.S. Space hopes to have their first models ready for deployment within three years — that's far less than the average of 10 development years for most military satellites.
VSD, LLC
and
AMERICOM Government Services, Inc
. (AGS) have completed negotiations effecting transition of programmatic responsibilities for the
Television Direct to Sailors
(
TV-DTS
)
Terminal Program
from AGS to VSD. For the past 12 years, the TV-DTS program has provided for the welfare and morale of USN, USCG, and merchant marine personnel at sea through access to
Armed Forces Radio and Television
(
AFRTS
) broadcast service on the world's oceans. VSD personnel have supported TV-DTS since its inception in 1997. The inclusion of TV-DTS programmatic support to U.S. government clientele significantly enhances VSD's valued SATCOM and telecommunications offerings for antenna systems sales, parts support, and technical engineering services. Additionally, this formal transition notably expands and strengthens VSD's relationship regarding our strategic alliance with
Orbit Communication Systems
, Inc. (Orbit-CS) with regard to their maritime communications equipment offerings. AGS is a wholly-owned, government facing subsidiary of
SES AMERICOM, Inc
. While AGS will no longer sell TV-DTS antenna systems, they will continue to leverage SES's fleet of 40 satellites to provide space and shore segment end-to-end solutions for TV-DTS, including the satellite communications solutions for the AFRTS program.
UAV/UAS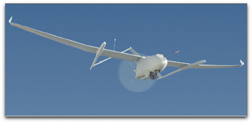 AAI Corporation
, an operating unit of
Textron Systems
, a Textron Inc. company, has offered the newest in its
Aerosonde
fleet of
small unmanned aircraft systems
(
SUAS
), the
Mark 4.7
, as a contender for the U.S. Navy and Marine Corps' joint
Small Tactical Unmanned Aircraft System
(
STUAS
)/
Tier II
program. The expeditionary Mark 4.7 system participated in flight demonstrations on June 23-24 at
Yuma Proving Grounds
in Arizona. Developed as a part of AAI's growing Aerosonde fleet of SUAS, including the
Mark 4.4
and
Mark 5.0
, the Mark 4.7 incorporates unique aircraft, ground control, and system features designed with the Navy's and Marine Corps' mission requirements in mind. The system's modest footprint and integrated launch and recovery system enable fast, flexible ground and/or shipboard automated launch and recovery capability. The Mark 4.7 aircraft delivers greater than 10-hour endurance, a low acoustic signature, and a small footprint, all of which make it ideal for confined-area land or maritime intelligence, surveillance and reconnaissance missions as well as for communications relay. Its modular payload installation allows the rapid addition of new payloads and capabilities as they become available, enabling technology refresh with little to no aircraft or system modifications. The system also uses AAI's
Expeditionary Ground Control Station
(
EGCS
), which is based on the company's
One System
® command and control architecture to provide interoperability between the Aerosonde Mark 4.7 and other One System platforms, including the
Shadow
®
Tactical Unmanned Aircraft System
(
TUAS
). Users receive digital and analog data from the aircraft's electro-optic and infrared payloads on compact, ruggedized laptops.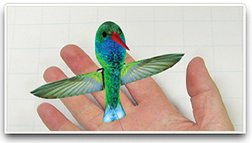 In the "this is better than nature itself" segment,
AeroVironment, Inc
. has been awarded a Phase II contract extension from the
Defense Advanced Research Projects Agency
(
DARPA
) to design and build a flying prototype for the
Nano Air Vehicle
(
NAV
) program. As part of this program, AV has achieved the controlled hovering flight of an air vehicle system with two flapping wings, with the vehicle carrying its own energy source, using only the flapping wings for propulsion and control. AV achieved the milestone in December 2008 with the successful 20-second flight of the
Mercury
interim test vehicle. The nano aircraft is capable of climbing and descending vertically, flying sideways left and right, as well as forward and backward, under remote control. Quite amazing, actually.
Advanced networking, tactical communications, and situational awareness technologies from
Harris Corporation
were instrumental in the successful demo of streaming video over a simulated mobile, ad hoc tactical network for representatives of Australia's Army, Navy, and Defence establishment. The laboratory demonstration of production hardware included the transmission of recorded
unmanned aerial vehicle
(
UAV
) video and meta data, along with real-time dismounted soldier digital and voice data, to a simulated
Boeing CH-47 Chinook
helicopter
Mission Commander
's station. The
Harris Adjunct Network Processor
and Boeing-developed middleware and software applications provided real-time interface between the CH-47 and dismounted soldier user equipment. A variety of Harris solutions, including the Adjunct Network Processor (ANP),
SeaLancet
tactical radio,
Falcon III
tactical radio, and
FliteScene
software digital map, enabled high-bandwidth ad hoc networking among the Chinook, the UAV ,and multiple dismounted soldiers' kits. The SeaLancet radio served as the airborne network backbone, providing streaming video and digital data among air platforms. The Harris ANP — a real-time processor that provides network connectivity for aircraft — hosted the Boeing-developed System of Systems Common Operating Environment (SOSCOE) and mission management applications. Harris participated in a similar successful technology demonstration with Boeing last year during the
C4ISR On-the-Move
exercise at Fort Dix, New Jersey.
The
GPS Wing
announced the
Raytheon Modernized User Equipment
team has achieved live satellite M-Code tracking with an MUE receiver. The team has developed both the modernized versions of the
Avionics GPS Receiver Application Module and Ground Based GPS Receiver Applications Module
receivers under the
MUE Receiver Card Development Program
awarded in June of 2006. This effort was performed using a
Raytheon
GB-GRAM-M
. M-Code acquisition and tracking is one of many steps taken towards completion of the MUE receiver, but a very important step that indicates the proper operation of many receiver functions. The team will continue integration throughout the summer culminating in the delivery of pre-production
GRAM-S/M
and GB-GRAM-M modules to the GPS Wing in November of this year. The GB-GRAM-M and GRAM-S/M will replace legacy GB-GRAM and GRAM-S embedded GPS receivers in systems such as the Raven unmanned air vehicle and Miniature Airborne GPS Receiver and provide full modernized capabilities for the warfighter.
—
Pattie & Hartley, Editorial