Lofted Comm Used In Libya Air Strikes
As 26th Marine Expeditionary Unit AV-8B Harriers conducted air strikes on Libya as part of Joint Task Force Odyssey Dawn, the new Lofted Communications System was operationally deployed for the first time aboard ship, March 20.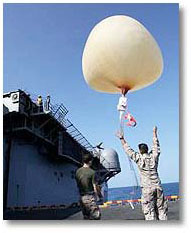 The helium-balloon transmission system was used to bridge the gap in communications from ship to Harriers conducting air strikes against the Libyan Leader Muammar al-Qadhafi's ground forces and air defenses, as part of an international effort to halt an offensive against the Libyan populace. Normally, Airborne Warning and Control System aircraft would be used to relay and ensure command and control from the ship. The system, which was first tested in Kuwait in January 2009 during the MEU's sustainment training for its 2008/2009 deployment, costs a fraction of the expense to put additional aircraft in the air and doesn't risk additional lives.
"Being able to loft one of these balloons saves the MEU money, manpower and limits the risk that is associated with flying aircraft," said Capt.
Kevin Soeder
, the MEU assistant communications officer.
The system, which increases the range of line of sight radio communications, can also relay encrypted and non-encrypted data hundreds of miles for about six hours.
"It is exciting to see this capability utilized in support of MEU operations," said
Soeder
, "especially with all of the training and standard operating procedure certification that has taken place."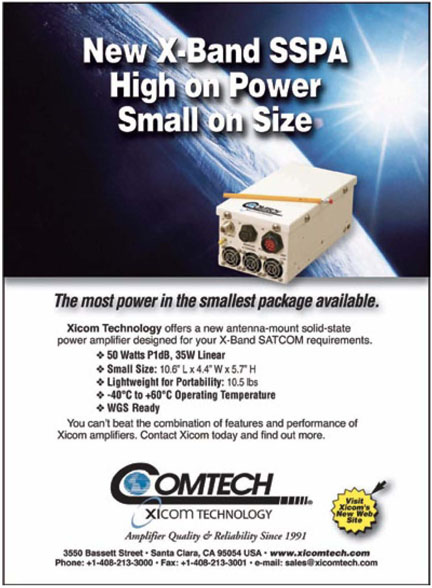 The MEU has both tethered and non-tethered variants. For the strike missions, the non-tethered version is required so that the balloon can reach the appropriate altitude. The tethered version is currently supporting
Company I, Battalion Landing Team 3/8
, which is conducting counter-insurgency operations in Helmand province, Afghanistan.
"Pushing the technological envelope to support a wide variety of operations throughout the (Marine Air Ground Task Force) is what the MEU is known for,"
Soeder
said.
"We are setting the standards for MEUs to come," said Staff Sgt.
Juan Padilla
, the MEU radio chief. "We are the tip of the spear – 26th MEU is leading the way."
Story by Staff Sgt. Danielle M. Bacon, 26th MEU
* * * * * * * * * * *
Cooling Off
A new method by which military satellite payloads can be cooled will be tested at the ISS...
Northrop Grumman Corporation
will use an experiment on the
International Space Station
(
ISS
) to test a new way to cool military satellite payloads. The payload, the
Massive Heat Transfer Experiment
(
MHTEX
), was taken to the ISS on board the space shuttle Endeavour. This shuttle mission is one of two final flights planned by NASA. "In space, it's difficult to cool electronic systems and today's methods have been stretched to their limits," said
Cecilia Penera
, Northrop Grumman's project manager and principal investigator for MHTEX. "The new method we are testing uses an advanced capillary pump loop that moves heat generated by electronic systems so it can be safely expelled from the spacecraft."
MHTEX is a collaborative effort of Northrop Grumman, the U.S. Air Force Research Laboratory's Space Vehicles Directorate and the U.S. Department of Defense Space Test Program. The experiment will demonstrate how satellite systems can be cooled eight times more efficiently than today's systems. This will allow new cooling systems to be developed that support more complex hardware on military spacecraft.
* * * * * * * * * * *
New Wideband Satellite Operations Center Dedicated
The U.S. Army Space and Missile Defense Command / Army Forces Strategic Command (USASMDC/ARSTRAT) dedicated its new Wideband Satellite Communications Operations Center (WSOC) during a ceremony at the Joint Base Pearl Harbor-Hickam (JBHH), Wahiawa Annex in Hawaii.
"This dedication culminates years of planning and teamwork by a number of people, from all services," said Lt. Gen.
Richard Formica
, USASMDC/ARSTRAT commanding general, in his remarks. "We are particularly grateful to the U.S. Navy's Naval Computer and Telecommunications Area Master Station (NCTAMS) - Pacific for partnering with us as important tenants on this installation. We will be responsible and cooperative tenants and we look forward to a long partnership here at Wahiawa Annex.
"Today represents an important milestone in our command's core task to provide trained and ready space and missile defense forces and capabilities to our Combatant Commanders and Warfighters. We replaced the 1980s-era satellite control capability located at Camp Roberts, Calif., with this state-of-the-art $25.3 million facility here at Wahiawa. This enables the best support and coverage for PACOM Theater Wideband SATCOM requirements. Wahiawa is the first of four new Wideband Satellite Communications Operations Center Control facilities. Based on this center's design, we will be replacing our remaining three legacy Wideband Operations Centers over the next three years."
The facility is a prototype for three other WSOC locations slated for worldwide operations. This center serves as the new home for Army space Soldiers of
Delta Company, 53rd Signal Battalion, 1st Space Brigade
. These Soldiers serve as controllers of the
Defense Satellite Communications System
(
DSCS
) and
Wideband Global Satellite-Communication
(
WGS
) satellite constellations. This means they command communications payload on these satellites and provide user control.
The purpose of this new facility is to provide Delta Company controllers with increased capabilities to control the communications payload and communications transmissions of the DSCS and WGS constellations. The system is composed of satellites, users, controllers, planners, and managers. Three WGS satellites are currently on orbit. A single WGS spacecraft has as much bandwidth as the entire DSCS constellation.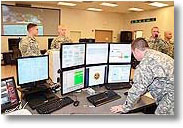 Formica
added that the center is important in his organization because of its ability to meet its responsibility in "providing military communications to troops deployed at forward stations throughout the Geographic Combatant Commands ... ."
He described the operations center role as "managing the payloads and providing critical communications, navigation, and other space based capabilities to the Warfighter. This is no small task, and our Soldiers and civilians take pride in their ability to maintain the lifeline that secure communications bring to those serving in harm's way."
"The capabilities provided by the WGS constellation of satellites and this WSOC here at Wahiawa provide high speed satellite communications support and improved communications control services to USPACOM,"
Formica
said. "Satellite capacity that's used to support U.S. combat forces in Iraq and Afghanistan, our fleet afloat and Soldiers, Sailors, Airmen and Marines stationed around the world who work daily to defend our great nation. With this new Ops Center, we'll work alongside 11 Australian servicemembers who will be integrated into our team as part of our bi-national partnership in the Wideband Global Satellite program." The 28,244 square-foot, state-of-the-art building was completed under contract by the
Naval Facilities Engineering Command
(
NAVFAC
).
* * * * * * * * * * *
RAIDRS Ramp Up
A new contract will provide direct SATCOM for combatant commanders...
The
United States Air Force
(
USAF
) has awarded
Integral Systems, Inc.
, a contract valued at $6.99 million for construction of the first two deployment sites for the
Rapid Attack Identification, Detection and Reporting System
(
RAIDRS
)
Block 10
(
RB-10
) program. The contract also includes funding to design a third deployment site.
"The new contract is a significant milestone for the program as we now begin site construction as a prelude to site deployment of RAIDRS," said
David Conway
, Integral Systems' RAIDRS Program Manager. "The close teaming relationship between the Space and Missile Systems Center and the Integral Systems' RAIDRS team was essential to meeting the USAF's stringent requirements." Integral Systems is the RAIDRS RB-10 program prime contractor. RAIDRS is a ground-based defensive counterspace program. The system will provide near real-time event detection, characterization, geolocation and
Electromagnetic Interference
(
EMI
) reporting for critical satellite communications systems, directly supporting combatant commanders.
RB-10 uses proven,
Commercial Off-the-Shelf
(
COTS
) hardware and software components from Integral Systems, as well as products from its family of companies, including RT Logic, SAT Corporation and Newpoint Technologies.
RT Logic
is providing its
Telemetrix
®
Sentinel
products for signal processing,
SAT Corporation
is providing its
Monics
®
Satellite Carrier Monitoring and Interference Detection and Geolocation
system and
Newpoint Technologies
is providing its
COMPASS Network Management System
(
NMS
).
* * * * * * * * * * *
A Refreshing Risk Reduction Solution
ITT Corporation has been awarded a $2.2 million contract to develop a new generation of satellite remote sensor technologies for the Air Force Research Laboratory located in Kirtland Air Force Base, N.M.
During this phase of the
Space Situational Awareness Environmental Monitoring Sensor Risk Reduction Program
,
ITT
will develop a cost-effective technology refresh solution that replaces decade-old communications and navigation outage sensors. The sensors will be used to measure atmospheric disturbances that cause signal dropouts from satellites, disrupting communications and navigation.
"With this strategic award, ITT will bring upgraded technology that is critical to navigation and communications data with satellites," said
Rich Sorelle
, vice president and general manager of ITT's integrated electronic warfare systems business. "The new sensor will help the Air Force identify conditions that could hamper warfighter communications."
The system, when deployed, will be placed on multiple platforms to provide complete geographical coverage of the Earth. The risk reduction effort will be performed by a team of ITT Electronic Systems, Ball Aerospace Technologies Company and Northwest Research Associates in cooperation with the Air Force Research Laboratory.
* * * * * * * * * * *
A Foremost Backplane
The James Webb Space Telescope reached another key milestone with the delivery of the pathfinder backplane to Northrop Grumman, prime contractor on the program.
Like so much of the hardware on this unique spacecraft, the backplane, built by
Alliant Techsystems
(
ATK
) is being manufactured to demanding specifications that will allow the telescope to perform its mission in the harsh environment 1 million miles from Earth. The backplane must support the weight of the telescope's beryllium mirrors, instruments, and other elements during launch and hold the 18-segment, 21-foot-diameter primary mirror nearly motionless while the telescope is peering into deep space.
The backplane meets exacting thermal stability requirements. For example, it must not deform more than 38 nanometers (about 1/10,000 the diameter of a human hair) while the telescope is operating, even though it will experience temperatures colder than -400 degrees Fahrenheit.
The pathfinder backplane is a full-scale engineering model of the flight backplane and will be used to demonstrate integration and test procedures prior to implementing them on the flight telescope. Consisting of 2,540 parts, the backplane is built with advanced, lightweight graphite composite material attached to metallic fittings.
The pathfinder is a high-fidelity model of the
Optical Telescope Element
, which is the eye of the observatory. A full-size structure, it consists of 12 of the 18 hexagonal cells (the center section) of the telescope and contains a subset of two primary mirror segment assemblies, the secondary mirror and aft optics subsystem. The pathfinder is made of the same material with the same tolerances as the flight backplane, which measures 24 by 21 by 9 feet to accommodate interfaces at the top and bottom.
Used by
NASA
and the entire
Webb
telescope team, the pathfinder supports numerous engineering models and flight optics. In addition to demonstrating integration and alignment techniques, it will be subjected to optical performance measurements at cryogenic temperatures and will verify all ground support equipment and test procedures.
The
James Webb Space Telescope
is the world's next-generation space observatory and successor to the
Hubble Space Telescope
. The most powerful space telescope ever built, Webb will observe the most distant objects in the universe, provide images of the very first galaxies ever formed and see unexplored planets around distant stars. The Webb telescope is a joint project of NASA, the European Space Agency and the Canadian Space Agency.
* * * * * * * * * * *
A Perigree Passing
The first Advanced Extremely High Frequency satellite crossed the half-way mark to geosynchronous orbit March 22, with its perigee climbing above 17,893 km. altitude.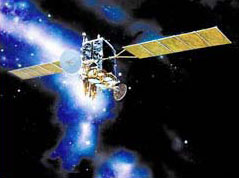 As of this writing,
AEHF-1
has crossed the 20,000 km. perigee mark. Orbit-raising for AEHF-1 is successfully continuing as planned, according to
Dave Madden
, director of the
Military Satellite Communications Systems Directorate
. Shortly after the launch Aug. 14, 2010, the orbit-raising plan was modified as a result of an anomaly with the bi-propellant propulsion system, which was intended to place the spacecraft near its operational orbit. The new plan entails two phases: one phase using hydrazine thrusters, which is now complete; the other using AEHF's
Hall Current Thruster electric
propulsion system. The HCT electric propulsion system has achieved more than 2,100 hours of successful operation.
The satellite is safe, continues to operate as planned and is expected to reach geosynchronous orbit in late summer 2011. "Throughout the anomaly recovery, re-planning, and orbit-raising operations, a government and contractor team has demonstrated incredible technical expertise and innovation to work around the anomaly and create the opportunity to achieve mission success for this critical national asset," said
Madden
.
Upon reaching its planned orbit, AEHF-1 will provide a significant enhancement to our nation's survivable communications infrastructure by allowing operators to communicate in a wide range of environmental conditions, providing tactical and strategic satellite communications to Army, Navy, Air Force and Marine users, as well as a host of other agencies. AEHF will extend the capabilities of the operational
Milstar
satellite constellation with an order of magnitude increase in protected communications capability.
AEHF is developed by the
MILSATCOM Systems Directorate
, which develops, acquires and sustains space-based global communications in support of the President, Secretary of Defense and combat forces. The MILSATCOM enterprise consists of satellites, terminals and control stations and provides communications for more than 16,000 air, land and sea platforms.
* * * * * * * * * * *
Morale Satellite Connections
Soldiers from the 525th Battlefield Surveillance Brigade working at the Operational Coordination Center District in Spin Boldak, Afghanistan, can communicate with loved ones in the United States at no cost—thanks to the newly installed morale satellite program.
The satellite, known as the
Cheetah
system, is an auto-acquiring portable satellite receiver that provides high-speed data communications for internet and phone connections for soldiers at remote operating bases.
The system is meant to support troops with no other means of morale, welfare and recreation connectivity, said Master Sgt.
Glynn Honts
, non-commissioned officer in charge of the
Combined Joint Communications
office at
Regional Command-South
, Kandahar Airfield, Afghanistan.
Honts
said the system is being used at small combat outposts that have less than 100 U.S. service members.
There are more than 100 systems already in place throughout Afghanistan.
Honts
has distributed 17 additional systems and will deliver seven more this summer as new units set up locations.
The telephone calls home are free and the Internet connection is fast, said
Honts
, the 22-year veteran. He added that the portable system is user friendly; it can be installed within 30 minutes, and it runs off of a generator or a humvee battery.
"Its best feature is that it self-acquires," said
Honts
. "To be able to find a satellite 22,236 miles out in space is no easy task, manually. This system is able to find that one specific satellite by itself. It takes a burden off of the operator as well as speeding up the process of getting connected. It is also a lot faster than any government computer."
With six new laptops and two telephones installed at the OCCD providing faster links to the homefront, soldiers can maintain emotional connections with family and friends through video teleconferencing, social networking sites and conversations.
Honts
, a Dayton, Ohio, native, said maintaining the bond back home lifts soldiers' spirits and provides a twofold benefit while they carry out their missions. "When morale is high, soldiers do their jobs with a sense of ease and the qualities of their efforts are better," he said. "These happy soldiers continually surprise and exceed their leadership's expectations. Communication amongst the team is enhanced."
While there may only be a couple dozen soldiers working from the OCCD at one time, the days and nights spent there has improved, according to one soldier who called home after returning to the center. "It's a great way to call home to the states," said Staff Sgt.
Jeremiah Berger
, Operations NCO,
Alpha Troop, 1st Squadron, 38th Cavalry Regiment, 525th BfSB
. "I don't have to spend money like I do when I have to use my cell phone, and it makes being out here better."
Story and photo by Senior Airman Jessica Lockoski, 16th Mobile Public Affairs Detachment
The Cheetah™ auto-acquire flyaway VSAT system, pictured below, is a product of L-3 Communications GCS and provides secure high-speed data communications for Internet/VPN connectivity, live videoconferencing, surveillance or reconnaissance. The unit is available with an iDirect iConnex™ e800 Evolution modem, which is capable of DVB-S2.