Selected to upgrade the U.S. Army and Marine Corps Blue Force Tracking network, ViaSat brings real-time situational awareness and better networking capabilities to the warfighter with BFT-2. ViaSat's next-generation Blue Force Tracking transceivers provide dramatic improvements in situational awareness through faster Position Location Information (PLI) refresh rates and greater information throughput features. This BFT-2 system delivers improved network efficiency and reduces the Department of Defense's total operational expenditure for the specified capability.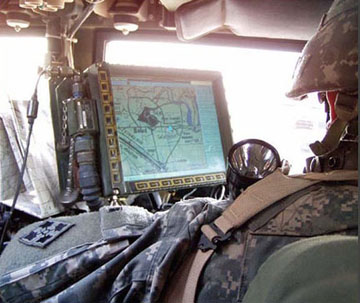 With
BFT-2
, network users can achieve real time position accuracy by operating through a
Ground Vehicular Transceiver
, or
Aviation Transceiver
, to one of up to 10 satellite channels back to a
Satellite Ground Station
(
SGS
). The average round-trip message latency through the network has been demonstrated and proven to be less than two seconds.
ViaSat's antenna element design offers more predictable performance and improved system reliability on both the vehicular and aviation systems. The Ground Vehicular Transceiver is a single
Line Replaceable Unit
(
LRU
) that measures 8.75" square (excluding connectors), is less than 5" tall, and is compatible with mounts designed for the
MT-2011
. The Aviation Transceiver is a two-LRU design that separates the RF assembly from the modem assembly to offer better aerodynamic performance.
The next-generation network also adds
FIPS 140-2 Level 2
data link security to protect warfighters from adversarial traffic analysis and data probing. The BFT-2 system delivers trusted, high-performance operation, even in the harshest MIL-STD environments. ViaSat's transceivers have successfully completed
MIL-STD-461
,
464
and
810
testing.
Future capabilities may include vehicular wireless extensions and non-vehicular (man-packable) configurations for the dismounted warfighter or paratrooper. Integration of wireless technologies in either the ground mobile or man-packable configuration will enable vehicle-to-vehicle communications, or the use of secure Smartphone technologies, providing direct interaction between the wireless-enabled warfighter and the lower tactical Internet.
BFT-2 AT-A-GLANCE
– Download situational awareness information and other IP-based data up to 100 times faster and upload data up to 60 times faster than the BFT-1 system

– Refresh situational awareness PLI in as little as 2 seconds every 30 seconds or 50 meters of travel (configurable time and movement parameters)

– Employ more than eight times the number of remote users with the same space segment of the BFT-1 system

– Operate more efficiently with legacy or new-generation commercial L-band satellites

– Optimize network performance for varied satellite link conditions using hundreds of symbol rate, chip rate, and FEC rate combinations

– With an embedded, NIST-Certified, FIPS-140-2 Level 2 AES-256-bit based transmission security (TRANSEC) module, the system ensures secure connectivity and protects sensitive communications.

– Provision, manage, and control up to 200,000 transceivers operating worldwide on leased SATCOM channels over 8 Satellite Ground Stations 24 hours a day, 7 days a week (24x7)

– Based on ViaSat's battlefield-proven ArcLight® technology, the enhanced COTM waveform provides improvements in capabilities specific to situational awareness users

– Technology enables future enhancements without needing to replace hardware