L-TAC For Defense + Moving On Up.
Inmarsat is expanding the availability of mobile tactical Beyond-Line-of-Sight (BLOS) communications to a broad range of new government users through the innovative exploitation of the capabilities of its L-band satellites.

The company has announced its plan to launch L-TAC, a new L-band service, which will deliver a 'UHF-like' tactical satellite capability for use with existing UHF tactical radios for approved government customers at low cost.
UHF tactical satellite capability is in high demand by government customers due to its suitability to create Beyond-Line-of-Sight Push-to-Talk networks using tactical radios, either man-portable or installed in vehicles, helicopters, ships, or other mobile platforms.
Inmarsat's L-TAC service complements this existing UHF tactical capacity, providing additional capability when UHF capacity is unavailable.
The company's Inmarsat-4 constellation of satellites provides this capability across the world, with the additional benefit of supporting small antennas for BLOS communications on the move.
To access the service, users require only a small antenna adaptor for their existing tactical radio, which replaces their existing UHF antenna.
Inmarsat has partnered with Spectra Group to develop the Slingshot™ adaptor, which is expected to be commercially available in late Q2 2013. Designed with the soldier in mind, Slingshot™ will work with existing tactical military radios and with minimal additional training, will provide Beyond-Line-of-Sight communications without the need for additional infrastructure.
Slingshot™ combined with Inmarsat's L-TAC leased service is fully flexible and designed to meet security and reliability requirements cost-effectively.
Users will be able to lease the service for a fixed period with leases as short as one month.
Inmarsat has also appointed Bashir Patel as its Regional Director of Global Government for the Central Asia, Middle East and North Africa (CAMENA) region. A highly experienced executive in Information and Communication Technology (ICT), satellite systems and defence aerospace, Mr. Patel will develop the company's Global Government business in the region, and enhancing Inmarsat's network of government hubs in the United Kingdom, the United States, Australia, Canada, South Africa and Singapore.
Mr Patel has worked in hi-tech industries, primarily the satellite and telecoms sectors, for some 30 years, serving in management consulting and business development capacities. He has particular expertise in the Middle Eastern, African and Western Asian markets. He will also retain his role as the CTO's Ambassador to the Middle East.
* * * * * * * * *

Warhorse Arrives To Train
High intensity combat training began for soldiers of 2nd Brigade Combat Team, 4th Infantry Division, after they moved to Pinon Canyon Maneuver Site last February in preparation for a month long field training exercise.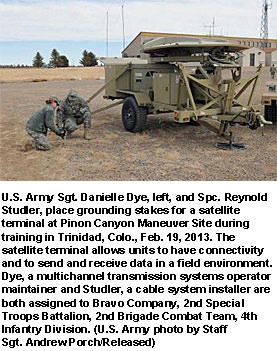 As soldiers arrived, their vehicles were staged in a marshaling area, they were assigned sleeping tents, additional vehicles were off-loaded from railcars and they received mandatory classes before moving to their assigned training site.
"As the brigade arrives at Pinon Canyon, we are replicating the procedures that we would follow as we enter a combatant theater using reception, staging, onward movement and integration training," said Master Sgt. Phillip Cornell, brigade master gunner, Headquarters and Headquarters Troop, 2nd Special Troops Battalion, 2nd BCT.
Units will have time, resources and personnel to conduct a variety of training ranging from offensive and defensive maneuvers to stability operations during the month long training.
"The units are in a crawling walk stage," said Capt. Luke Bowers, deputy current operations officer, HHT. "When they leave, they should be at a brisk walk or a nearly running phase. Companies should be effective in connecting their operations and mission essential task list."
Bowers said he knows the units will have segeral obstacles to overcome.
"Units will have to be self-sustaining and have a general understanding of the mission, the intent and be able to accomplish that within the boundaries provided," said Bowers.
Communicating orders quickly and concisely to convey the intent and not be reliant on always having the means or robust communications systems is essential, said Bowers.
For many of the junior leaders, this is the first time operating away from counter insurgency operations, which have been used to fight the war on terror for the past ten years.
"A lot of junior leaders have not done many of these tactical tasks," said Cornell. "The only time they have done them was during initial training, basic officer and noncommissioned officer courses or a professional school. This is an opportunity for leaders to actually get down on the ground, execute these tactical tasks, take away lessons learned and go back to Fort Carson with knowledge that will drive our onward training into the National Training Center, Fort Irwin, California, and preparation to enter the central command area of operations."
Story by Staff Sgt. Andrew Porch, 2nd Brigade Combat Team, 4th Infantry Division, U.S. Army
U.S. Army Sgt. Danielle Dye, left, and Spc. Reynold Studler, place grounding stakes for a satellite terminal at Pinon Canyon Maneuver Site during training in Trinidad, Colo., Feb. 19, 2013. The satellite terminal allows units to have connectivity and to send and receive data in a field environment. Dye, a multichannel transmission systems operator maintainer and Studler, a cable system installer are both assigned to Bravo Company, 2nd Special Troops Battalion, 2nd Brigade Combat Team, 4th Infantry Division. (U.S. Army photo by Staff Sgt. Andrew Porch/Released)
* * * * * * * * *

Making The Grade
The VR-12 Ka-band satellite antenna system from ViaSat Inc. has.passed industry standard DO-160G testing that meets FAA and international regulations covering electrical and electronic equipment installed on commercial aircraft.
This standard applies to virtually every aircraft, ranging from general aviation and business jets, helicopters, and commercial jets, to civilian aircraft modified for government use.
Test criteria include temperature, altitude, vibration, sand/dust, power input, RF susceptibility, and lightning and electrostatic discharge requirements. These new qualified production units are expected to be shipping within a few weeks.
The VR-12 Ka- antenna system and a companion ViaSat mobile satellite modem provides very high data rate, Beyond Line of Sight (BLOS) airborne satellite communications for bandwidth intensive applications such as military intelligence, surveillance, and reconnaissance (ISR) over commercial and military Ka-band frequencies.
Previously announced VR-12 Ka- flight test results included simultaneous transmission of HD video, video teleconferencing, VoIP applications, and Internet at aircraft-to-satellite transmission rates upwards of 10Mbps.
Designed for use on aircraft such as Gulfstream, King Air, Pilatus, and C-130, the VR-12 Ka- follows on the heels of its VR-12 Ku- predecessor, which has accumulated more than 500,000 mission hours and is used on more than 300 government aircraft.
The VR-12 Ka systems also operate on ViaSat's growing worldwide mobile SATCOM network in Ka-band overlay regions.
* * * * * * * * *

Navigating Presidential TFR's
During the recent presidential campaign, local law enforcement agencies and other departments needed to be aware of the temporary flight restrictions (TFRs) in place to accommodate the presidential candidates' movements across the country.

Los Angeles County Sheriff's Department (LASD) made extensive use of SkyWeb, SkyTrac's asset management program to ensure aircraft avoided TFRs, and to identify and respond to questions about aircraft flying during the restrictions.
When new TFRs were announced, LASD were able to set up geofences so they could be notified if any of their aircraft flew into or near a restricted area. LASD was also easily able to identify if an aircraft belonged to them when questioned by other groups monitoring the TFRs.
"Having an ISAT installed on our aircraft made navigating the TFRs a much simpler process. At a glance we were able to redirect our aircraft if needed," said a sergeant at LASD.
LASD has also found the service valuable for when their aircraft are operating out of state, and have no radio communications with the base.
The system provides an extra layer of safety for the unique flying environment found in California, which includes desserts, mountains, oceans and other bodies of water.
"LASD has employed many advanced features in SkyWeb, and the efficiency and effectiveness of their operation is obvious," commented President and CEO Malachi Nordine.
"It is amazing to be able to watch how differently each client uses our system, and how we can help tailor a solution to fit each individual's needs."
SkyTrac is a SATCOM solutions supplier for data, text and voice communications.
SkyTrac has acquired a long list of Supplemental Type Certificates (STCs) and the company's hardware has been installed on a large number of rotary and fixed wing aircraft types from AgustaWestland, Eurocopter, Cessna, Bell, Sikorsky, MBB, Beechcraft, de Havilland, LearJet and Raytheon.
* * * * * * * * *

MILSATCOM Ops Strengthed
Infrastructure for the 3rd and 4th Space Operations Squadrons' integrated operations environment at Schriever Air Force Base is complete and combined operation started in January of this year.
"The start of satellite command and control operations in the integrated ops environment this week is the culmination of countless hours of work by hundreds of government and industry people," said Col. James Ross, 50th Space Wing commander. "This new facility will allow 3 SOPS and 4 SOPS professionals to more effectively and efficiently deliver decisive communication effects on a global scale."
The IOE is a 50th Space Wing initiative to integrate the operations of Department of Defense military satellite communications systems and architectures into a single operations floor.
"This is designed to strengthen the effectiveness of military satellite communication operations and enhance operational efficiencies and situational awareness while creating a truly integrated MILSATCOM operations center," said Capt. Gail Smicklas, 3 SOPS IOE project officer.
The demand for efficiency is increasing as the difficulties within the operational environment continue to grow. This is why a highly effective work environment is critical.
"Without question, the geosynchronous space environment has become increasingly congested," said Lt. Col. Chadwick Igl, 3 SOPS commander. "The warfighters demand for reliable, space borne communications becomes even more critical as the nation prepares for a potentially contested environment.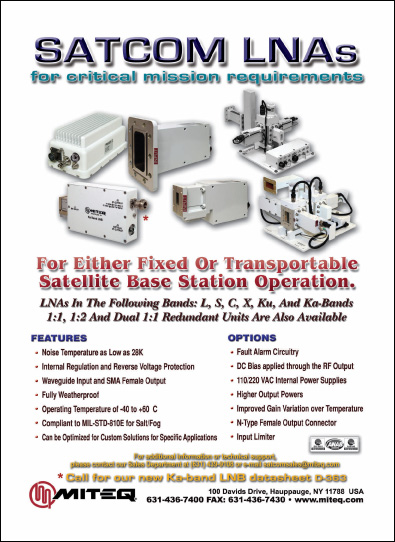 "IOE realizes this vision of a combined MILSATCOM operations center where the two premier SATCOM squadrons at the 50th Space Wing will have unprecedented situational awareness to recognize, react and respond to potential hostile actions and satellite anomalies.

"We hope to expand the synergies realized to our mission partners when they join us in the IOE and provide an even greater opportunity to enhance the combat effects provided by the 50th Space Wing to our U.S. and allied partners."

The IOE concept has been in development for a decade, but the current configuration was solidified in 2005.

The original concept was to have one massive operations center that was two stories tall and could facilitate all satellite operations squadrons. Eventually leadership decided that 3 and 4 SOPS were best suited for the combined environment.

"During 2012, 3 and 4 SOPS tested the IOE concept by performing co-located operations," said Capt. Micah Dodds, 4 SOPS operations flight commander. "Building on the success of that experience, we are looking forward to moving into the new operations center."

The IOE aims at preparing the U.S. to successfully operate far into the future, in a spectrum of environments, including peacetime, degraded operations and full hostilities in space.

"We are very excited to enter the next phase of making MILSATCOM operations more effective and efficient," said Lt. Col. Scott Trinrud, 4 SOPS commander.

The layout of the ops floor is designed to encourage inter-squadron communication and situational awareness to respond to satellite anomalies, potential attacks or interference.

"What started with a vision many years ago by my forward thinking predecessors Lt. Gen. John Hyten, Brig. Gen. Teresa Djuric, Brig. Gen. Cary Chun and Col. Wayne Monteith is now becoming a reality. We should be proud to continue the 50 SW tradition of innovation and operations excellence," said Ross.

Story by Staff Sgt. Robert Cloys, 50th Space Wing, U.S.A.F.

* * * * * * * * *

Satellite IRG Sets New Standards

"We are now aiming to ensure this new standard is integrated across satellite equipment... in time for a number of high profile sporting events in 2014."


The Satellite Interference Reduction Group (IRG) has announced that the DVB Carrier ID (DVB-CID) specification, supported by IRG and its members, has been approved by the DVB Steering Board on 28th February 2013.

The specification will now be submitted to the European Telecommunications Standards Institute (ETSI) for formal standardization. The DVB-CID specification is available for downloading on the DVB website.

The new technology is based on a proposal by Comtech EF Data and became a DVB specification supported by a wide group of manufacturers including Advantech Wireless, Ericsson, Gilat, Newtec, and iDirect, following a meeting instigated by IRG at the 2011 IBC.

Manufacturers, such as Newtec and Comtech, are implementing the new technology into their modem products, starting with the Comtech EF Data DM240XR and the Newtec M6100 modulator.

Products implementing the new DVB-CID will be announced at CABSAT.

The new spread spectrum Carrier ID standard adds a low power spread spectrum carrier underneath the host carrier it will identify. This means that the correct transmission doesn't need to be interrupted to identify the interfering carrier, enabling the operator to drastically minimize the effect on the correct user.

"We are delighted that this new DVB specification has been approved," commented Martin Coleman, Executive Director, the Satellite Interference Reduction Group. "We are now aiming to ensure this new standard is integrated across satellite equipment for all SCPC (Video & Data) transmission types, in time for a number of high profile sporting events in 2014."

The CID carrier has no real impact on the host carrier and typically adds less than 0.1dB of noise energy to the host carrier. In dual illumination situations, multiple over-lapping CIDs can be decoded at the same time, allowing efficient resolution.

"This new specification will help the industry to drastically reduce the time to resolve day-to-day satellite interference," commented Roger Franklin, CEO, Crystal Solutions and Chairman of the CID Working Group, IRG. "We are pleased to have worked with the industry to formalise this important specification."

IRG is working with manufacturers to roll-out the new Carrier ID equipment in time for 2014 Football World Cup, Winter Olympics, and Commonwealth Games. Carrier ID will be a topic at the Satellite Interference Prevention Summit being held at Satellite 2013. For more information or to register please visit http://www.satirg.org/.

* * * * * * * * *

Wallop @ Wallops

Hurricane Sandy came ashore in northern New Jersey on Oct. 29, 2012, and as the powerful storm made its way along the East Coast, it brought damage to NASA's Wallops Flight Facility in Wallops Island, Virgina.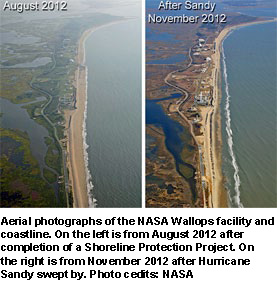 The Wallops Shoreline Protection Project has been managing the restoration efforts and released before and after photos of the shoreline.

At 8:00 a.m. EDT, on October 29, 2012, the National Hurricane Center reported tropical-storm-force winds were occurring along the coasts of southern New Jersey, Delaware and eastern Virginia.

Tropical-storm-force winds extended as far inland as the central and southern Chesapeake Bay as Hurricane Sandy closed in for landfall.

Hurricane Sandy removed about 700 feet of protective berm and about 20 percent of the beach protecting Wallops Island, home to NASA Wallops' launch pads and launch support facilities.

The beach, which had been recently improved under the Wallops Island Shoreline Protection Project is vital to protecting the more than $1 billion in NASA and governmental assets on Wallops Island from hazards such as hurricanes and nor'easters.

In addition to beach erosion, Hurricane Sandy caused minor roof, door and siding damage and downed trees throughout the facility.

NASA Goddard Space Flight Center's Wallops Flight Facility (WFF) was established in 1945 by the National Advisory Committee for Aeronautics as a center for aeronautics research, and is now NASA's principal facility for managing and implementing suborbital research programs.

WFF is located in the northeastern portion of Accomack County, Virginia, on the Delmarva Peninsula, and is comprised of three land masses: the Main Base, Wallops Mainland and Wallops Island. Wallops Island consists of approximately 1,680 hectares (4,600 acres), is bounded by Chincoteague Inlet to the north, Assawoman Island to the south, the Atlantic Ocean to the east and estuaries to the west.