Kratos
Digital Transformation is central to the multi-domain joint fighting concept
Author: Chris Badgett, Vice President of Technology, Kratos Space
Supporting digital tranSFormation
Digital transformation is no longer a buzzword or a one-off IT project. For the U.S. military, digital transformation is central to the multi-domain joint-fighting concept of maintaining a decisive advantage, with the ability to decide and act faster than adversaries in any corner of the globe. This transformation requires more agile and dynamic satellite and ground capabilities to support data needs at the speed of operations across the enterprise to the tactical edge.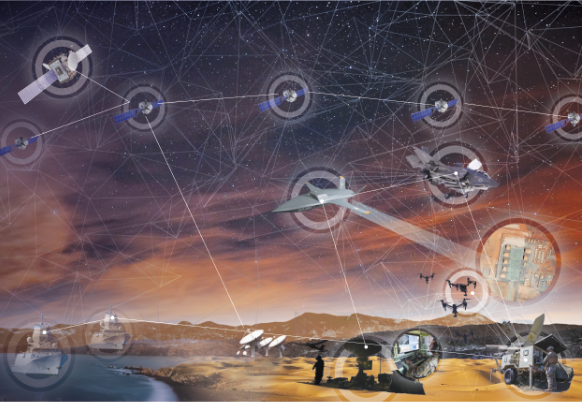 Kratos is at the forefront of commercial innovation to support this transformation with flexible, digital ground solutions based on technology that is well known and extensively used by the telecommunications and IT industry. Last year, Kratos released the OpenSpace™ family of products, including a virtualized software-defined ground platform that is standards-based and cloud-enabled. The OpenSpace family of products support the military need for interoperable, resilient and automated satellite operations.
Digital Transformation Keys
The first step to digital transformation requires converting RF Spectrum into a standardized digital format that can be sent and received across IP networks to service Remote Sensing, TT&C, Space Domain Awareness and SATCOM missions. The industry has started moving in this direction and a good proof point is the development of the Digital Intermediate Frequency Interoperability (DIFI) Consortium (IEEE- ISTO Std 4900-2021). DIFI was created this year to establish a simple, interoperable standard for digital IF/RF. The consortium, which includes the U.S. Space Force (USSF), the U.S. Navy, the Department of Defense Chief Information Office (CIO) for SATCOM and other commercial and government organizations have united on a VITA-49 standard for transmit/receive compatibility across vendors and equipment from the ground to the cloud.
Using the DIFI standard will ensure interoperability between military satellites and systems and the military's increasing reliance on commercial innovation. Kratos understood the need for the standard and immediately became a member of DIFI.

Secondly, Kratos is continually leveraging the power of virtualization. A few years ago, Kratos took a stance to virtualize everything in ground stations, teleports, gateways, and ground infrastructure. This started with OpenSpace quantum products, but now includes extensive capabilities within the OpenSpace Platform. By replacing purpose-built hardware, such as modems and front-end processors with containerized software, these 'virtual network functions' can be delivered to generic compute on-premise, or in the cloud, making satellite ground operations highly flexible and scalable.
Third, satellite processing functions that are virtualized and software-defined can now be orchestrated and automated. A virtualized, software-defined ground network such as the OpenSpace platform is designed to automatically choose the right services, balance workloads, and get all the capabilities of a modern terminal. It can offer entirely new dynamic operations supporting real-time complex, multi-mission, multi-orbit satellite regimes. This enables simpler, faster, and more manageable operations that are key to military operations.
Kratos Digital Transformation Initiatives
Satellite Roaming and Enterprise Management & Control Roaming has long enabled seamless connectivity for users in the world of mobile telecom, yet it has been elusive in the satellite world where it would offer tremendous value to warfighters. In April of 2021, Kratos and its partners demonstrated roaming among different networks to optimize wideband satellite communications using Enterprise Management and Control (EM&C). EM&C is an effort by the DoD to provide warfighters with resilient satellite service across hybrid satellite constellations and networks operated by various service providers.
For warfighters using legacy and next-generation terminals in contested and congested environments, EM&C is an important strategic goal of the military to effectively operate an integrated SATCOM enterprise that provides automated near real- time switchover for assured SATCOM access in seconds to minutes, rather than taking days, weeks, or months.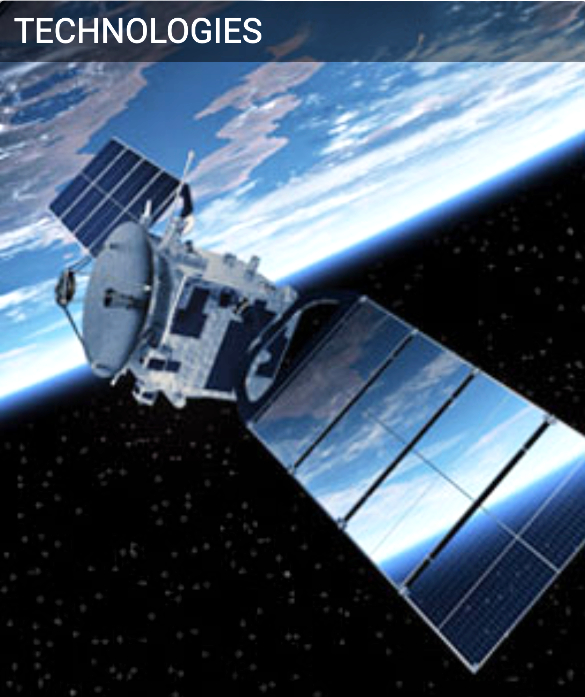 The April event highlighted the ability to restore satellite service in response to interference and the capability to gather and fuse information from sensors and satellites through the Unified Data Library (UDL) and is another example of the ongoing digital transformation movement.
Supporting Space Domain Awareness With UDL
Today, DoD satellite operators use disparate tools, networks and data sources at varying classification levels to attempt to build a picture of the Radio Frequency (RF) environment. The UDL is a joint initiative of the U.S. Air Force Research Laboratory (AFRL) and the USSF's Space Systems Command (SSC) that hosts space situational awareness (SSA) data from dozens of commercial, academic, and government organizations in a cloud-based platform, providing a digital "storefront" for users of the data.
In July of 2021, Kratos was awarded funding to develop a prototype that automatically delivers SSA data to the UDL. This initiative will use the Kratos Global Sensor Network (KGSN) for spectral monitoring, Electromagnetic Interference (EMI) detection, and geolocation.
Kratos' global sensor network continuously monitors communications and Tracking, Telemetry and Command (TT&C) signals on commercial satellites and other transmitting resident space objects to help improve real time SA. It will support the military's ability to make relevant assessments, assign attribution during hostile events, characterize hostile events, cue additional data gathering, identify assets at risk, and support the development of appropriate courses of action.
Virtualized Electronic Warfighter Training In early December of 2021, Kratos demonstrated cloud- enabled Electronic Warfare (EW) training products at I/ITSEC, the world's largest simulation and training conference. These electronic warfare products allow warfighters to 'train like they will fight' for the unique demands of high-tech combat against near-peer adversaries, educating them on the capabilities and limitations of their battle networks.
The training systems, which leverage virtualization and cloud processing, no longer require large, customized equipment. The military can address new and emerging threats with software, avoiding custom and costly hardware upgrades. Digital Transformation Pivotal Technologies The space world is moving into a multi-orbit, multi-mission, software-defined realm and the ground system must transform accordingly. Kratos is advancing the ground segment's ability to digitally transform by supporting common standards, developing virtualization capabilities that avoid proprietary hardware and delivering orchestration methods that automatically deploy services at the speed of relevance.

Kratos continues to support our military in any way we can to stay flexible, resilient and ahead of adversary intent.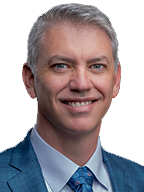 Author Chris Badgett is Vice President of Technology for Kratos Space. In this role he sets vision, technology strategy, and direction for a portfolio of Kratos Space products. This includes secure and protected virtual satellite ground solutions for military and commercial applications. Prior to Kratos, Mr. Badgett served in the Air Force as a weapons engineer in the Air Force Research Lab. He has also worked in the Space Development and Test Wing as a program manager for a satellite system developed by Ball Aerospace.
Mr. Badgett holds a BS in Electrical Engineering from University of Tennessee and an MS in Space Systems from the Air Force Institute of Technology.
---
Leonardo DRS
Gus Anderson, Global Enterprise Solutions Business Development, Leonardo DRS
As a leader in satellite-based Information and Communication Technology (ICT) solutions for defense, intelligence, and federal/civil markets, Leonardo DRS provides tailored end-to-end global satellite communications, terrestrial back- haul, managed network services, cybersecurity, network operations, and enterprise information technology for mission-critical, no-fail solutions.
Leonardo DRS has continued as the industry leader in 2021 by focusing on customer success. This includes its vendor agnostic and holistic approach to ICT system integration, its unwavering dedication to fulfilling mission requirements, its pursuit of innovation, and its commitment to providing best value solutions.

2021: A Year of Growth
Throughout 2021, Leonardo DRS continued its culture of excellence, while taking advantage of opportunities and setting customers up for success in the coming decade. Its long-standing industry relationships, extensive product and service knowledge, team of experts, and commitment to innovation, quality, and excellence are the driving forces that keep Leonardo DRS delivering transformational solutions to its customers' year after year.
With its foundation of customer-centric quality in operations and service delivery, Leonardo DRS' significant achievements in 2021 include:
Expansion of Leonardo DRS' Information and Communications Technology (ICT) Ecosystem
Because SATCOM customers need their devices, terminals, and systems to work anywhere at any time, they require a no-fail solutions approach. Maintaining reliable systems (regardless of the environment) requires an ICT integrator such as Leonardo DRS that can provide a fully integrated global network infrastructure comprised of a space segment, global terrestrial network, network operations, and enterprise services, all secured to the highest levels of system confidentiality, integrity, and availability.
Over the past year the company has expanded its ICT Ecosystem network by:
» Conducting end-to-end field trials with LEO terminals that measured throughput rates, latency, jitter, packet error rates, and application effectiveness (Internet browsing, VoIP, video streams, etc.)
» Provisioning select LEO terminals for end-to-end tests that measured throughput rates, Committed Information Rates, Maximum Information Rates, Quality of Service, latency, jitter, packet error rates, and application effectiveness (Internet browsing, VoIP, video streams, etc.)
» Performing total life cycle replacement of Southern California's microwave backbone into a fully Multiprotocol Label Switching (MPLS) enabled network
» Completing a Global Communications Network (GCN) and ICT Ecosystem migration to the Amazon Web Services (AWS) GovCloud, thereby providing customers with private/public cloud access
» Refining our offering of mobile and portable global communication solutions to support the Department of Defense with high-throughput satellite connectivity and improved Committed Information Rates
» Inserting COTM capabilities using small form factor antennas and associated hub-side architecture into our Global Communications Network (GCN)
DRS offers a shared services platform that provides secure end- to-end solutions through its ICT Ecosystem, all of which are customized and customer accessible through its ICT Portal.
The Leonardo DRS ICT Portal Continues to Evolve
The DRS ICT Portal offers a consolidated view of management and operations, so customers may see in near-real time how their network is performing. Each Portal is designed around a customer's needs and provides visibility that includes system level, component level, and various performance parameters, including availability, latency, fault (with a trouble ticket system), configuration, accounting (with billing), and security management.

The DRS ICT Portal complies with industry best practice standards and uses the same holistic and vendor-agnostic approach that is engineered into the DRS ICT Ecosystem, providing a comprehensive and flexible monitoring and reporting solution. The ICT Portal provides DRS' customers with the advantage of not only having a single source of information for managing, operating, and troubleshooting their network from end-to-end, but also a single pane of glass through which they can monitor all facets of the network for themselves in near real-time. This capability gives them a tremendous advantage by providing key information to improve decision-making in the fast-paced environments where they operate, serving as an invaluable augmentation for supporting mission assurance.
During 2021, Leonardo DRS improved the Portal's capabilities by:
» Integrating FedRamp approved services and infrastructure that enhance the Portal's front and back-end services
» Enhancing the Portal's interfaces and capabilities with respect to mission overview, satellite capacity management, network performance monitoring, ticketing and asset management, resource library management, and report generation detailing system configuration, performance, ticketing, administration, and Quality of Service (QoS)
Leonardo DRS has successfully maintained continuity of operations during COVID-19 restrictions
In spite of the dynamic, worldwide travel restrictions resulting from the COVID-19 pandemic and its Delta variant, Leonardo DRS exceeded the contractual scope of its United States Army's Wideband Communications Network program to support the Product Lead — Unified Network Capabilities and Integration (PdL-UNCI) office by working with commercial teleports to decommission government furnished equipment and return it to the UNCI's logistical support staff at the Integrated Network Operations Center.
2022: Company Positioning During this decade, the communications industry will experience significant changes, both in terms of major technological advancements, as well as their accompanying risks. Leonardo DRS is positioning itself as a primary communications facilitator for its customers by incorporating innovative technologies into their network infrastructure, while simultaneously minimizing technical and transition risks. The following initiatives demonstrate Leonardo DRS' commitment to providing its customers with leading edge communication solutions in 2022.
Leonardo DRS GCN Development
Leonardo DRS provides terrestrial transport using either stand- alone or integrated backhaul circuits via its GCN, a privately owned and operated global network infrastructure that delivers gigabit speeds through 10 teleports on six continents and is accredited to DoD cybersecurity standards. The GCN is DRS' core capability and is used to deliver secure and reliable voice, video, and data services on demand, anywhere at any time. Leonardo DRS is expanding the GCN's infrastructure throughout Europe to add X-and Ka-band capabilities for supporting military traffic. Leonardo DRS is also developing a managed software-defined Wide Area Network (SD-WAN). This virtual WAN will allow its customers to leverage their current transport services (e.g., MPLS and Long-Term Evolution (LTE)) to securely connect with their applications. DRS will begin testing and offering this service in 2022.
Leonardo DRS' GNS Achieves Continuous DoD Risk Management Framework (RMF) Authorization To Operate (ATO) and Authorization to Connect (ATC)
Leonardo DRS's GCN was re-certified in 2021 with a Risk Management Framework (RMF) Government-issued ATO and ATC at the Moderate-Moderate-High (M-M-H) confidence level. The ATO and ATC authorization by the DoD allows Leonardo DRS to continue operating its GCN in support of missions for the U.S. military and government agencies around the world.
The GCN is a private ground-network of redundant MPLS, self- healing circuits that connects geographically diverse core nodes and teleports to provide visibility through 100% dual coverage of the world's satellite arc, along with highly available and secure global communications. To ensure the required levels of confidentiality, integrity, and availability are met, Leonardo DRS also provides a full range of engineering services, along with 24x7x365 network management, control, and support through its Global Network Operations and Security Center (GNOSC) and Continuity of Operations NOSC. The Leonardo DRS GCN is part of the company's key offering, the Leonardo DRS ICT Ecosystem, that provides fully integrated, turn-key information technology and global communication solutions tailored to its customers' current and future requirements.
Conclusion
Leonardo DRS is dedicated to supporting the military by delivering a "no-fail" ICT Ecosystem that guarantees all operations are reliable, resilient, and secure. Achievement of this objective is based on the company's commitment to incorporating multiple redundancies, ensuring that automatic alternate routes are always available, and data reaches its endpoint securely and uncorrupted. The company's GCN's massive terrestrial infrastructure assures customers that Leonardo DRS' network is scalable and meets the most demanding network service requirements, now and in the future, which is a direct result of its singular pursuit for operations excellence.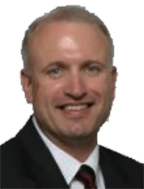 Gus Anderson
Author Gus Anderson served in the U.S. Army for 29 years as a Telecommunications Corps officer. During that period, he commanded numerous tactical and strategic communications organizations, to include the 509th Signal Battalion, Vicenza, Italy, and the Regional Signal Group SHAPE, NATO HQ (Belgium). He retired as a Colonel in 2008. Currently, he leads the Leonardo DRS Global Enterprise Solutions business development organization, helping grow customer and market understanding of the Leonardo DRS Information and Communications Technology (ICT ) Ecosystem.
Leonardo DRS provides tailored, end-to-end, global satellite communications, fiber and wireless terrestrial back-haul, managed network services, cybersecurity, network operations, and enterprise IT for mission-critical, no-fail solutions.
---
McQ
McQ Inc., located in Fredericksburg, Virginia, is a company with a long history of designing and deploying satellite networked systems integrated with their products deployed worldwide.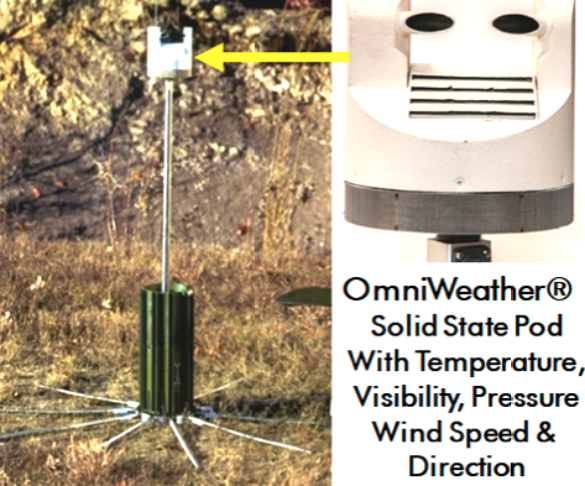 McQ is an R&D, Engineering and Product Manufacturing company that designs, develops, manufactures, delivers, and supports sophisticated sensor, surveillance and communications equipment for a wide variety of environments and customer missions. An Iridium Value Added Manufacturer (VAM) Partner company, McQ has been delivering Iridium enabled solutions to U.S. Government and commercial customers for more than 35 years. Having developed and produced a wide range of advanced systems for many applications, McQ is leader in using satellite communications (SATCOM) for remote area sensor applications, particularly with the U.S. military. Today, McQ continues with the latest technology in small, battery powered, satellite modem products that are used for commercial and military applications.
McQ's satellite product story began in the mid 1990s when the company developed an air dropped weather station, WeatherScene®, for the U.S. Air Force. This unit had a solid state, small weather pod with no moving parts to measure temperature, humidity, barometric pressure, visibility, wind speed and direction very accurately with advanced electronic chip technology. Critical to the weather pod and the satellite communications was the requirement to survive more than 10,000 "g" forces when the weather station landed and automatically righted. The weather sensor pod then was deployed on a telescoping mast to a meter above the ground needed for accurate measurements. WeatherScene used Low Earth Orbit (LEO) ORBCOMM modems to connect the weather station data to military Command Centers. These weather stations were deployed at the start of the Desert Storm attack on Baghdad to provide weather data for paratrooper insertion and for advanced land attack during these military action missions.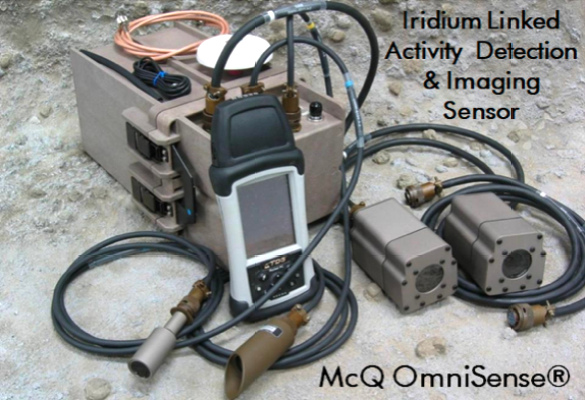 WeatherScene was quickly followed in the late 1990s with an unattended, ground sensor system that used acoustic, magnetic, seismic, and passive IR sensors to detect military operations on the Kuwait-Iraq border. This McQ, unattended sensor used an Inmarsat transceiver integrated with McQ activity detection sensors to provide situational awareness information to military Command Centers.
When Iridium launched their first constellation in 1998, McQ quickly switched the satellite service to Iridium, with a new, unattended, sensor product called OmniSense®. OmniSense provided magnetic, seismic, acoustic, and passive IR detection of activity in remote areas and, importantly, added pictures of the targets. The original McQ Iridium satellite transceiver was an Iridium phone from which McQ removed the case and keyboard to integrate the radio with the McQ sensor data. Iridium added their Small Burst Data modem product that McQ used in their products. Thousands of OmniSense sensor units were deployed around the world in every military combatant command and in South American drug trafficking areas. The OmniSense used IP networking to distributed users at military Command Centers.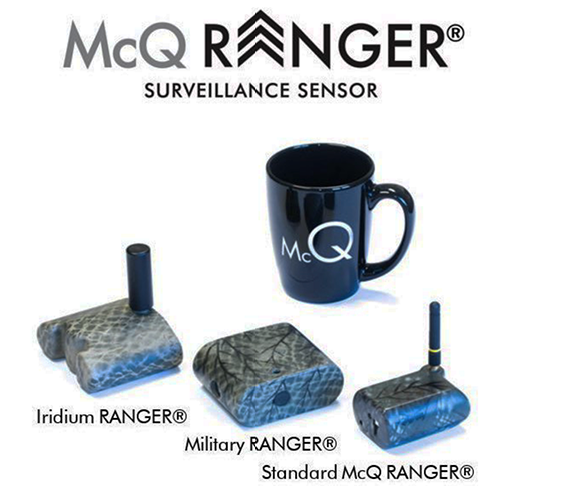 The network included messaging drone flight crews who could deliver an immediate strike using the OmniSense sensor location and the target picture. Millions of messages with target information and pictures were sent over the Iridium constellation.
Today, additional sensor technology advances have been married with the new Iridium satellite constellation to provide a wide variety of applications for connecting information to global users. McQ now has satellite connectivity built into very small McQ RANGER® (images on following page) unattended ground sensors that can be airdropped into forward areas and immediately provide situational awareness information for military and border monitoring applications.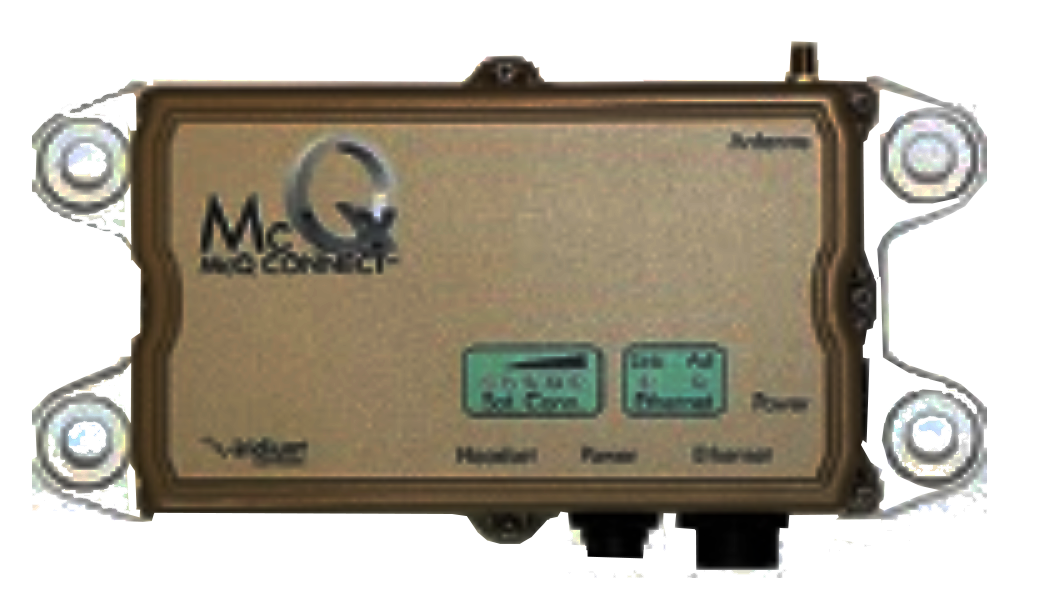 These Iridium linked sensors are being supplied to the U.S. Army, U.S. Air Force, U.S. Marine Corps, and to other U.S. and foreign customers. McQ RANGER sensors detect, locate, track, and classify targets in remote areas and also trigger McQ remote video imagers to send target videos to the users.
The company has now launched a new, truly global information networking product, McQ CONNECT™, which operates using the secure Iridium Certus® 100 service. McQ was selected by Iridium as one of the first VAM partners to create a new solution based on the Iridium Certus 100 modem.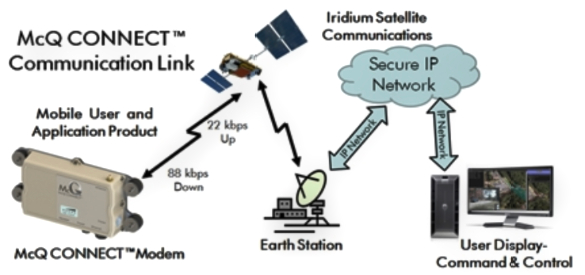 McQ CONNECT is a small SATCOM modem that can send and receive information in real-time over Internet Protocol (IP) networks. The new device was developed using the latest in a line of Iridium core technology transceivers, the Iridium Certus 9770. McQ CONNECT is a very small, battery operated unit, is ruggedized to IP67 (the rating of a protection level against intrusion of solids and liquids into mechanical and electrical enclosures) standards and comes with a small, omni-directional antenna that enables easy operation for static or mobile applications. This allows the user to instantly feed information from a remote application via a secure cloud network and send command and control data to an application anywhere in the world.
CONNECT can provide handheld android user interface devices with real time data and video information to any operator in the field. The small modem can be carried in a backpack or use it's mounting provisions for shock and vibration environments on mobile platforms.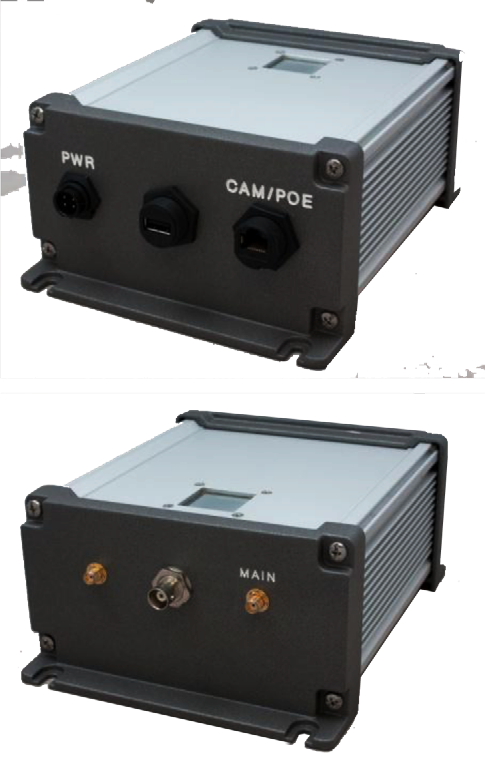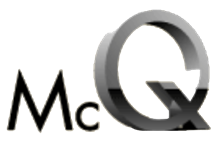 Using Iridium's secure, low altitude, global communications network, this modem can send files of any size using many messaging protocols, including application data, pictures, safety alerts, security alerts, email messages, system monitoring data, and application command and control. The device also supports voice services and connects to computers, servers, tablets and smartphones, thereby enabling the use of additional applications.
For applications that require sending data and video on the move, McQ vWatch. video compression technology can be integrated into the solution. vWatch is a video compression, management solution that supports an IP link for sending high quality video from a fixed location or on the move.
McQ continues to develop new satellite linked products using the Iridium global network while developing new sensor capabilities that provide Government and commercial customers with the benefits of connecting their applications to worldwide users without the need for terrestrial infrastructure.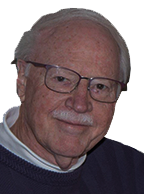 Author John McQuiddy is the President of McQ.
---