In organizations around the world, "studying" a problem is often just a way of postponing a difficult decision.
One of my key takeaways from the 31st Space Symposium in Colorado Springs was that the U.S. Air Force Space Command wants to focus less on conducting studies of "what" will best serve the DoD's global communications requirements, and more on executing "how" the command can best meet those needs.
This change in direction is being fueled by factors beyond tighter budgets. General John Hyten, the new Commander of Air Force Space Command (AFSPC), has taken charge at a time when American supremacy in space in being challenged as never before.
Space technology is proliferating, with many nations now having the capability to launch and operate satellites. The same missile technology that can launch a satellite into space can also be used to destroy the spacecraft of adversaries. Ground stations that communicate with satellites can also be used to jam spacecraft operated by other nations.
Lt. Gen. Samuel Greaves, head of the Space Command's Space and Missile Systems Center, summed this up forcefully in a talk at the Colorado symposium by highlighting language from the 2010 National Space Policy on how the global spread of space technology is creating an environment that is "congested, contested and competitive." And a recent AFSPC initiative on Space Mission Force describes an environment that is "contested, degraded and operationally limited."
Another factor contributing to the change from studying to doing is that Space Command and others have developed a much greater appreciation for how quickly and inexpensively its communications needs can be met by the commercial space industry. Just one example of this was driven home to the audience at a symposium panel by Craig Cooning, President of Boeing's Network and Space Systems Group.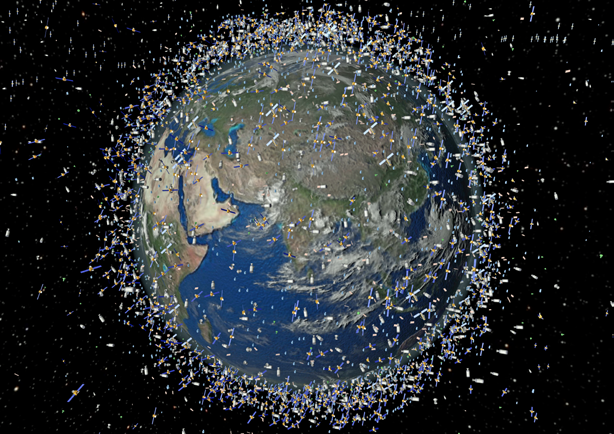 Cooning told the story of a visit to Boeing's satellite assembly facility by Dave VanBuren, the Assistant Secretary of the Air Force for Acquisition. Cooning said that Boeing had two satellites being built side by side: one a Wideband Global SATCOM (WGS) spacecraft for the Air Force, the other a wideband satellite for a commercial customer.
Cooning said the satellites VanBuren saw were identical in almost every respect, except that the WGS satellite was costing the Air Force over $400 million and taking five years to build, while the commercial spacecraft cost the customer $250 million and will only take three years. The disparity, Cooning told the audience, grew out of a difference in buying practices, with the Air Force having far more people involved in the review and approval process every step of the way, leading to regularly changing requirements.
Examples such as this have made Space Command's leadership focus on changing procurement practices as well as on a number of new initiatives that are designed to deliver the same, or better, service at less cost. One of these is the Pathfinder program, designed to test new ways of buying satellite bandwidth in different regions of the globe.
Another is the notion of shifting the in-flight operations of the Space Command's fleet of wideband satellites to a commercial operator.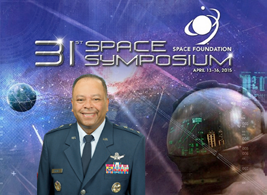 A third is the plan to place commercial representatives inside the Air Force's Joint Space Operations Center (JSpOC) in California in order to improve operations and space domain awareness for the U.S. government and commercial companies.
A fourth is an initiative to move towards a common ground enterprise for command and control that achieves the right mission effects at an affordable cost.
General Hyten said at the symposium that he is concerned about the rapid advances being made by other nations in electronic warfare and anti-satellite weapons systems. His office recently released a detailed five-page memo laying out the long-term science and technology challenges faced by the Space Command.
In the short time he has led the Command, he has become a fierce advocate for the Air Force using all means at the armed service's disposal to assure that the United States stays at the lead in the new space "arms race" because, like he said on 60 Minutes, "I'm not NASA."
General Hyten clearly knows what needs to be done—I believe he won't be spending much time on studies!

Kay Sears, President of Intelsat General, is responsible for implementing the company's strategic and operational plans and for the overall mission of providing a range of sustainable, cost-effective and secure communications solutions to government and commercial customers. She has worked more than 25 years in the satellite communications industry, including extensive experience in rapid-response solutions for both military and civil agencies of the U.S. government. Ms. Sears has spoken widely on how commercial satellites can be utilized by the military to solve mission-critical needs and she has worked over the past several years to advance the commercial / DoD partnership.
In 2009, Ms. Sears was appointed to the President's National Security Telecommunications Advisory Committee (NSTAC) to provide information, technical expertise, advice and guidance regarding issues that may affect national security telecommunications capabilities. Before joining Intelsat, Ms. Sears helped launch government services business units at both G2 Satellite Solutions and Verestar. Ms. Sears has also held sales and product development positions with Intelsat and Comsat World Systems.
Ms. Sears has a Masters in Business Administration from George Washington University and a Bachelor of Science from the University of Richmond. Ms. Sears is currently serving on the Board of the Space Foundation, an international non-profit organization and the foremost industry advocate for all sectors of the space community, and she is a board member of the Virginia Commercial Space Flight Authority, serving at the request of Governor Terry McAuliffe.
---