End-To-End Commercial Satellite Solutions
As part of the Future Commercial Satellite Communications (COMSATCOM) Services Acquisition (FCSA), on February 17, 2012, the U.S. General Services Administration (GSA) and Defense Information Systems Agency (DISA) announced the award of the Custom Satellite Communications Solutions' Small Business (CS2-SB) contract to four small businesses.
CS2-SB is the first of two sets of Indefinite Delivery/Indefinite Quantity (ID/IQ) contracts for customized end-to-end satellite solutions. The CS2-SB contract holders can compete for task orders that consist solely of satellite professional support services such as analysis and testing. CS2-SB, along with the future award of CS2, also provides access to customer defined end-to-end solutions that include satellite bandwidth, teleport access, network management, the equipment needed for satellite communications, and engineering support such as integration, operations, and maintenance. These awards expand the common marketplace for commercial satellite communications services under FCSA, adding custom end-to-end solutions to the currently available offerings in transponded capacity (bandwidth), and pre-defined subscription services.
CS2-SB awardees are: AIS Engineering, Inc.; By Light, Professional IT Services, Inc.; Knight Sky Consulting and Associates, LLC; and UltiSat, Inc.
The CS2-SB contracts have a five year contract period (three year base with two one-year options) and a ceiling of $900 million. Awards for the companion CS2 full and open contracts for large scale custom end-to-end solutions are planned for later this quarter. More information, including links to the new CS2-SB contracts, is available at the GSA Satellite Services website:
http://www.gsa.gov/satellite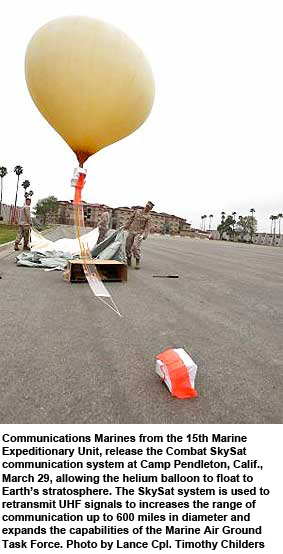 * * * * * * * * *
Combat SkySat
Marines strained their necks as they looked up toward the sky at what could only be described as a giant balloon flying above Camp Delmar, March 29th.
Marines from the 15th Marine Expeditionary Unit trained with a new communications system that expands the capabilities of the Marine Air Ground Task Force.
The system is called Combat SkySat and is used to retransmit information to extend the range of ultra high frequency communications.The SkySat uses a helium balloon with a hanging antenna to relay UHF signals. Flying at an altitude between 55,000 and 85,000 feet in the Earth's stratosphere, the balloon increases the range of communication to 600 miles in diameter.
The system is built by Space Data Corporation and is billed as a 'float and forget' retransmission system. The balloon has a communications payload attached to it containing a global positioning system, radios and antennas. Two separate radios, one that controls the height and one that allows communication between personnel, are the lifeline of this high-tech equipment.
The main benefit of using the SkySat is that it uses UHF line of sight instead of UHF satellite communications, which the military helicopters cannot receive. This allows Marines on the ground to speak directly with pilots during operations and exercises without having to retransmit through a middle man.
The launch control station allows the operator to 'drive' the balloon. Using helium or hydrogen to inflate the balloon and an internal ballast system (about five pounds of sand), the operator can make elevation adjustments as necessary. If the balloon needs to be higher, the operator can unload some of the sand to make the system lighter. If elevation needs to be lower, the operator can release some of the gas through the venting system, which drops the balloon. There are no fans to assist in directional change, that's up to the wind currents.
"The 15th MEU is adopting the system in response to the 26th MEU's successful use of it in Libya, Afghanistan and Pakistan," said Capt. Michael E. Ginn, assistant communications officer, Command Element, 15th MEU.
The battery life for the system is about eight to 10 hours and the system can be launched in winds up to 45 knots, said Ginn. Depending on wind speed, the system can easily cover hundreds of miles before it dies.
"The communications Marines have launched three balloons this week," said Ginn. "One landed at Twentynine Palms."
Without the use of the SkySat, the MEU uses a tactical satellite system that requires a middleman on solid ground to deploy an antenna and relay UHF signals via satellite. Because of the unit's expeditionary nature, the new SkySat system will match the capabilities required to communicate between all elements of the MAGTF and eliminate the need for a middleman, explained Ginn.
With the SkySat, Bullrush will be more capable than ever as it continues training for its upcoming deployment.
Story by Gunnery Sgt. Jennifer Antoine

* * * * * * * * *
Constant Communications Are Ensured
Far from Camp Lemonnier, Djibouti, U.S. service members stationed in austere conditions in forward operating areas around Africa have regular access to communications, thanks to the Tactical Networking team of the Combined Joint Task Force—Horn of Africa's communications directorate.
CJTF-HOA's TACNET allows troops the ability to exchange messages in a protected medium that enables them to carry out missions all over East Africa.
TACNET technicians maintain two types of satellite global communications routers, secure and unsecured internet protocol types called "SIPR" and "NIPR," both a necessity that service members rely on to meet their daily mission requirements.
TACNET's mission here is to create down-range communications for U.S. troops in the Horn of Africa, said TACNET technician Senior Airman Robert Morrison of Middletown, Conn. "The SIPR/NIPR Access Point Satellite, or SNAP terminal, allows for mobile use for computers and phones by U.S. personnel in their area of operation, anywhere in the world."
Morrison said without SNAP terminals, personnel cannot access their computer accounts and would need to rely on radio communications instead of phones. Wherever the troops are, they have access to the systems they need, he added, as SNAP terminals are at all forward operating bases from Africa to Afghanistan.
TACNET client U.S. Navy Lt. Jason Schechter, Naval Mobile Construction Battalion 3 assistant officer in charge, said SNAP is a valuable asset for maintaining communications with outlying Seabee detachments. "It allows for secure data and voice communications over long distances, allowing us to communicate with them as if they were in an office next door," Schechter said. "The ability to instantly contact someone on the network when they are in the middle of a remote area is extremely convenient."
"Our detachments typically deploy to an area for several months to work on construction projects," Schechter added. "Constant communication is key to supporting their mission."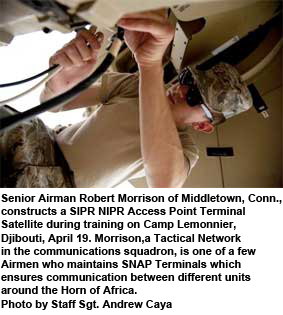 U.S. Air Force Master Sgt. Pete Thomann, TACNET non-commissioned officer in charge and a St. Louis, Mo., native, said most technicians arrive from multiple career fields, yet are highly capable. "They have never seen a SNAP terminal before and within two weeks of boots-on-ground here they are ready to go downrange," he said.
When downrange, the technicians spend an average of four months in different countries in CJTF-HOA's area of operation, facilitating communications for civil affairs teams as well as U.S. Navy construction battalions, said Thomann.
"Within 30 minutes we can set up phone and internet access at any forward operating location," said TACNET technician U.S. Air Force Senior Airman Christopher Wood of Indianapolis, Ind.
U.S. Army Civil Affairs Team 4905, another TACNET client supporting CJTF-HOA, operates in Ethiopia and is in constant contact with command leadership. "Communication is a challenge for us but is very important," said U.S. Army Capt. Charles Varner, CAT 4905 team leader. "East Africa is a dynamic region and we need to be able to send and receive important updates in a secure manner."
Communication is essential for any organization to function, said Thomann. "Nobody realizes the importance of communication until it is gone."
Story by Staff Sgt. Andrew Caya
* * * * * * * * *
MIRI Instrument Finished Aft.er Ten+ Years Of Work
After more than ten years of work by more than 200 engineers, the Mid InfraRed Instrument (MIRI), a camera so sensitive it could see a candle on one of Jupiter's moons, has been declared ready for delivery by the European Space Agency and NASA.
The MIRI Optical System, an instrument for the James Webb Space Telescope (JWST) that will eventually take up a position four times further away from the Earth than the Moon. It will now be shipped to NASA's Goddard Space Flight Center where it will be integrated with the other three instruments and the telescope.
MIRI is the first of the four instruments on board the JWST to be completed. The handover ceremony between the European Space Agency (ESA) and NASA at the Institute of Engineering and Technology in London is the culmination of a long term collaboration effort from teams across both continents. The U.K. guided the development work by these teams, in addition to employing U.K. technologies in the construction of key components and carrying out the assembly, integration, testing and ground calibration at the Science and Technology Facility Council's (STFC) RAL Space. The instrument has been subjected to exhaustive mechanical and thermal testing at the same facility to make sure it can not only survive the rigors of a journey into space, but also remain operational for the life of the mission.
MIRI will allow astronomers to explore the formation of planets around distant stars and could even pave the way for investigations into the habitability of other planetary systems. MIRI offers a sensitivity and resolution many times greater than any other mid-IR instrument in existence today or for the foreseeable future. It will be able to penetrate the dust obscuring distant objects, allowing for smaller and fainter objects than have ever been detected to be mapped in unprecedented detail. Its wavelength of 5 to 28 microns brings a unique scientific capability among the other instruments on the James Webb Space Telescope. These wavelengths bring additional technical challenges due to the extremely low operating temperatures necessary (-266.5ºc). Unlike the other JWST instrument,s MIRI will be cooled by a dedicated cooler provided by JPL.
Facilities at STFC's Rutherford Appleton Laboratory had to be specially designed to simulate the environment the instrument will experience in space and account for it's extremely low operating temperatures. The instrument was assembled from major sub-systems that had already been built-up and thoroughly tested in the partner institutes.
The RAL test chamber was then used to test the performance of all the scientific operating modes of the instrument and obtain critical calibration observations. Such rigorous testing promotes confidence in the science it will do when the mission is launched, which is scheduled for 2018.
* * * * * * * * *
All About Actuator Accuracy
Moog Space and Defense Group, part of Moog Inc. has engineered a new, noise-free potentiometer called QuieSense™ to enhance the reliability of actuators used with satellites.

The newly designed Moog potentiometers provide feedback on the position of solar array drives and antenna-pointing mechanisms. Moog hopes satellite design engineers will replace traditional potentiometers with Moog's QuieSense technology to extend the reliability and performance of actuators used on satellites. If a satellite is trying to determine the position of, say, its solar array and there is drop-out noise, then technicians may think the solar array is pointing in a direction that it is not. Moog has solved this problem by engineering its new potentiometer to include a rolling motion between the conductor and resistor. Using membrane potentiometer technology, not unlike the kind used with iPod controls, Moog's engineers sourced materials that could compensate for conditions such as ambient pressure and vacuum. Through rigorous testing, Moog qualified that the materials for its new potentiometer met the requirements of spaceflight.
A satellite manufacturer has already opted to use Moog's new potentiometer and actuators on a communications satellite scheduled for launch in early 2014. Moog is also developing a range of sizes for its QuieSense potentiometer to enable satellite makers to easily replace traditional potentiometers found on an array of actuators now used for spaceflight.
* * * * * * * * *
Liberty Is At Hand
ATK has developed Liberty into a complete commercial crew transportation system, including the spacecraft., abort system, launch vehicle, and ground and mission operations, designed from inception to meet NASA's human-rating requirements with a potential for the first test flight in 2014 and Liberty crewed flight in 2015.
The company also announced Lockheed Martin will provide support to the ATK and Astrium Liberty team as a major subcontractor on the project.
Liberty's test flights are expected to begin in 2014, with a crewed mission anticipated in late 2015. The current schedule will support crewed missions for NASA and other potential customers by 2016, with a price-per-seat that is projected to be lower than the cost on the Russian Soyuz rocket. Liberty's approach is to bring together flight-proven elements designed from inception to meet NASA's human-rating requirement, reducing development time and costs, and providing known, reliable and safe systems. The simple configuration of a solid first stage and liquid second stage lowers the likelihood of failure and enables a flight path with total abort coverage, maximizing survival for the crew in the unlikely event of an anomaly requiring an abort.
Liberty has a robust and sustainable business case that will create and sustain thousands of jobs across the United States including Alabama, California, Colorado, Florida, Maryland, New York, Ohio, Texas, Utah, and Virginia. Its low remaining development cost accelerates the time to market, filling NASA's requirements, and provides a quicker return on investment to outside entities. Liberty's performance of 44,500 pounds to low-earth orbit enables the system to launch both crew and cargo and also serve non-crewed markets including ISS cargo up and down mass, commercial space station servicing, U.S. government satellite launch, and future endeavors.
The Liberty spacecraft. includes a composite crew module, which ATK built at its Iuka, Mississippi, facility as part of a NASA risk-reduction program at Langley between 2007 and 2010. As prime contractor, ATK is responsible for the composite crew module, Max Launch Abort System (MLAS), first stage, system integration and ground and mission operations, while Astrium provides the second stage powered by the Vulcain 2 engine and Lockheed Martin provides subsystems and other support.
Lockheed Martin is providing crew interface systems design, subsystem selection, assembly, integration and mission operations support for the Liberty spacecraft.
Liberty has been developed under a CCDEV-2 unfunded Space Act Agreement (SAA) with the NASA Commercial program office. The next major milestone is a structural test of the second stage tank, to be conducted at Astrium in June. Additional subcontractors for Liberty include Safran/Snecma, which provides the Vulcain 2 engine; Safran/Labinal out of Salisbury, Maryland, which provides second stage wiring; L-3 Communications Cincinnati Electronics (L3-CE), which provides first stage, abort and telemetry system avionics, as well as second stage telemetry and abort system integration prior to launch at KSC; and Moog Inc., which provides thrust vector control and propulsion control