---
New Aviation Solutions For The U.S. Government Debut From Inmarsat Government
Inmarsat Government has unveiled their G-MODMAN II modem manager and G-MODMAN Open Platform (OP) solutions.

These are expanded, smart ecosystem solutions, built on the proven G-MODMAN modem manager technology that will support the implementation of Global Xpress (GX) terminals on government aviation platforms, starting in 2022.
Inmarsat GX is the first and only end-to-end high- throughput Ka-band network from a single operator that provides worldwide service.
In U.S. government operation since July 2014, GX complements military satellite communications (MILSATCOM) and delivers seamless, consistent wideband access that meets mobile, interoperable communications needs at an affordable price.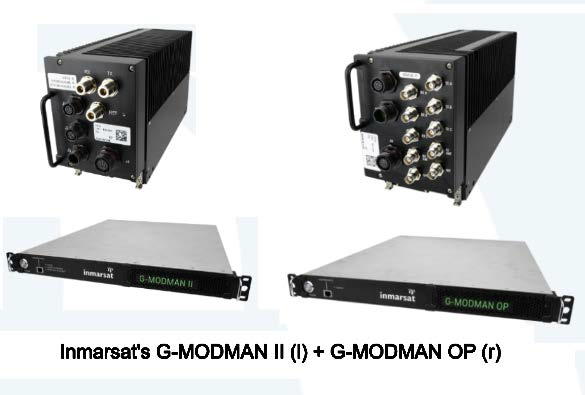 G-MODMAN II is a flexible, easy-to-use solution that seamlessly integrates with existing antenna systems and provides the enabling technology to support the implementation of the current and future generation of GX services and aero terminals across multiple aviation platforms.
This solution builds on Inmarsat's monitoring system and includes high-fidelity monitoring and logging features, allowing easy access to mission-critical data, and enabling highly detailed performance and trend analysis that leverages advanced ML (Machine Learning) and AI (Artificial Intelligence) techniques.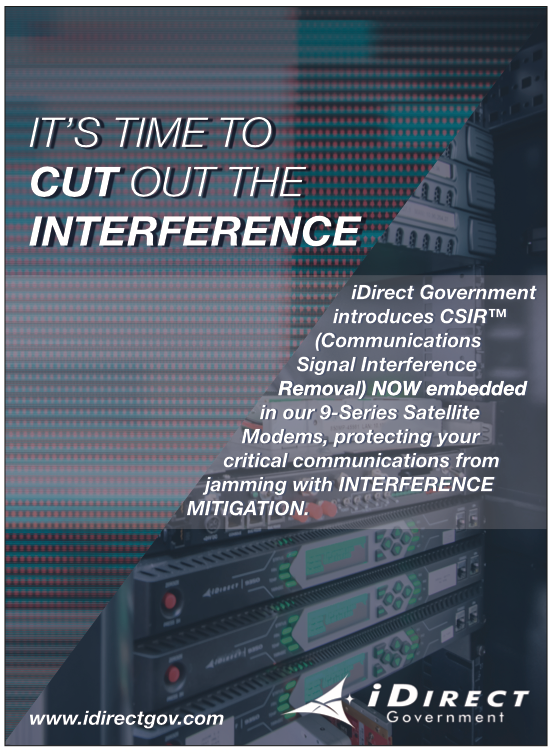 An option to G-MODMAN II is the G-MODMAN OP, which further expands upon the interoperable functionality by allowing for the seamless switching between GX, Inmarsat's steerable beams and the government's Wideband Global SATCOM system (WGS) to provide Inmarsat Government's customers with always-on availability, capacity, coverage and capability for mission operations.
This is a turn-key solution that integrates multiple modems/ services with a single antenna by using loadable coverage map files and an easy-to-use a Graphical User Interface (GUI) to manage the various services.
Both configurations leverage open standards, such as OpenAMIP and OpenBMIP, enabling interoperability with a multitude of terminals from various manufacturers.
The G-MODMAN II solution will be available in 1 Rack Unit (RU) and ARINC 404A ½ Air Transport Rack (ATR) form factors, G-MODMAN OP will be available in 19" 1 RU rack mount and ARINC-404A form factors, supporting a wide range of modems and services for government aviation missions — both crewed and uncrewed. Users will have also access to an Inmarsat's support structure that enables fast integration, easy configuration and detailed monitoring and control.
Matt Wissler, Chief Technology Officer at Inmarsat Government, said, "Many of our customers' mission requirements drive the need for diverse SATCOM services spanning both commercial and military or government networks. Inmarsat Government recognizes the critical role of satellite communications in U.S. government aviation missions and takes pride in rapidly building solutions tailored to users' unique requirements.
The G-MODMAN II and G-MODMAN OP solutions are testament to the company's dedication to solving customers' problems, maximizing and extending the capabilities that our customers have come to expect and trust from Inmarsat Government."
---
Valley Tech Systems Awarded Million$$ Contract by Lockheed Martin For MDA's Next Generation Interceptor
Valley Tech Systems, Inc., a Voyager Space company, has been awarded a subcontract worth up to $94 million for base and future option scope by Lockheed Martin (NYSE: LMT) for an advanced solid-propulsion subsystem for its Next Generation Interceptor (NGI) contract with the U.S. Missile Defense Agency (MDA).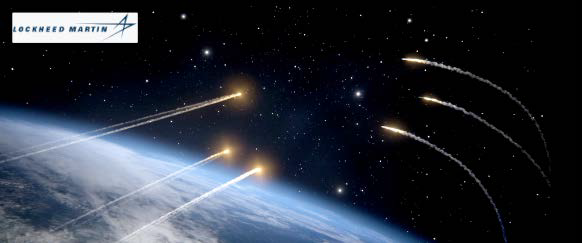 The NGI is a missile defense interceptor program designed to protect and defend the U.S. from intercontinental ballistic missiles.
This program will serve as a first line of a layered missile defense architecture against evolving threats from rogue nations.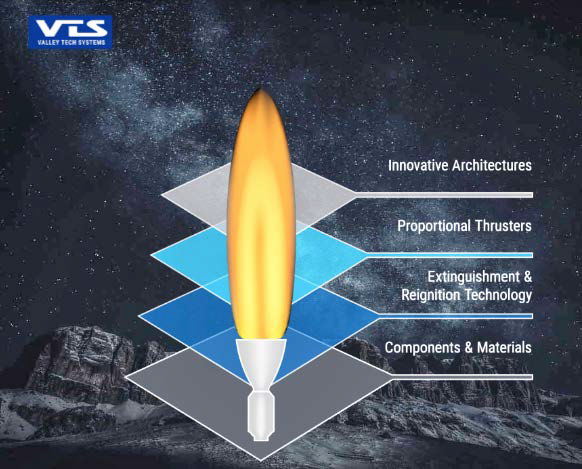 Valley Tech Systems will provide a solid-propulsion roll control subsystem to assist in stabilizing the NGI's flight trajectory.
Under the subcontract for the technology development and risk reduction phase, Valley Tech Systems will deliver a flight-qualified, production-ready subsystem to Lockheed Martin in support of the 2027 fielding date.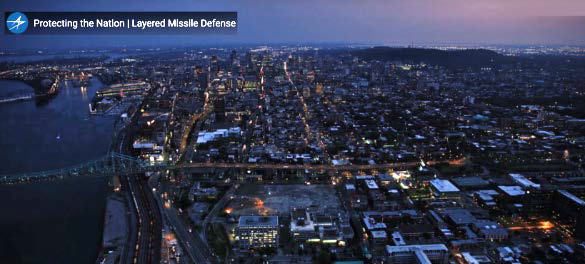 Valley Tech Systems' controllable solid-propulsion technology regulates the use of solid propellant to achieve required levels of precision and long-duration operation, while offering superior reliability, safety and affordability.
The company developed the technology under a series of Small Business Innovation Research (SBIR) contracts from the MDA and the U.S. Air Force with Lockheed Martin as its commercialization and technology transition partner.
Derivations of the technology also are under development for future application to U.S. Air Force, U.S. Army and U.S. Navy missiles through additional SBIR contracts.
"By including our cutting-edge technology in the NGI program, Lockheed Martin is tapping into American ingenuity, while expanding the defense industrial base and Lockheed Martin's supply chain," said Russell Carlson, vice president, Aerospace Division, Valley Tech Systems. "In transitioning from R&D to weapon system integration, we have upgraded our business systems and engineering processes to successfully achieve the stringent technical and quality program requirements of Lockheed Martin and the MDA."
---
Green Hills Software's INTEGRITY-178 tuMP RTOS Selected For Military GPS Equipment
Green Hills Software has announced the selection of their INTEGRITY®-178 tuMP™ real-time operating system (RTOS) by Raytheon Intelligence & Space (RI&S) for their offering of the Military Global Positioning System User Equipment (MGUE) Increment (Inc) 2 Miniature Serial Interface (MSI) with Next-Generation Application Specific Integrated Circuit (ASIC).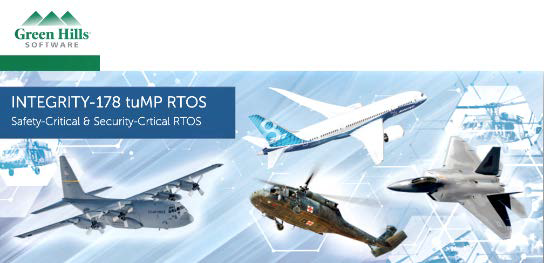 RI&S is developing one MSI card for aviation and maritime systems and another MSI card for ground- based systems. INTEGRITY-178 tuMP will be used in both solutions running on the Arm® processor-based ASIC.
RI&S selected the INTEGRITY-178 tuMP RTOS based on its use in previous programs and for its ability to simultaneously meet both safety and security requirements.
Those requirements included the highest DO-178C design assurance level (DAL A) and the NSA-defined separation kernel protection profile (SKPP) for "high robustness" security.
The Military GPS User Equipment is the GPS receiver for the modernized GPS Enterprise and it is capable of receiving military code (M-Code) from newer satellites, including GPS-III. M-Code is a more robust, jam-resistant form of GPS that also uses more modern and flexible encryption methods to make it resistant to spoofing.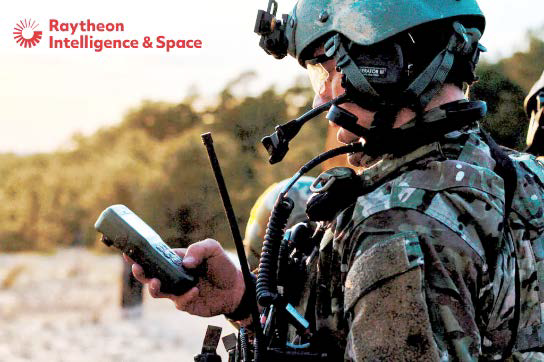 The MGUE Inc 2 MSI program is developing a smaller M-Code ASIC and receiver card that consumes less power, while increasing functionality, security and performance.
The smaller card will enable use in handheld and dismounted applications as well as mounted, maritime and aviation platforms.
The Government Accountability Office estimates that approximately 700 different types of weapon systems will ultimately require M-Code cards and M-Code- capable receivers, including ships, aircraft, ground vehicles, munitions, and handheld devices.
RI&S was one of three companies awarded by the U.S. Space Force's Space Systems Command for the MGUE Inc 2 MSI with Next-Generation ASIC program.
INTEGRITY-178 is the only commercial operating system ever certified to the SKPP and that certification was done by the National Information Assurance Partnership to Common Criteria EAL 6+ and "High Robustness."
Beyond the separation kernel, INTEGRITY-178 tuMP provides a complete set of APIs for use by multi-level security applications within a secure partition, e.g., an MLS guard, which is a fundamental requirement in a cross-domain system.
INTEGRITY-178 tuMP is also the first and only RTOS to be part of a cross-domain solution certification to NSA's new "Raise the Bar" initiative. INTEGRITY-178 was the first commercial RTOS approved as complying with DO-178B Level A objectives, and INTEGRITY-178 tuMP is the only RTOS to be part of a multi-core certification to DO-178C and CAST-32A multi- core objectives.
INTEGRITY-178 tuMP directly supports a Modular Open Systems Approach, and it was the first RTOS to be certified conformant to the FACE™ Technical Standard, edition 3.0.
"Green Hills Software has a long history of working with RI&S on GPS & navigation systems, and we are pleased to be part of their MSI with Next Generation ASIC solution," said Dan O'Dowd, founder and CEO of Green Hills Software.
"Airborne GPS solutions require both safety and security, and the INTEGRITY-178 RTOS has an unrivaled pedigree in the combination of certified high-robustness security with certified DO-178C safety assurance."
---
Comtech Telecommunications Is The Recipient Of Million$$$ From The Federal Government For JCAC Training Solutions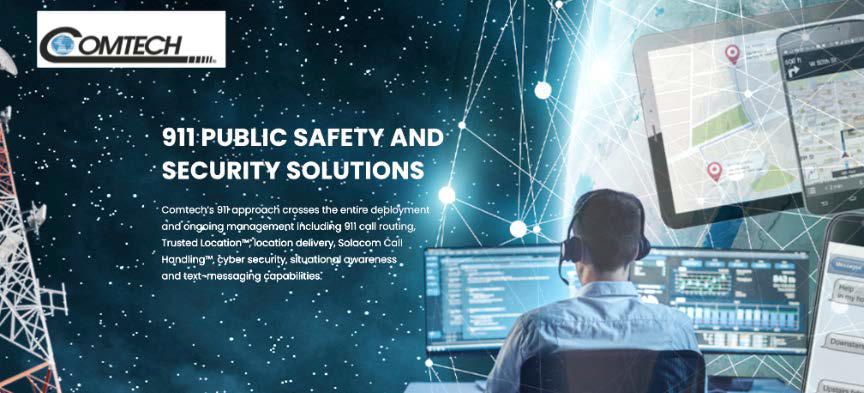 During the company's Q1 of fiscal 2022, Comtech Telecommunications Corp. (NASDAQ: CMTL) was awarded a five-year single award Indefinite Delivery Indefinite Quantity ("IDIQ") contract renewal with Firm Fixed Price ("FFP") and Time and Materials ("T&M") delivery orders valued at approximately $125 million from the Federal Government for the Joint Cyber Analysis Course ("JCAC") Training solutions.
The first delivery order on the IDIQ contract has been received and funded $1.4 million to date.
"The Federal Government's cyber workforce development efforts are one of our nation's top priorities. This contract renewal acknowledges our proven track record of excellence in developing and delivering complex cybersecurity operations training at the scale and demanding operational tempo required by our Federal Government customers," said Fred Kornberg, Chairman of the Board and Chief Executive Officer of Comtech Telecommunications Corp.
---
NASA's Next-Generation Asteroid Impact Monitoring System Goes Online
The new system improves the capabilities of NASA JPL's Center for Near Earth Object Studies to assess the impact risk of asteroids that can come close to our planet.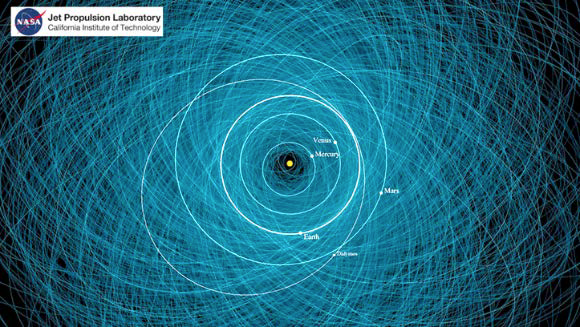 To date, nearly 28,000 near-Earth asteroids (NEAs) have been found by survey telescopes that continually scan the night sky, adding new discoveries at a rate of about 3,000 per year. However, as larger and more advanced survey telescopes turbocharge the search over the next few years, a rapid uptick in discoveries is expected. In anticipation of this increase, NASA astronomers have developed a next- generation impact monitoring algorithm called Sentry-II to better evaluate NEA impact probabilities.
Popular culture often depicts asteroids as chaotic objects that zoom haphazardly around our solar system, changing course unpredictably and threatening our planet without a moment's notice.
This is not the reality. Asteroids are extremely predictable celestial bodies that obey the laws of physics and follow knowable orbital paths around the Sun.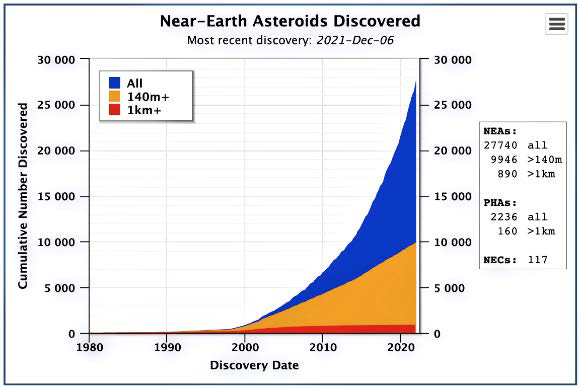 But sometimes, those paths can come very close to Earth's future position and, because of small uncertainties in the asteroids' positions, a future Earth impact cannot be completely ruled out. So, astronomers use sophisticated impact monitoring software to automatically calculate the impact risk.
Managed by NASA's Jet Propulsion Laboratory, the Center for Near Earth Object Studies (CNEOS) calculates every known NEA orbit to improve impact hazard assessments in support of NASA's Planetary Defense Coordination Office (PDCO). CNEOS has monitored the impact risk posed by NEAs with software called Sentry, developed by JPL in 2002.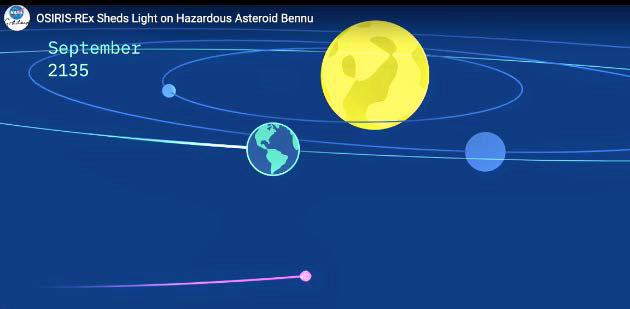 A video explains how asteroid Bennu's orbit around the Sun was
determined by considering gravitational and non-gravitational forces,
helping scientists to understand how the asteroid's trajectory will
change over time.
"The first version of Sentry was a very capable system that was in operation for almost 20 years," said Javier Roa Vicens, who led the development of Sentry-II while working at JPL as a navigation engineer and recently moved to SpaceX. "It was based on some very smart mathematics: In under an hour, you could reliably get the impact probability for a newly discovered asteroid over the next 100 years – an incredible feat."
But with Sentry-II, NASA has a tool that can rapidly calculate impact probabilities for all known NEAs, including some special cases not captured by the original Sentry. Sentry-II reports the objects of most risk in the CNEOS Sentry Table.
By systematically calculating impact probabilities in this new way, the researchers have made the impact monitoring system more robust, enabling NASA to confidently assess all potential impacts with odds as low as a few chances in 10 million.
As an asteroid travels through the solar system, the Sun's gravitational pull dictates the path of its orbit, and the gravity of the planets will also tug at its trajectory in predictable ways. Sentry modeled to a high precision how these gravitational forces shaped an asteroid's orbit, helping to predict where it will be far into the future. But it couldn't account for non-gravitational forces, the most significant being the thermal forces caused by the Sun's heat.
As an asteroid spins, sunlight heats the object's dayside. The heated surface will then rotate to the asteroid's shaded nightside and cool down. Infrared energy is released as it cools, generating a tiny yet continual thrust on the asteroid. This phenomenon is known as the Yarkovsky effect, which has little influence on the asteroid's motion over short periods but can significantly change its path over decades and centuries. This video explains how asteroid Bennu's orbit around the Sun was determined by considering gravitational and non-gravitational forces, helping scientists understand how the asteroid's trajectory will change over time.
"The fact that Sentry couldn't automatically handle the Yarkovsky effect was a limitation," said Davide Farnocchia, a navigation engineer at JPL who also helped develop Sentry-II. "Every time we came across a special case — like asteroids Apophis, Bennu or 1950 DA — we had to do complex and time-consuming manual analysis. With Sentry-II, we don't have to do that anymore." Another issue with the original Sentry algorithm was that it sometimes couldn't accurately predict the impact probability of asteroids that undergo extremely close encounters with Earth. The motion of these NEAs gets significantly deflected by our planet's gravity, and the post-encounter orbital uncertainties can grow dramatically. In those cases, the old Sentry's calculations could fail, requiring manual intervention. Sentry-II doesn't have that limitation.
"In terms of numbers, the special cases we'd find were a very tiny fraction of all the NEAs that we'd calculate impact probabilities for," said Roa Vicens. "But we are going to discover many more of these special cases when NASA's planned NEO Surveyor mission and the Vera C. Rubin Observatory in Chile go online, so we need to be prepared." This is how impact probabilities are calculated: When telescopes track a new NEA, astronomers measure the asteroid's observed positions in the sky and report them to the Minor Planet Center. CNEOS then uses that data to determine the asteroid's most likely orbit around the Sun. But because there are slight uncertainties in the asteroid's observed position, its "most likely orbit" might not represent its true orbit. The true orbit is somewhere inside an uncertainty region, like a cloud of possibilities surrounding the most likely orbit.
To assess whether an impact is possible and narrow down where the true orbit may be, the original Sentry would make some assumptions as to how the uncertainty region may evolve. It would then select a set of evenly spaced points along a line spanning the uncertainty region. Each point represented a slightly different possible current location of the asteroid.
Sentry would then wind the clock forward, watch those "virtual asteroids" orbit the Sun, and see if any came near Earth in the future. If so, further calculations would be required to "zoom in" to see whether any intermediate points might impact Earth, and if they did, estimate the impact probability.
This animation shows an example of how the uncertainties in a near-Earth asteroid's orbit can evolve with time. After such an asteroid's close encounter with Earth, the uncertainty region becomes larger, making the possibility of future impacts more challenging to assess. Sentry-II has a different philosophy. The new algorithm models thousands of random points not limited by any assumptions about how the uncertainty region may evolve; instead, it selects random points throughout the entire uncertainty region. Sentry-II's algorithm then asks: What are the possible orbits within the entire region of uncertainty that could hit Earth?
This way, the orbital determination calculations aren't shaped by predetermined assumptions about which portions of the uncertainty region might lead to a possible impact. This allows Sentry-II to zero in on more very low probability impact scenarios, some of which Sentry may have missed.
Farnocchia likens the process to searching for needles in a haystack: The needles are possible impact scenarios, and the haystack is the uncertainty region. The more the uncertainty in an asteroid's position, the bigger the haystack. Sentry would randomly poke at the haystack thousands of times looking for needles located near a single line stretching through the haystack. The assumption was that following this line was the best way of searching for needles. But Sentry-II assumes no line and instead throws thousands of tiny magnets randomly all over that haystack, which quickly get attracted to, and then find, the nearby needles.
A study describing Sentry-II was published in the Astronomical Journal on December 1, 2021
---