A Commanding Move
The Air Force announced on December 16th that the Air Force Technical Applications Center will bid farewell to its current commander and welcome a new one in summer 2012.

Col. Aaron M. Prupas, AFTAC's present leader, joined AFTAC in June 2010. He has been selected as the commander of the National Air and Space Intelligence Center at Wright-Patterson Air Force Base, Ohio. Prior to his assignment at Patrick AFB, he served as the deputy director for the Commander's Initiatives Group at U.S. Central Command at MacDill AFB in Tampa, Florida.

In the same announcement, the Air Force selected Lt. Col. Christopher A. Worley to be Prupas' replacement. Worley, who has been selected for promotion to colonel, is currently serving as the chief of requirements and assessments for the Undersecretary of Defense's Intelligence, Surveillance and Reconnaissance Task Force at the Pentagon.
* * * * * * * * *
Impatience With Interference
Glowlink has been awarded a competitive contract by the U.S. Air Force for satellite carrier monitoring and interference geo-location capabilities.

The Air Force will deploy a worldwide network of systems under the contract, all based on the Company's Model 8000 geo-location and Model 1010 wideband carrier monitoring systems.
The Model 8000 is a compact, commercial off-the-shelf (COTS) geolocation system that aims to swiftly detect, identify and geo-locate satellite interferences. The Model 1010 is an ultra-wide bandwidth spectrum monitoring and analysis system designed to provide enhanced carrier-monitoring capabilities.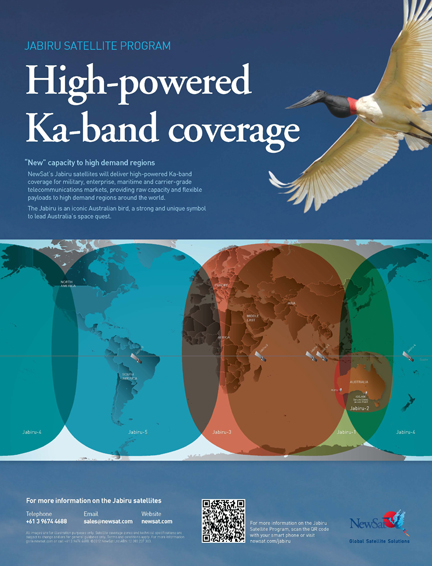 Jeffrey Chu, Glowlink's CEO and a co-founder, said, "The U.S. Air Force did extensive market surveys, and decided on a product with unmatched price and performance ratio. We are exceedingly pleased to be selected based on merit, and look forward to working closely with our Air Force customer to deploy this capability expeditiously and responsibly."
* * * * * * * * *
Comms Exercises
Marines with the 7th Communication Battalion dispatched an array of communication equipment and established a secure working environment during their communications field exercise at Camp Hansen in Japan last month.
The battalion, part of III Marine Expeditionary Force Headquarters Group, III MEF, conducted the exercise to maintain operational readiness, ensure efficiency within the Marines' military occupational specialties, and to allow the battalion to stay poised for future exercises and operations.
"Each Marine is testing their individual equipment," said Master Sgt. Thaddeus S. Starkey, the communications chief of Satellite Platoon, 7th Comm. Bn. "We have to validate our systems to make sure everything is working properly.
"Communications [technology] is always progressing," he added. "We always have to train in communications, because you will never know everything."
Within 24 hours, the Marines were expected to set up tents, secure the working area, generate power for the tents and establish communications. It is imperative that the radios are set up first, said Pfc. Isael J. Rodriguez, a radio operator with 7th Comm. Bn.
"In any case of an emergency, we may have to call in a medevac," said Rodriguez. "Before we set up anything else, we have to ensure that we've set up initial communications."
Throughout the training, the Marines conducted operations checks on all of the equipment, ensuring the items on the equipment density list were operational and able to be used in any situation, said Starkey.
The equipment density list is a list of equipment the unit must bring when deployed to exercises or operations, said Starkey.
Most importantly, the unit establishes entry control points and gear watches, ensuring that the equipment is secure and only those authorized have access to the operating area. This simulates how they will operate in deployed environments.
"It's critical that nothing happens to any of the equipment," said Pfc. Ryan E. Hodge, security at the ECP during the exercise. "Anyone without a specific clearance won't have access. The fact is, we have to keep all equipment up and working, so that makes the security mission critical."
The Marines know the importance of operational readiness, said Rodriguez.
"Anytime a disaster happens, we have to be ready to give aid," said Rodriguez. "We always have to make sure our gear is ready, so that when we get into the field, it can be used."
Overall, Starkey is pleased with the efforts of his Marines.
"They are doing an awesome job!" said Starkey. "It usually takes a day to set up, but the Marines got it done in an hour — while in the rain!"
Story by
Lance Cpl. Jacob Lagoze
* * * * * * * * *
Critical Support Continues
ITT Exelis (NYSE: XLS) has been awarded a $121 million U.S. Army contract to provide mission support to wideband satellite operations centers and management sites around the world.
The Wideband Satellite Communications (SATCOM) Operations and Technical Support (WSOTS) contract, awarded by the U.S. Army Space and Missile Defense Command and the Army Forces Strategic Command, Peterson Air Force Base, Colorado, includes the base year and six, one-year option periods. As a key provider of C4ISR (command, control, communications, computers, intelligence, surveillance and reconnaissance) and technical services for defense and government agencies, Exelis will continue to support global network and computer systems for critical military satellite communications.
The cost-plus-fixed-fee contract also calls for operations and maintenance, life-cycle engineering, on-site technical assistance, equipment installation, depot-level repair, logistics, cybersecurity, and training and sustainment.
* * * * * * * * *
Testing Expeditionary Readiness
Marines from Communications Company, Combat Logistics Regiment 17, 1st Marine Logistics Group, deployed a Jump Command Post during a training exercise, December 8. A Jump CP establishes a forward point for a command to communicate with its troops.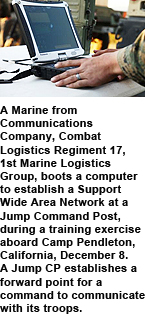 A CH-53 Sea Stallion helicopter flew into the simulated forward operating base. As it landed, Marines covered their faces as sand and debris was kicked up from the helicopter's propeller. The troops walked in a column formation into the rear of the helicopter, carrying radio equipment they would use to establish communications when they landed.
Marines from Landing Support Company, CLR-17, 1st MLG, rigged a Humvee to the bottom of a CH-53, making three trips in under half an hour. The helicopters transported one Humvee and more than 10 Marines during each of the three flights. Once all the Marines touched down, they transited via Humvee to a location where they would establish a Jump CP.
"Marines [from Communications Company] rarely get to conduct helicopter insertions," said Gunnery Sgt. Erich J. Wolfinger, operations chief, Communications Company, CLR-17, 1st MLG. "This exercise breaks the monotony and will give the Marines a good idea of their abilities and effectiveness."
After driving off-road to the jump location, the Marines dismounted their Humvees and began to construct the Jump CP. The setup included deployment of a Support Wide Area Network. A satellite dish is used in the network to increase the capabilities of long-range communications. It allows the unit to carry a smaller network package. A generator that was towed behind a Humvee powered the Jump CP's electronics through extensive wiring that also connected the system together.
Once power was established, Marines adjusted the dish to connect to a satellite with the aid of a computer program. The dish sent radio signals to the satellite which relayed them to another dish in the simulated FOB, allowing a clear connection. The mission was accomplished.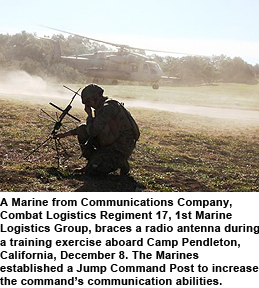 CLR-17 is transitioning back to its expeditionary roots, under the command of Col. James W. Clark, commanding officer, CLR-17, 1st MLG. The regiment is now conducting exercises that focus on the expeditionary nature of the Marine Corps.
"The future of the Marine Corps is likely smaller exercises," said 1st Lt. Samuel R. Howe, executive officer, Communications Company, CLR-17, 1st MLG. "The regiment plans to get back to its expeditionary roots. Colonel Clark's vision is to be able to get close to the front lines with dependable communications. This training exercise is a great example of operations with expeditionary nature."
Communication Company has conducted many training exercises. The repetition has allowed them to become more efficient and skillful at their work.
"It's good to get challenging and realistic training similar to real scenarios," said Howe. "I've been with the regiment for two years and every exercise I have seen improvement from the last. This is the best part of the job."
Story + photos by
Pfc. Timothy Childers
* * * * * * * * *
Increased Capacity For UAVs
A communications conundrum has been solved that enables UAVs' capacity to greatly increase.

NovelSat has launched its groundbreaking third generation satellite modulation technology, NS3™ to the military market place. NS3™ technology addresses the chronic shortage of satellite bandwidth that is restricting the deployment of Unmanned Aerial Vehicles (UAVs) around the globe today. Time and again, NS3™ technology has been shown to boost satellite capacity by 28-70 percent over the previous highest performance alternatives offered by the second generation Digital Video Broadcasting Standard (DVB-S2).
UAVs such as Predators, Global Hawks, Reapers and the French Harfang generate huge amounts of data, including full motion video and complex sensors such as high definition video, laser designators, imaging radar, ground moving target indicators and multispectral imagers, demanding high bandwidth for transmission. One Global Hawk (UAV) requires around 500 Megabits/second of bandwidth, which is five times the entire bandwidth required by all of the US military during Desert Storm.
Furthermore, the Pentagon has recently announced its intentions of buying at least 50 more UAVs of the extended range category, signaling to the satellite industry of its focus shift towards more Communications-On-The-Move (COTM) for UAVs in the coming years. The inevitable outcome of this focus shift is that the numbers of concurrent UAV flights will more than double itself in the future.
The NS3™ technology from NovelSat uses existing spectral bandwidth more efficiently to reduce satellite leasing costs by 20-37 percent over DVB-S2 (on 36MHz and smaller transponder segments), reduce antenna size by 33 percent, increase geographical coverage and/or increase capacity by up to 70 percent on wide transponders such as the 72 MHz transponders and offer unparalleled data speeds of up to 358Mbps today — growing to 1Gbps on a 250MHz transponder by Q4/ 2012.
For UAVs, NS3™ can contribute to a 33 percent reduction in the onboard pedestal and antenna's size giving an identical throughput. Such a reduction may contribute to improved UAV's aerodynamics, fuel consumption, and flight range as well as reducing its Radar Cross Section (RCS). Similarly, for Special Forces as well as Ground Forces, Communications on the Move (COTM) the reduction in weight and size of the antenna carried on the back of a fighting soldier and the improved signal quality can prove to be a critical advantage in a military theatre.
NovelSat's modulators, demodulators and modems are designed with increased resiliency. Therefore, in addition to the improved capacity and the highest data rate, they also provide a much more robust signal that will better sustain and be resilient to unfriendly, challenging conditions by 0.4dB to 3dB.
* * * * * * * * *
Info On Exports
An upcoming seminar will offer intriguing info to avoid some rather costly penalties...
On February 23 -24, an ITAR Basics Seminar will take place in Orlando, Florida that assists one in understanding U.S. export controls basics of the ITAR compliance with the international traffic in arms regulations. ITAR is the key to successful business.
Entitled "Avoid Costly Fines & Penalties Through Your Compliance with and Understanding of the ITAR", the topics Include:
– Getting to Know State/DDTC & the ITAR
– Recent ITAR Violators — Charging Letters and Case Examples
– Registration and How to Classify a Product
– Step-by-Step Process — How to Apply for a License
– Agreements Workshop — Utilizing the Electronic Guidelines for Drafting Technical Assistance Agreements
– Defining Technical Data & Public Domain
– National Disclosure Policy and DOD
– ITAR Exemptions You Should Use Now
– Foreign National Employees and Visitors-Licensing and Badging
– Record keeping and the 10 Elements of Compliance

More information is available at
this direct link
.
* * * * * * * * *
Inmarsat's New Branding
Inmarsat has begun the process of including its subsidiary companies within a new organizational structure that will align the Inmarsat business more closely to core vertical market segments and continue to support both direct and indirect distribution of its services.

As of January 1, 2012, Inmarsat Solutions, led by Jim Parm, is responsible for Inmarsat's global direct and indirect sales and marketing delivery. Inmarsat Solutions now operates through four new market-facing business units:
– Inmarsat Maritime, led by Frank Coles, focusing on world-wide commercial maritime opportunities
– Inmarsat Government US, led by Mike Wheeler, focusing on US government opportunities, both military and civil
– Inmarsat Government Global, led on an interim basis by Ronald Spithout, focusing on world-wide (i.e. non-US) civil and military government opportunities
– Inmarsat Enterprise, led by Ronald Spithout, focusing on worldwide enterprise, energy, media, carriers, commercial aviation as well as M2M opportunities.
These new global business units will be supported by a new group, Commercial Services & Support, which will provide cross-business unit services such as customer support, product and service management, channel development, commercial management and marketing communications.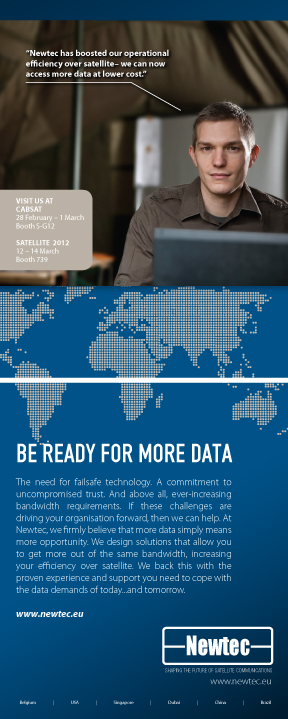 The Stratos, Segovia, and Ship Equip operations are now providing their services within the relevant business units, and will use the 'Inmarsat' brand name.
Stratos, a global provider of mobile and fixed satellite communications solutions and one of Inmarsat's two largest distributors, was acquired by Inmarsat in April 2009; Segovia, acquired by Inmarsat in January 2010, provides secure end-to-end communication solutions in support of the US government strategic and tactical initiatives worldwide; Ship Equip, which provides VSAT maritime communications services to the shipping, offshore oil & gas and fishing markets, was acquired by Inmarsat in April 2011.
Despite the alignment of the Inmarsat group's direct and indirect sales activities into business units, Inmarsat does not intend to change its policy of distributing its services primarily through independent channel partners, comprised of its network of distribution partners and service providers with whom Inmarsat has worked successfully over many years. The Inmarsat restructure is expected to provide further support to independent channel partners through greater coordination between Inmarsat and its channel partners.
"Inmarsat has been delivering mission-critical satellite communications services for customers who operate beyond the reach of terrestrial networks for more than three decades," said Rupert Pearce, CEO, Inmarsat. "We have led the mobile satellite services market as a wholesale organisation. This restructure will build on that by bringing us closer to our partners and customers, making us more responsive to their needs and more efficient in the delivery of our services.
"It streamlines our decision-making process and focuses our activities on the primary markets we serve. It enables us to fully leverage our end-to-end capability — from managing the satellite network, to delivering solutions to end users through our highly-motivated channel partners who add global reach and value-added services to our core service proposition.
"Our goal is to grow Inmarsat's overall business through both direct and indirect channels. We are committed to continue working with our high-performing independent channel partners who can differentiate themselves with sector knowledge and experience. By minimizing the overlap between the Inmarsat businesses, we can better target our investment into market development activities that benefit our entire distribution channel."
* * * * * * * * *
Getting More Than A Worm
Saving a significant amount of money is always appealing, especially when it is for a much anticipated event.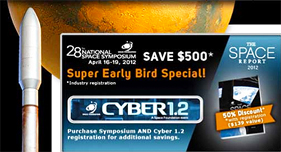 The 28th National Space Symposium will be held April 16-19 at The Broadmoor Hotel in Colorado Springs, Colorado. The Space Foundation is offering a Super Early Bird rate with up to $500 in savings for industry attendees who register before January 13. Plus, attendees can order the Space Foundation publication The Space Report 2012: The Authoritative Guide to Global Space Activity at the same time for an exclusive low rate of $69.50 — a 50 percent savings.
The Symposium is offered in conjunction with a separate Space Foundation event, Cyber 1.2, which will be held during the day on April 16 at The Broadmoor Hotel, immediately preceding the Symposium's opening ceremony. Register for both events to receive a substantial discount at www.NationalSpaceSymposium.org/register. The secure online registration page includes a live chat tab for customer service questions.
Recognized as the premier gathering of the global space community, the 28th National Space Symposium will feature forums, panels, presentations, speeches, special events and ample opportunity to hear from and network with the space community's most influential leaders. Among speakers confirmed for the 28th National Space Symposium are: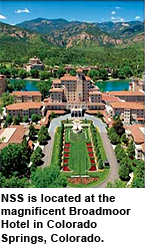 Maj. Gen. Charles Bolden, Jr., USMC, Ret., NASA administrator
Bruce Carlson, director, National Reconnaissance Office
Gen. C. Robert Kehler, USAF, commander, United States Strategic Command
Letitia A. Long, director, National Geospatial-Intelligence Agency
Gen. William L. Shelton, USAF, commander, Air Force Space Command
William H. Swanson, chairman and CEO, Raytheon
Full details and speaker biographies are available regarding the 28th National Space Symposium website — simply select the graphic below to travel to that site. Information will be constantly updated as additional speakers confirm their participation.
SatNews Publishers is an official sponsor of NSS.
* * * * * * * * *
Slicing + Dicing
Given the recent announcements regarding Obama's orders on cuts to the Defense Department, this is the official statements from the Chairman of the Joint Chiefs of Staff, General Martin E. Dempsey... (this will happen, so take a deep breath)...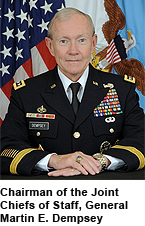 "As Chairman, it is my responsibility to work with the Joint Chiefs to ensure that the armed forces of the United States keep America immune from coercion. The Strategy just described by the President and the Secretary of Defense enables us to fulfill that responsibility. It sustains the sacred trust put in us by the American people — to defend them and our country.
"This strategy stems from a deeply collaborative process. We sought out and took on insights both within and beyond the Department of Defense to include the intelligence community and other government departments. We weighed facts and assessments. We challenged every assumption. We considered a wide range of recommendations and counter-arguments. I can assure you that the steps we have taken to arrive at this Strategy involved all this and more.
"This strategy has also benefitted from an exceptional amount of attention by our senior uniformed and civilian leadership. On multiple occasions, we held all-day and multi-day discussions with the Service Chiefs and every Combatant Commander. The Service Chiefs — charged with developing the force for the strategy — were heard early and often. The Combatant Commanders — charged with executing the strategy — all weighed in time and time again. And, we were all afforded extraordinary access to both the President and the Secretary of Defense. Frankly, the breadth and depth of dialogue to arrive at today's strategic choices was both necessary and noteworthy.
"Today, we are here to discuss the broad contours and central choices of this strategy. But, this is not the end. Rather, it is a waypoint in a continuous and deliberate process to develop the Joint Force we will need in 2020. There are four budget cycles between now and then. Each of these cycles presents an opportunity to adjust how and what we do to achieve this strategy in the face of new threats...and in the context of a changing security environment.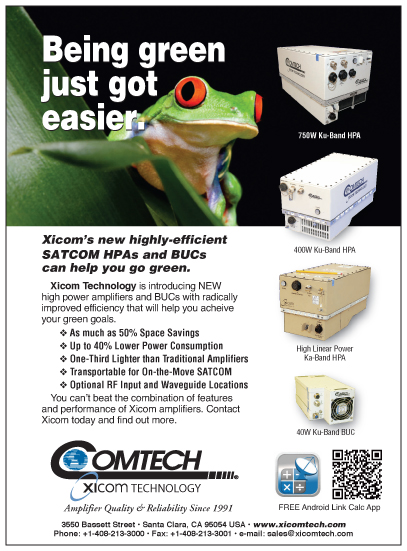 "It is a sound strategy. It ensures we remain the preeminent military in the world. It preserves the talent of the All-Volunteer Force. It takes into account the lessons of the last ten years of war. It acknowledges the imperative of a global, networked, and full-spectrum Joint Force.
"And, it responds to the new fiscal environment — though as a learning organization, it is important to note that even if we didn't have fewer resources, we would expect to change. As a consequence, it calls for innovation — new ways of operating and partnering. It rebalances our focus by region and mission. It makes important investments in emerging and proven capabilities like cyber and special operations.
"There has been much made about whether this strategy moves away from a force structure explicitly designed to fight and win two wars simultaneously. Fundamentally, our strategy has always been about our ability to respond to global contingencies wherever and whenever they happen. This does not change. We will always provide a range of options for our nation. We can and will always be able to do more than one thing at a time. More importantly, wherever we are confronted and in whatever sequence, we will win.
"We do accept some risk, as all strategies must. Because we will be somewhat smaller, these risks will be measured in time and capacity. However, we have to be honest — we could face even greater risks if we did not change from our current approach.
"I'm pleased with the outcome. It's not perfect. There will be people who will think it goes too far. Others will say it doesn't go far enough. That probably makes it about right. It gives us what we need — in this world and within this budget — to provide the best possible defense for our nation at a time of great transitions. It prepares us for what we anticipate needing in 2020.
"This is a real strategy. It represents real choices. And, I am here today to assure you it has real buy-in among our senior military and civilian leadership. This is not the strategy of a military in decline. This is a Strategy — and a Joint Force — on which the nation can depend.
"I want to wrap up by saying just a couple of words about leadership. It is always important, but absolutely essential during tough times. Make no mistake — these are tough economic times, and this strategy required some tough decisions. I want to thank President Obama and Secretary Panetta for their leadership throughout this process.
"The real test, though, is in execution. Fortunately, the young men and women who will be charged to carry out the lion's share of this strategy know something about leadership too. It is the very cornerstone of our profession — the profession of arms. And for the past ten years, they have done nothing but lead in some of the most difficult circumstances imaginable. For that reason, above all others, I am absolutely convinced and fully satisfied that this strategy will meet our Nation's needs for the future.
"Thank you."
* * * * * * * * *
Key Operational Test Completed
An advanced lightweight radio that will connect troops on the front lines to the Army's tactical communications network has completed its operational test.
The Joint Tactical Radio System, or JTRS, Rifleman Radio and its Soldier Radio Waveform, known as SRW, Network Manager component were the only systems under a formal program of record test at the recently concluded Network Integration Evaluation 12.1 at the White Sands Missile Range in New Mexico and at Fort Bliss in Texas.
While Soldiers from the 2nd Brigade, 1st Armored Division, also informally evaluated more than 45 other tactical communications systems, the Rifleman Radio test represents a key step toward fielding the Army's future network. The two-pound radio, which is carried by platoon, squad and team-level Soldiers for voice communications, can connect with handheld devices to transmit text messages, GPS locations and other data. Through SRW, it connects lower echelon Soldiers to one another and back to their leaders at the company level so they can rapidly exchange information.
"I use it for overall command and control because it builds a network that allows me to talk to my subordinate elements," said Capt. Ryan McNally, a company commander within 2/1 AD who evaluated the Rifleman Radio at Network Integration Evaluation, or NIE, 12.1. "It's the first time I've actually had radios down at the squad level. So my dismounted riflemen, they all have the radio as well. It allows them to talk to their team leaders when they're spread out, and also allows them to talk to the squad leader."
McNally said the ability to communicate with the radios instead of shouting or using hand-and-arm signals had altered his Soldiers' tactical approach to their missions.
"We have to factor in being able to talk to each other over a distance, rather than everybody being essentially co-located with a limited amount of space and distance between them," McNally said. "Now we can expand that space and distance. We can cover a larger area."
McNally's company used the radios in conjunction with handheld devices running Joint Battle Command-Platform software. JBC-P is the future version of the Army's friendly force tracking and messaging system, known as Force XXI Battle Command Brigade and Below/Blue Force Tracking, known as FBCB2/BFT, which also allows users to plot hazards and enemy locations on a digital map. Plugged into the Rifleman Radio, these devices provided mission command and situational awareness information down to Soldiers at the tactical edge.
"They can get their grid (position) off of it, and they can see anybody else who has a Rifleman Radio," McNally said. "You can send messages, create routes, drop a chem light (to show a building has been cleared), and send reports."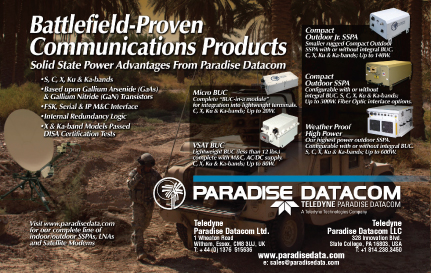 During the test, the Army captured data on the radio's performance in two ways: Through instrumentation on the systems themselves, and through human data collectors who accompanied Soldiers throughout their missions.
"When they have a radio and they're talking on it, I have a guy there that's writing down information and talking to them, with specific questions that we've given them," said test director Mike Nott.
He said the company formally testing the Rifleman Radio was physically isolated from the rest of 2/1 AD to ensure the integrity of the test, despite the complex NIE environment.
"Although they're still part of the overall exercise and still in the scheme of maneuver, we physically separated them on the ground, and we did that on purpose," Nott said. "We wanted to be able to control that battle space."
The Army will evaluate those test results during the coming months, as it finalizes the makeup of its network Capability Set 13, which will begin fielding to up to eight brigade combat teams in fiscal year 2013.
The Rifleman Radio is part of the JTRS Handheld, Manpack, Small Form Fit, or HMS, family of radios. In June the HMS program achieved Milestone C, authorizing the Army to procure a low-rate initial production lot of up to 6,250 Rifleman Radios and up to 100 Manpack Radios. NIE results will help inform further purchasing decisions for the equipment.
The software-programmable JTRS radios, which can use encryption to safeguard information, are built to send Internet Protocol packets of data, voice, video and images via multiple waveforms between static command centers, vehicles on the move, and dismounted individual Soldiers on patrol. The JTRS waveforms, SRW and the Wideband Networking Waveform, known as WNW, are integrated with the satellite communications backbone of the Army network, Warfighter Information Network-Tactical, or WIN-T, to transmit that information on the upper tactical Internet.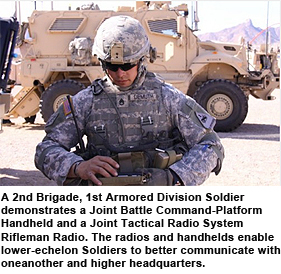 The Rifleman Radio is a key component to building the ground-level lower tactical network, bringing the most communication disadvantaged users — the small unit down to the individual user — into the network.
During NIE 12.1, Soldiers used the radios and handheld devices in a variety of realistic scenarios, including convoy operations, medical evacuation, reconnaissance and counterinsurgency. One 2/1 AD platoon leader, 2nd Lt. Travis V. Mount, said the technology showing the positions of his troops allowed him to save time by immediately adapting and executing his plans rather than tracking down personnel first.
"No matter what kind of organization you're running, if you have dismounts who are going to be on the ground you like to be able to see where your personnel are," Mount said. "If all I need is information on their position, I don't have to go through an intermediary. I can on the spot adapt my plan."
He said the Tactical Ground Reporting, known as TIGR, software application running on the handhelds was also valuable for sharing patrol information such as routes, places and people of interest.
"Instead of having to go to the Tactical Operations Center at the end of the day to download the information on the events and observations, I can either (do it in) real time or when I have a lull in the mission," Mount said. "I can just plug it in right there."
Story by Claire Schwerin, PEO C3T. Ashley Blumenfeld, JPEO JTRS, contributed to this report.
* * * * * * * * *
China's Increased Activity
China will launch the Shenzhou-9 and Shenzhou-10 spacecraft and achieve space rendezvous and docking missions with the orbiting Tiangong-1 vehicle in 2012, a spokesman for the China National Space Administration has revealed.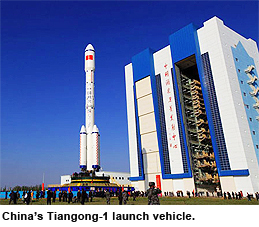 Spokesman Zhang Wei made the announcement at a press conference held in Beijing for the release of a white paper titled "China's Space Activities in 2011." However, the spokesman did not unveil a detailed timetable for the launches.
China issued the white paper on the development of the space industry since 2006 and the major tasks for the next five years. The white paper was the third white paper on the country's space activities issued by the State Council Information Office, following one in 2000 and another in 2006. The Chinese government has made the space industry an important part of the nation's overall development strategy and adhered to the exploration and utilization of outer space for peaceful purposes, the white paper said.
Over the past few years, China has ranked among the world's leading countries in certain major areas of space technology, it said, adding that in the next five years, there will be new opportunities for the country's space industry. At the same time, China will work together with the international community to maintain a peaceful and clean outer space environment and endeavor to promote world peace and development, the document said.
Major tasks listed in the white paper for the next five years include a space transportation system, Earth satellites, human spaceflights and deep-space exploration. China also plans to launch space laboratories, a manned spaceship and space freighters, and will start research on the preliminary plan for a human landing on the moon, the document said. As an important part of deep-space exploration, the country's lunar probe projects follow the idea of "three steps" — orbiting, landing and returning.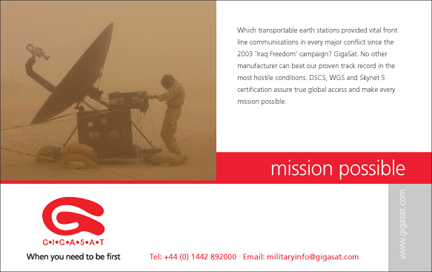 In next five years, the country plans to launch orbiters for lunar soft landing, roving and surveying to implement the second stage of lunar exploration, then it will start the third-stage project of gathering samples of the moon's surface matter and getting those samples back to Earth, the white paper said. China will also build a space infrastructure frame composed of Earth observation satellites, communications and broadcasting satellites, as well as navigation and positioning satellites. According to Wei, China will also conduct special project demonstrations in other deep-space projects, including an exploration of Mars.
China has signed 66 international space cooperation agreements with 22 states and regions, and 44 of them currently remain in effect, Zhang said at the press conference.
The country has engaged in 12 bilateral cooperation mechanisms within intergovernmental frameworks, Zhang said, adding that China has exported communications satellites to Nigeria, Venezuela and Pakistan, and has also contracted with countries, including Bolivia, Belarus, Indonesia and Laos, to export satellites. (Source: Xinhua)
* * * * * * * * *
Mounting More MTS
Comtech Mobile Datacom Corporation, a subsidiary of Comtech Telecommunications Corp. (Nasdaq:CMTL), has received multiple orders totaling $16.6 million to support the U.S. Army's Movement Tracking System ("MTS") and Blue-Force Tracking-1 ("BFT-1") programs. These orders were placed under the auspices of the BFT program office and brought the total orders received-to-date under Comtech's $384.0 million BFT-1 contract to $378.2 million.

The first order for $12.0 million included the supply of MT-2012 mobile satellite transceivers to support the MTS program and MT-2011 mobile satellite transceivers to support the BFT-1 program.
The second order was for the continued supply of satellite bandwidth, satellite network operations, engineering services and program management to support the MTS program for the period January 1, 2012, through March 31, 2012. Pricing for the second order has not yet been finalized with the U.S. Army and related funding cannot exceed $4.0 million. Additional orders aggregating approximately $0.6 million primarily related to engineering services to develop an operational interface between the MTS network and a standard FBCB2 protocol currently being used by the BFT-1 system.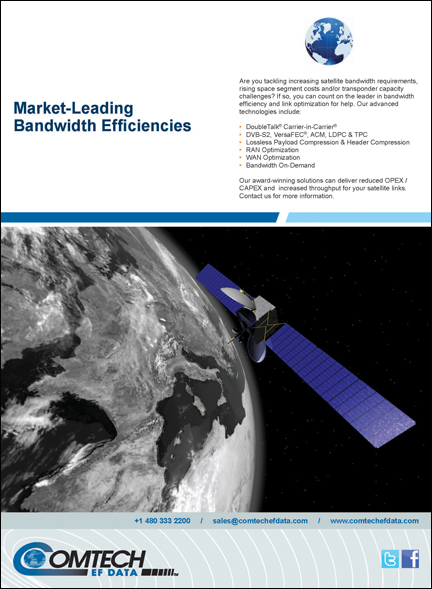 None of the above orders included a separate fee for the use of Comtech's intellectual property. Comtech continues to have ongoing discussions with the U.S. Army related to a potential multi-year sustainment contract including the licensing of its intellectual property to support the BFT-1 and MTS programs. Fred Kornberg, President and Chief Executive Officer of Comtech Telecommunications Corp., said, "We are pleased to receive these orders which provide for the uninterrupted delivery of MTS services to the U.S. Army and which continues our long standing support of the MTS and BFT-1 programs. We also believe the receipt of additional hardware orders demonstrates the ongoing importance of the U.S. Army's BFT-1 and MTS satellite tracking communication systems which currently support deployed U.S. forces worldwide."
* * * * * * * * *
Wheeling + Tracking
Antenna Technology Communications Inc. has been selected by the U.S. Defense Department to supply the their Ka-band networks designed for high throughput Ka-band satellite communication systems worldwide.
In accordance with ACORDE, headquartered in Santander Spain, ATCi offers turnkey solutions for broadband wireless communications, engineering projects for video, voice, data solutions and advanced IP security solutions. The core partnership offering includes ACTX Ka-band series (5, 10, 20, and 40W) block up converters, which have demonstrated superior reliability and performance in severe operational conditions.
The compact units are designed for demanding shock and vibration environments of wheeled and tracked vehicles, and are specifically engineered to support Department of Defense (DOD) agencies worldwide. Additionally, ATCi adds network operations and dynamic remote access equipment to its SkyWay Fiber Connect network providing anywhere to anywhere broadband access.
* * * * * * * * *
Agency Access
Skycasters has been awarded a GSA Federal contract to provide affordable satellite Internet service to GSA Government agencies.
Through the GSA contract SIN# 132-55, Skycasters will deliver commercial-grade SATCOM services to U.S. military and government agencies. The GSA contract allows Skycasters to provide primary broadband satellite Internet service for GSA federal government buyers under the Cooperative Purchase Program, ARRA Program, Disaster Recovery Purchase Program, and other qualifying programs. Their primary service plans are so dependable, that it doesn't matter how remote the government location is, Skycasters goes there.
When natural disasters strike, an unexpected interruption in service occurs and communications are shut down. GSA federal government buyers can't afford to incur outages like these. Skycasters' business continuity satellite Internet service is independent of all local landline infrastructure. Meaning they aren't exposed to the same threats that could disrupt primary connectivity, which makes Skycasters broadband international satellite Internet service the perfect Continuity of Operations (COOP) solution for any GSA Government customer.
Skycasters rapid deployment systems are business-grade products that are intricately designed and equipped with an auto-pointing satellite dish which delivers an Internet connection within 10 minutes of deployment. These products are ideal for first response situations because they are easy to maintain, transport, and simple enough to use that even untrained personnel can operate them.
* * * * * * * * *
Seizing SBIRS Support
Kratos Defense & Security Solutions, Inc. (Nasdaq:KTOS) has announced that its RT Logic subsidiary has been awarded an initial contract valued at approximately $5 million by Lockheed Martin Information Systems & Global Solutions.
The Company will supply the U.S. Air Force (USAF) with the Space-based Infrared System (SBIRS) Enhanced Multi-Band Modem (SEMM). SEMM is based on RT Logic's industry-leading Telemetrix® 400XR (T400XR) software-defined receiver and digital processing unit.
The USAF's SBIRS satellites provide the nation with significantly improved missile warning capabilities and simultaneously support other critical missions including missile defense, technical intelligence and battlespace awareness.
RT Logic's solution simultaneously transmits and receives data from the SBIRS satellite on multiple radio links. In addition, the SEMM provides protection against jamming through an integrated frequency hopped subsystem provided by the Secure Satcom Systems division of Astrium Limited.
RT Logic's rugged CompactPCI
®
(cPCI) hardware and flexible Telemetrix software-defined architecture ensures the modem will support not only current requirements but also future upgrades and enhancements.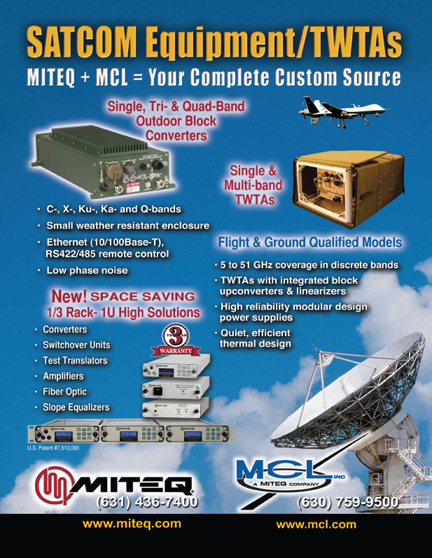 John Monahan, President of RT Logic, said, "The SEMM leverages RT Logic's decade-long support of the SBIRS ground system combined with advances in our T400XR product line and our partnership with Astrium to provide an unmatched modem solution. We are proud to be working closely with the USAF and Lockheed Martin to supply these advanced modems for a program of such national importance."
* * * * * * * * *
Taking A Higher Step
When a company announces a new subsidiary it's usually followed by healthy growth...such can be anticipated here.
ARINC Incorporated has announced it has formed a new subsidiary, ASES LLC, doing business as ARINC Aerospace. The new company will specialize in the modification, modernization, upgrade and maintenance of aircraft for the military, government, and commercial marketplaces.
ARINC Aerospace assumes most of the operations of ARINC's former Aerospace Systems Engineering & Support (ASES) business unit.
Michael A. Young, who led the ASES division as Vice President for the past eight years, has been named Vice President of the new company, ARINC Aerospace. Approximately 500 ASES employees will also be transferred. ARINC Aerospace will have two divisions: Aircraft Integration, Modification, & Maintenance, and Aircraft Logistics & Sustainment.
"We have re-aligned our divisions to focus on our core capabilities within the marketplace, with the major focus on aircraft," Young stated. "Our mission is to provide high quality, independent, and cost-effective aircraft modification and sustainment solutions to the aerospace industry."
In the transition, ARINC's other major defense division, Defense Systems Engineering & Support (DSES), will assume some engineering and support requirements of ARINC Aerospace, including SETA (Systems Engineering & Technical Assistance) engineering and A&AS (Advisory & Assistance Services) support. This will enable ARINC Aerospace to pursue installation contracts with large defense engineering firms without engineering conflict.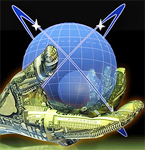 ARINC has recently experienced exceptional success as a subcontractor to large primes, servicing U.S. Air Force, Navy, and State Department aircraft. It is currently upgrading large C-130 transports for the Indonesian Air Force fleet.
"ARINC has consistently offered high value and fast turnaround times at our AS9100 Certified aviation facilities, making us very competitive," added Young. "As an independent corporation, ARINC Aerospace will be able to target modification and maintenance contracts more closely, and deliver more value to our customers."
Among the ARINC facilities being transferred to ARINC Aerospace are the company's large Aircraft Modification and Operations Center near Tinker Air Force Base in Oklahoma City, Oklahoma, which includes the area's two largest commercial aircraft hangars, and ARINC operations near Warner Robins AFB in Warner Robins, Georgia.
"By realigning ARINC's defense contracting capabilities, we have developed a more customer-focused, responsive, and efficient organization," Young concluded.
ARINC Incorporated, a portfolio company of The Carlyle Group, provides communications, engineering and integration solutions for commercial, defense and government customers worldwide. Headquartered in Annapolis, Maryland with regional headquarters in London and Singapore, ARINC is ISO 9001:2008 certified.
* * * * * * * * *
Ensuring Chopper Safety And Efficiency
Communications from anywhere 'twixt Sikorsky S-92 choppers and crews is a done deal...now.
Satellite tracking, fleet management, and automated flight following solutions leader, Blue Sky Network announced that its two dominant aviation products, the D1000 and ACH1000, have been certified for use on Sikorsky S-92® helicopters.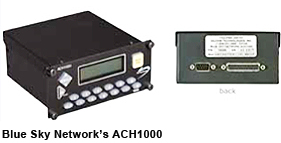 The newly type-certified equipment provides S-92 helicopter operators with enhanced communication between managers and crew from anywhere in the world, adding safety and tracking capabilities to increase security and efficiency.
Blue Sky Network's D1000A offers near real-time tracking of aircraft through built-in GPS position reporting combined with an Iridium satellite transceiver and telemetry data link. The ACH1000 communications control head adds voice communication and two-way messaging connectivity between operators and the control center.
Managers are also able to visually track aircraft and view take-off, landing and other flight updates using SkyRouter, Blue Sky Network's secure online web portal.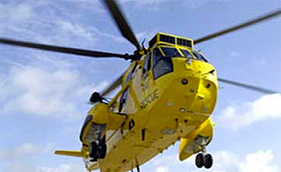 "This certification is proof of the high quality of our asset management equipment," said Jon Gilbert, President and CEO of Blue Sky Network. "We are very proud to provide our customers the added value and assurance of another STC. Blue Sky Network will continue to add product certification where needed in order to bring secure tracking and communications to more aircraft worldwide."
The S-92 helicopter is the most advanced aircraft in Sikorsky's civil product line, certified to the most stringent safety requirements of the Federal Aviation Administration (FAA) and the European Aviation Safety Agency (EASA). The helicopter's advanced health and usage monitoring system sets a new level of reliability and enables cutting-edge fleet management services, making it an ideal fit with Blue Sky Network's tracking and communication solutions.
* * * * * * * * *
Foundational Space Capabilities
Space efficiencies and effectiveness, the importance of STEM education and foundational levels of space capabilities were highlighted by the Air Force Space Command commander during a speech this month in Nashville, Tennessee.

General William Shelton kicked off the 50th American Institute of Aeronautics and Astronautics Aerospace Sciences Meeting as the keynote speaker. The general said the future of space transportation in the U.S. is completely dependent on more efficient and much less expensive space launch and that launch underpins much of the command's business. The AFSPC commander highlighted that many of the engine designs currently in use are decades old and that newer, more efficient designs are needed.
"I've said for years that the person or the company who finds a breakthrough in space propulsion would become very wealthy," the general added.
General Shelton also discussed cost-savings initiatives like the command's block buy strategy for Evolved Expendable Launch Vehicles and multiple launch capabilities.
"I can see multiple launch concepts becoming much more prevalent in these times of decreasing budgets, proving once again that necessity is truly the mother of invention," the general said.
Aging infrastructure was also on the general's mind and he noted the facilities at Cape Canaveral Air Force Base, Florida, and Vandenberg Air Force Base, California, are 50 to 60 years old. Additionally, the two launch locations aren't standardized.
"It's a problem akin to the late 19th century when every railroad had their proprietary rail sizes and rail spacings," General Shelton noted. "Once they standardized the gauges, all of them realized more efficient operations, lower costs and greater profits."
The general acknowledged current budget decreases as a silver lining that will force the many agencies that use the various launch facilities to work together.
"My vision for the future of space launch as it relates to our ranges is that they become planned communities instead of the hodgepodge of one-off capabilities and specialty facilities they are now," General Shelton said. "We are working toward an intra-range standardization solution to combine operations, maintenance and sustainment into a single contract known as the Launch and Test Range System Integrated Support Contract, or LISC.
"Technical education is often referred to as STEM--science, technology, engineering and mathematics," General Shelton said, "and the lack of these graduates in America could constitute a national security issue in the broadest sense." The general, who is also an astronautical engineer, explained the current STEM-educated workforce is aging.
"Over 30 percent of the people in the aerospace industry nationwide will be eligible to retire next year, and that number grows to 40 percent by 2014," he explained. "We need an exciting STEM curriculum to keep students interested in these subjects through high school so they'll have the choice and the chance of majoring in them in college," the general said.
General Shelton called for partnership between industry, non-profit educational institutions, educators in school districts, colleges and universities to encourage STEM education and careers and shared some examples.
"Just think how many kids we could get off the fence and down the path of a STEM career once they got to participate in some real-world science and engineering," the general said, "encouraging high school summer internships with industry."
General Shelton wrapped up his speech by emphasizing the foundational level of space capabilities required to keep national defense strong during challenging fiscal times.
He said, "There's a foundational level of space that enables many taken-for-granted aspects of Americans' way of life and enables the way the nation's military has learned to fight.
"From highly secure, worldwide communications to navigation and timing; from combat weather observations to the missile warning capabilities critical to defending our homeland, it's tough to imagine a military without these critical capabilities," the general said.
General Shelton also emphasized space assets supporting civilian endeavors, like pay-at-the-pump fueling, in-car navigation systems, hurricane tracking prediction, and national infrastructures like banking and emergency response. "I believe there's a foundational level of space support that we must sustain to continue to enable America's military operations across that spectrum of conflict," the general cautioned. "Cutting below this foundational level, the level I believe we're already very close to, would likely have cascading effects across the entire Department of Defense."