Now, more than ever, our military personnel need secure, flexible and affordable voice, video, and data communications solutions that they can count on anytime and anywhere. From command centers around the globe to remote operations in the field; in the wake of a disaster or as part of daily operations; whether sending complex mission plans or critical logistics information — reliable military communications networks are essential to our national security and the safety of the warfighter.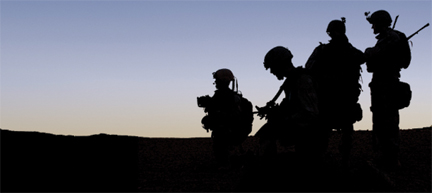 With RapydConnex, ARINC extends connectivity and Open Systems Interconnection (OSI) Layer 3 Enterprise Network Management from fixed terrestrial connections to Beyond-Line-Of-Sight (BLOS) IP broadband secure and non-secure connections for fixed and mobile applications. The ability to proactively manage mission-critical communications is now possible anytime, anywhere military operations demand.

Moving Beyond Connectivity
In order for communication systems to be reliable, the ability to proactively monitor, control and manage the flow of traffic through the network is essential. Yet, traditionally, satellite communications has been offered by providers as an OSI Layer 2 connectivity path, making reliable communications difficult to ensure.

Layer 2 is one of seven layers defined by the OSI model to characterize and standardize the functions of communications systems. In general, the first two layers are focused on physical connectivity, Layers 3 and 4 focus on management and operations, and the top layers focus on usage and applications. By using Layer 2, satellite communications providers deliver the physical connection but can't support overall monitoring or management of end-to-end system performance. If the network fails, takes hours to connect to, doesn't perform at necessary speeds, or can't handle bandwidth requirements, the user is left in the dark while hardware vendors, software vendors, and service providers try to identify and resolve the issue. The more remote the user, the more difficult and time-consuming the process becomes.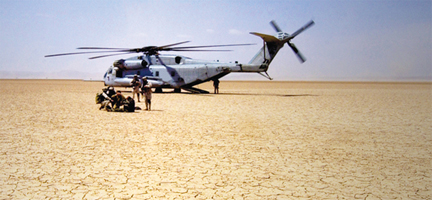 When mission success requires reliable communications systems performance, this model simply doesn't work.

The Benefits Of Layer 3 Enterprise Network Management
Satellite communications networks with end-to-end Layer 3 Enterprise Network Management that is built-in ensure communications systems performance and free the user from management headaches. The benefits of Layer 3 enterprise network management are many, including:

• Enterprise-wide performance monitoring — with Layer 3 support across the entire enterprise service, coupled with a design that supports multiple communication paths, the service provider has end-to-end visibility across every aspect of the network to quickly identify or anticipate potential performance issues

• Fault monitoring and proactive management — ubiquitous Layer 3 support at the transport layer means that the service provider has the tools to proactively monitor all devices across the network to the endpoints and automatically switch over to redundant, or alternative, systems in the case of failure. For example, typically a service provider doesn't have the visibility to see that a landline has been cut. However, with a managed network device (router) at the endpoint of the data flow supporting Layer 3 visibility, the service provider can quickly identify the issue and seamlessly switch to a redundant or alternative connection path.


• Dynamic switching between different networks — with intelligence built-in IP mobile devices, when users move from one coverage region to another, or for best performance, the device can automatically switch from one type of network to another — terrestrial, satellite or even wifi — immediately and seamlessly reconnecting with no loss of IP sessions or phone connections. IT administrators don't need to be involved, even in the event of a network failure.

• Effective application of policies — network policies, such as those related to security, load balancing, quality of service (QoS) management and performance management can be set to automatically enforce compliance with internal and external regulations across the enterprise.

• Improved help desk visibility and responsiveness — a U.S.-based Network Operations Center staffed by U.S. citizens around the clock shifts management responsibilities to the service provider and frees up agency resources for other mission-critical initiatives.

• Establish server clouds without any performance penalties — leveraging in-network virtual servers, agencies can transition applications, such as inventory management, to the cloud with minimal risk. Using this approach, the end-user devices can use a web interface to operate without storing sensitive or classified information. Hence, if the device is lost or seized then the data isn't compromised.



• Lower overall operational costs — shifting the management burden to the service provider reduces IT staff costs, enforces network performance with service level agreements (SLAs), minimizes downtime thus increasing user productivity and advances support for mission-critical operations in the field by leveraging pre-built infrastructure.

These benefits are only possible with true Layer 3 Enterprise Network Management — a comprehensive approach to proactive performance monitoring and control. Offering Layer 3 controls only on particular devices or architecture segments fails to deliver the end-to-end visibility, access and management mission-critical operations require. With government personnel increasingly on the move, Layer 3 support needs to be woven into the very fabric of communications architecture design and services.

Layer 3 In A Mobile World
Today's military and government operations require mobility and the power of Layer 3 is quickly being applied to this arena. Layer 3 is an ideal enabling technology for IP mobility, opening up a world of sophisticated applications to support mission-critical activities reliably and securely wherever resources are needed, including the following examples.

• Remote Operations: When operating in remote areas, military forces and other government agency personnel must be able to relay critical voice, video and data transmissions — simultaneously and at broadband speeds — regardless of the platform (land, air, or sea).

• Disaster Communications: In the wake of any disaster, emergency responders immediately mobilize to begin rescue and recovery efforts and need the most effective, interoperable and coordinated communications capabilities possible.

• Cyber Operations Support: With threats coming from every direction — terrorist organizations, nation-state actors, and individual hackers — government needs a common operating picture. Situational awareness and analysis across physical, virtual and cloud-based network operations is needed to stay ahead of cyber threats and mitigate costly downtime and breaches.

• Inventory Management: In a world of ongoing military conflict and regularly-occurring global disasters, responding forces require an immense amount of logistical support. This includes total asset visibility of critical supplies and weapons in storage, in transit and in-theater, as well as reliable and secure transmission of massive amounts of data.

Connecting personnel and systems deployed across the U.S. and around the globe is a cornerstone of mission success. In every one of these scenarios, when infrastructure is lacking or compromised, the combination of full IP mobility, alternate communications paths, and Layer 3 Enterprise Network Management delivers fast and reliable communication.

Government and military organizations need assurance that their communications systems are performing at the highest levels. The service providers that support them must be able to demonstrate a Layer 3 mindset — this includes technology, service and a vision for the future of communications.

About the authors
Mr. Steven Horr is the Chief Architect and Engineer for the ARINC Global Network (AGN) and for RapydConnex solutions. Mr. Horr has over 25 years of technical and managerial experience in the design, development, implementation, application, integration, and production of communications, signal processing, and information management systems for military and commercial applications. He architected, designed and led the implementation of the AGN which combined six legacy network systems into a secure, homogenous communication network that supports the needs of all ARINC services and customers.

Mr. Ronald Watt is the Senior Director for ARINC's new RapydConnexSM product line. He has over 30 years of DoD and commercial experience in space systems. Mr. Watt provides expertise in systems engineering and integration, communications systems, and enterprise management systems.

* * * * * * * * *


A Vision for Layer 3 Enterprise Network Management
ARINC is a world-class provider of secure, mission-critical network and messaging services to the air-transport industry, government and military organizations, rail transport providers and other customers. With a nearly 30+ year history in cockpit communications, the ARINC Global Network (AGN) was created from the ground-up as a worldwide Layer 3 managed transport service.  Designed, built, owned and operated by ARINC, AGN is proactively managed 24 x 7 by ARINC employees at the company's U.S.-based Network Operations Centers. The AGN spans 160 countries and delivers more than 25 million messages per day with reliable, secure and flexible communications services to more than 10,000 commercial aircraft and many US government agencies. Designed to provide an availability of 99.999 percent, the company's worldwide IP backbone has never lost a single packet of data since 2001.
With RapydConnex, ARINC extends connectivity and Layer 3 Enterprise Network Management from the AGN fixed terrestrial connections to Beyond-Line-Of-Sight (BLOS) IP broadband connections. With secure and non-secure connections for fixed and mobile applications, military users can, in effect, move their desktop to the battlefield. The ability to proactively manage mission-critical communications is now possible anytime, anywhere military operations demand. RapydConnex offers land mobile, aircraft, or marine terminals for user applications.