In 1959, ITT Defense Communications was working on Earth stations for the first active SATCOM carrier as well as for many of the early satellite programs. And David Hershberg started his career by working for this company and then, in 1968, he founded ITT Space Communications, Inc. In 1972, David founded Comtech, Inc., Systems Division, and Satellite Transmission Systems, Inc., in 1976 — a wealth of experience, to be certain.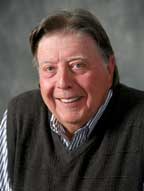 For 18 years, Satellite Transmission Systems became the global leader and premier company in SATCOM ground station systems. Under David's leadership, STS was a 1992 winner of the New York State Exporter of the Year Award and STS became the first company in its field to achieve the coveted ISO 9001 certification. In addition to his duties at STS, Mr. Hershberg also served as the President of the Satellite Communications Group of California Microwave Inc., which included responsibility for EF DATA, Inc. and CMI Mobile Products.
Mr. Hershberg founded Globecomm Systems Inc. in 1994 as an integrator of SATCOM systems and networks. In a short time, the Company became a leading provider of end-to-end solutions, including systems, connections, and services. In 1996, he founded NetSat Express, Inc. as a subsidiary of GSI, to provide Internet service to developing countries, and it is now a leading provider of Internet-via-satellite services for international ISPs and end-to-end Enterprise Solutions, with content delivery offerings such as Skyborne
SM
.
Considered an industry leader by many of his peers, Mr. Hershberg has championed many new technical and management innovations, and was recently honored as the recipient of The Ernst & Young "Entrepreneur of the Year Award for the Long Island region in the Emerging Technology category.
Mr. Hershberg was inducted into The Society of Satellite Professionals International Hall of Fame in 2003. Satellite professionals are inducted into the Hall of Fame in recognition of career accomplishments in satellite communications or other space applications over a period of at least 20 years.
Working to improve United States industry competitiveness, Mr. Hershberg was invited to testify before the United States Congress, and met with President Clinton on competitive trade issues. In addition, he has worked on trade issues with the Department of Commerce, the U.S. Trade representative, AEA, TIA, and the Council on Competitiveness.
An accomplished expert on quality issues, Mr. Hershberg has lectured to companies, government agencies, and industry groups on Continuous Improvement and Total Quality Management.
Mr. Hershberg allowed time from his busy schedule to offer MilsatMagazine some insights into his career and his company.
MilsatMagazine (MSM)
Globecomm was founded in 1994 by you, has managed a number of crucial acquisitions over the years, and today finds itself involved in a number of major SATCOM market segments. Would you please tell our readers about your history prior to Globecomm and how you acquired the knowledge necessary to turn your company into the success it is today?
David Hershberg
I personally started my career in the satellite business in1959. I have focused mainly on the ground segment side of the business and what an amazing adventure it's been. I was extremely fortunate, having had a number of good people to work for and to learn from. Mentors in this business are very important and I had several. I also like business, and have an engineering and a Masters of Business degree.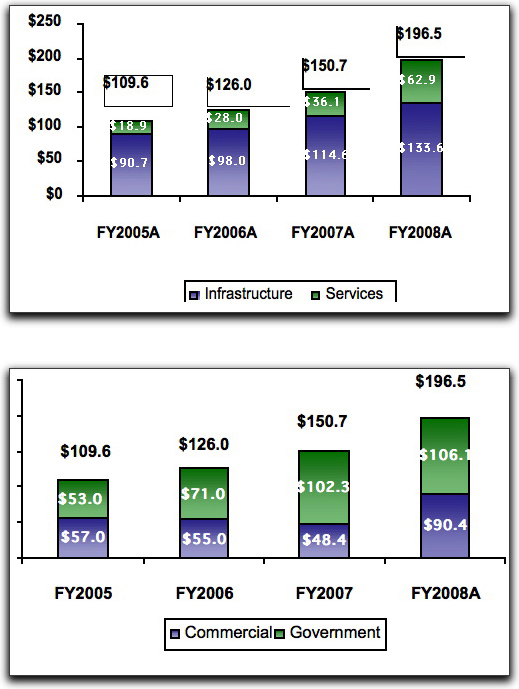 I got into the satellite business when it was absolutely new. This was a big advantage. The first satellite was launched in 1957 and I went to work in 1959. So I was lucky enough to have been given a lot of responsibility as a young guy building the first ground infrastructure for an active satellite. This would not have happened in a more mature industry, probably.
I initially worked for ITT and then Comtech. In 1976 I became an entrepreneur. I started my own company, Satellite Transmission Systems, which I later sold to California Microwave.
I left STS in 1994 and founded Globecomm Systems. I have been involved in both the technical, business and management sides of the business. I learned what was important to customers and employees and studied business and quality issues from the tech side.
I have always thought of myself as one of the team. It's a management style that has suited me well. It enables me to keep learning – and I have learned more in the past 5-6 years, in many ways, because of the rapid shifts in technology. It's never dull.
MSM
Could you tell us about the Globecomm umbrella of products and services and how the Company decided to enter each vertical segment?
David Hershberg
We define ourselves as a provider of end-to-end value-added satellite-based communication products, services and solutions. Our products flow from our ability to leverage our core satellite ground segment systems and network capabilities with satellite communication services capabilities.
We have broken our offerings into key product and service areas. This means we offers pre-engineered systems, systems design and integration services, managed network services and life cycle support services. Overall, this covers most of the major demands of our customer base.
Our global portfolio of customers includes communications service providers, commercial enterprises, broadcast and other media and content providers and government and government-related entities. Our clients range in diversity from the FAA to Showtime to Bharti Airtel.
I should add that it hasn't always been a "straight line" of success for us. Globecomm grew very fast, to about $100Million revenues in six years.
However there was a period when our revenues shrunk to $55 million! Why? We fell into a commodity trap. It was evident that our base business with common carriers and ISPs had become a commodity business.
So we did not sit still. We tried to understand where the business was headed. This was a turning point. Our team grasped the fact very early on that there was going to be a convergence using Internet Protocol. We knew that we could not offer the many services we wanted to offer without being able to make this convergence central to our engineering. So a decision was made to expand our Internet service business to video, cellular, data, voice and network management, as well as logistics support.
After the attacks of September 11th, we also made an important determination regarding the hardware and infrastructure business. We assessed correctly that the American government would expand its use of satellite and related communications systems as part of its global response to terrorists. Since then, we have gone from 10 percent of our business being government-related to about 50 percent.
We have expanded our service business from $15 million to $75 million.
We also began to acquire capabilities in a few areas. Recently we assessed a new area of expansion. As your publication reported, we recently entered the maritime business through two acquisitions. It fits our model of finding industries that can leverage satellite technology and out unique abilities. Maritime is perfect. Here satellite is the only viable means of providing broadband to vessels. Our two acquisitions in this area will help us compete.
MSM
Mr. Hershberg, the requirement for sophisticated military communications continues to increase, demanding more and more satellite capacity and bandwidth. Would you assess the current need among the military for more sophisticated communications technologies?
David Hershberg
From our perspective, the need revolves around trends that are similar and familiar to the commercial world: broadband access and applications to empower the individual with more sophisticated and smaller devices for communications. You can also add that the requirements are coupled with the need to provide all of this while on the "go."
The need for broadband capabilities for the modern war fighter is becoming evident. Modern war depends on "the network" and the network must be fast, reliable and ubiquitous. Broadband is the new infrastructure. The newest requirements are for broadband satellite access on the move, with the ability to function with all necessary devices in increasingly smaller packs to ensure faster movement.
We are also seeing new satellites that are shaping our offering to governments and organizations. The new WGS satellites have significantly more capacity than existing satellites. Most military infrastructure today operates on commercial satellites in C and Ku- band. The military infrastructure is now being upgraded to work with WGS. That is yet another change that we need to aware of.
MSM
As a Company with global interests, how do you and your executive team(s) decide which particular avenues to take in the various countries when offering product and services? How do you interface with the various military organizations around the world? In addition, due to the nature of some of your business, how do you separate and maintain confidentialities when dealing with various government agencies and governments?
David Hershberg
When dealing with military outside of the United States' DoD most of the equipment requirements are covered by ITAR regulations. So it is very important that during the proposal stage we determine if a TAA is required and if the systems require export licenses. This is true dealing with foreign FMS sales and also with NATO.

MSM
In your opinion, which technologies are the two most critical? And why?
David Hershberg
The best way to answer that is to identify the two most critical customer needs of the military. The two main ones are in the areas of bandwidth efficiency and those that enable mobile, rapid deployment of essential and increasingly standard communications.
Several new technologies are being introduces to provide more robust bandwidth and efficiencies, especially the areas of "carrier-in- carrier" and adaptive coding. This allows reliable communications to minimize the fade conditions that persist with Ka-band.
Satellite communications from aircraft and UAV's, as well as satcom on the move are really advancing in a big way too.
I should add that a project we did for NATO, which enables tracking individual troop locations by providing a WiMAX connection from a vehicle equipped for Blue Force tracking is also important because mobility and stealth have become important tactical elements.
The newer, smaller tactical terminals we have at Globecomm allow automatic pointing of the antenna and configuration into the network, which again supports an individual warfighter whose support "weapons" are bandwidth and the ability to quickly deploy his or her communication system in order to be effective. We have a branded product called Auto Explorer which has become popular in this area.
MSM
How can the ground segment industry and technology solutions and services providers such as Globecomm "tackle" the need for increasing bandwidth and bandwidth speeds? Reliance upon third parties can occasionally leave one wishing for more control. How is such adjudicated?
David Hershberg
To some degree, and especially in wartime or periods of conflict like the present one, there is usually a partnership between those tasked with military missions and those who support the mission in the private sector.
They way to offset the military's concern about control is simply to continue to build systems and technologies that offer the user or peacekeeping group more autonomy of use. By introducing better technology and making it appear "seamless," we can strike the right balance between a commercial provider's systems and the military's reliance on those systems.
MSM
Everyone wants "faster, cheaper and better." It is a cliché. However, military departments that have responsibility for space segment, warfighting, and peacekeeping feel pressure to find smaller, more easily implemented systems that are completely viable. What are some of Globecomm's projects in this area?
David Hershberg
That phrase may have become a cliché, but it is also the customer saying to us, 'This is what we need to be effective.' So it is a serious demand. We read into that a requirement to accommodate the rapid rise of mobility as a driver for most communications.
As a result, we did our R&D and produced a suite of terminals and auto explorers that are very easy to use and affordable. In the Fall we will also make available a small and lightweight "manpack" system. These products are what we called militarized COTS (commercial off the shelf). What is appealing about these products is that when tested to a MIL 810F environment and related requirements, they are equal in capability to more expensive MilSpec products.
MSM
We are nearly 8 year beyond September 11, 2001. That disaster clearly brought changes and new technologies to satellite and military segments. What would you say were the major changes brought about due to 9/11, and where do you think we will find ourselves come 9/11/2011?
David Hershberg
September 11, 2001, represented a sea change in our industry as it did in most nearly every aspect of government security. 9/11 was the reason we made a decision to pursue military and government lines of business. The Iraq and Afghanistan conflicts took place in response to the threats from 9/11. There was — and there remains — a tremendous need for intelligence from many locations.
Those locations change with strategic shifts. Many of them can only be identified via satellite. The use of satellite in the military toolkit may well be one of the truly big stories when this period of history is written and assessed.
As with most traumatic events of this kind, 9/11 changed the nature of the modern battlefield. Because of the dispersed nature of terrorism and changing tactics even among traditional militia, we have witnessed an-ever increasing need for bandwidth to pursue objectives.
We envision growth in tactical and mobile terminals. Again, all of this will be in support of a warfighter who will come to rely more and more on networks and information systems; the same stuff that we see in the commercial world, but of course for other, more serious purposes.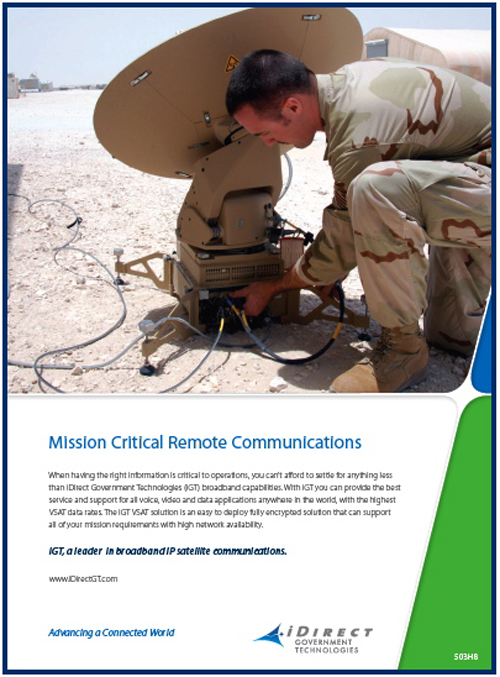 From the perspective of morale, we will also see the military furthering its efforts to keep its people connected to their loved ones. Especially during periods of long deployments. The military already supplies Internet and phone services for soldiers to call home or connect with their Web 2.0 tools. (Remember, this is the web generation keeping the peace!). I do not see this decreasing. Quite the opposite.
September 11, 2011 is not so far away. I would say that the enemy will increase its use of technology further by then, which will put more pressure on us to continue to innovate.
MSM
Is Globecomm able to make any new announcements related to its technology services or pre-engineered systems for the military?
David Hershberg
We will shortly announce a line of X-band and Ka-band products, including a vehicle mounted, flyaway using both bands, as well as a new X-band "manpack," to which I have referred during our discussion.
MSM
Where do you see Globecomm in five years? Ten years? What do you foresee as the most important advances for our industry this year and next?
David Hershberg
I don't know if I can see out 10 years. Things really change fast. However, I think you will see high definition surveillance by UAV's via satellite to keep the peace, fight wars and in support of drug intervention and related surveillance. Here again, commercial applications will be used to the advantage of those attempting to make the world safer. This will require bandwidth.
The use of an Internet-like network and the Internet with high level of encryption will be the seamless communication choice for the military and governments.
Cellular type systems coupled with broadband satellite tactical terminals will allow the war fighter to have real time access to wide area communications and information systems. Hopefully this will provide an edge.
Speaking on behalf of my industry, we will need to upgrade a lot of equipment to Ka- and X-band over the next 48 months. We will also need to upgrade the modems and demand access systems to keep pace with an ever-increasing flow of data, voice and video. Sound familiar?
MSM
Thank you for your time, Mr. Hershberg.