DARPA—One Day Access To Space
Commercial, civilian and military satellites provide crucial real-time information essential to providing strategic national security advantages to the United States.
The current generation of satellite launch vehicles, however, is expensive to operate, often costing hundreds of millions of dollars per flight. Moreover, U.S. launch vehicles fly only a few times each year and normally require scheduling years in advance, making it extremely difficult to deploy satellites without lengthy pre-planning.
Quick, affordable and routine access to space is increasingly critical for U.S. Defense Department operations.
To help address these challenges, DARPA has established the Experimental Spaceplane (XS-1) program.
The program aims to develop a fully reusable unmanned vehicle that would provide aircraft-like access to space. The vehicle is envisioned to operate from a "clean pad" with a small ground crew and no need for expensive specialized infrastructure.
This setup would enable routine daily operations and flights from a wide range of locations.
XS-1 seeks to deploy small satellites faster and more affordably, while demonstrating technology for next-generation space and hypersonic flight for both government and commercial users.

"We want to build off of proven technologies to create a reliable, cost-effective space delivery system with one-day turnaround," said Jess Sponable, DARPA program manager heading XS-1. "How it's configured, how it gets up and how it gets back are pretty much all on the table—we're looking for the most creative yet practical solutions possible."
XS-1 envisions that a reusable first stage would fly to hypersonic speeds at a suborbital altitude. At that point, one or more expendable upper stages would separate and deploy a satellite into Low Earth Orbit.
The reusable hypersonic aircraft would then return to Earth, land and be prepared for the next flight.
Modular components, durable thermal protection systems and automatic launch, flight, and recovery systems should significantly reduce logistical needs, enabling rapid turnaround between flights.
Key XS-1 technical goals include flying 10 times in 10 days, achieving speeds of Mach 10+ at least once and launching a representative payload to orbit.

The program also seeks to reduce the cost of access to space for small (3,000- to 5,000-pound) payloads by at least a factor of 10, to less than $5 million per flight.
XS-1 would complement a current DARPA program already researching satellite launch systems that aim to be faster, more convenient and more affordable: Airborne Launch Assist Space Access (ALASA). ALASA seeks to propel 100-pound satellites into orbit for less than $1 million per launch using low-cost, expendable upper stages launched from conventional aircraft.
* * * * * * * * *
Advantech Wireless—A Real Gem
Advantech Wireless Inc. has debuted their new SapphireBlu™ Series 6.6kW C-Band Rackmount UltraLinear™ GaN SSPA/BUC, the ultimate solution for wide bandwidth, ultra high power satellite teleport uplinks.

The new SapphireBlu Series of UltraLinear GaN technology based SSPAs and BUCs from Advantech Wireless are designed for Multi Carrier Operations and offer the highest linear power available in the market.
These new systems are designed in a compact indoor modular package with Built in Redundancy for maximum link availability.
"Our new high power density, GaN based SSPA concept, offers the maximum power/bandwidth combination. We have already started shipping and completed initial orders," said Cristi Damian, VP Business Development at Advantech Wireless.
"We can now saturate all transponders of an entire satellite and obtain maximum bandwidth/power efficiency. Our customers realize great savings in energy cost, Satellite Bandwidth, CAPEX and OPEX."
The New SapphireBlu Series of UltraLinear GaN technology based SSPAs and BUCs from Advantech Wireless, exceed all barriers between Klystrons, TWTs and SSPAs, backed by over 25 years of Outdoor SSPA design and manufacturing, combined with the traditional Advantech Wireless features.
The Advantech Wireless infosite is located at: http://www.advantechwireless.com/
* * * * * * * * *
KVH Industries—Cutter Completion
KVH Industries, Inc., has surpassed the 100-vessel mark in its 10-year contract to supply the next-generation satellite communications solution for the U.S. Coast Guard's fleet of small cutters.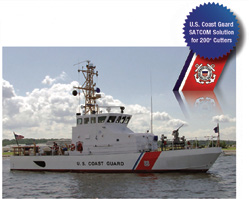 To date, KVH's TracPhone V7 systems have been deployed on 105 USCG vessels across eight different classes of cutters, and KVH's mini-VSAT Broadband service has provided 29.2 terabytes of data and more than 835,000 Voice over Internet Protocol (VoIP) minutes.
The contract for hardware, airtime, and support was first announced in September 2010. KVH systems are now in use on cutters in all U.S. Coast Guard districts in the continental U.S., as well as overseas in the Persian Gulf, Guam, and Puerto Rico.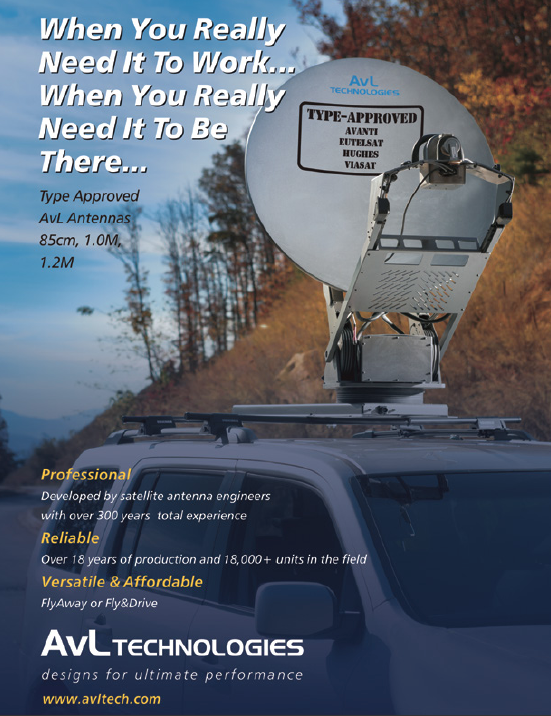 A cutter is a USCG designation or any vessel over 65 feet in length, including coastal patrol boats, seagoing buoy tenders, and fast-response cutters.
This diverse range of platforms supports a variety of critical USCG operations including drug interdiction, maritime border security, anti-piracy tasks, search and rescue operations, and humanitarian efforts.
The low latency of the KVH service is particularly important to the fast and efficient processing of biometric information from vessel to shore, a key to immigration and law enforcement activities.
The 24/7 nature of USCG operations and the extreme sea and weather conditions in which these relatively small vessels operate are proof of the durability and reliability of the TracPhone V7 and mini-VSAT Broadband service.
"In the face of rapidly expanding data communications requirements, including real-time use of biometric technology, homeland security efforts, and extended worldwide operations, the U.S. Coast Guard needed a global communications solution robust enough to support these demands and rugged enough for even the most demanding maritime conditions," said Martin Kits van Heyningen, KVH's chief executive officer. "Affordability was a critical factor for the U.S. Coast Guard as well, and our mini-VSAT Broadband network offers a cost-effective solution to replace expensive legacy services and still provide global coverage."
In announcing the 10-year Indefinite Delivery/Indefinite Quantity (IDIQ) contract, valued at approximately $42 million, in September 2010, the U.S. Coast Guard Telecommunications and Information Systems Command (TISCOM) named KVH's TracPhone V7 and mini-VSAT Broadband service as the U.S. Coast Guard's Small Cutter Connectivity (SCC) Ku-band System and Air Time Support Services solution.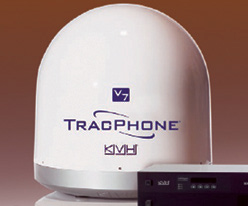 The SCC program is part of the U.S. Coast Guard's initiative to upgrade the legacy cutter fleet's commercial satellite systems in order to provide improved communication capabilities for voice and data transmission and reception, as well as improving interoperability with Department of Homeland Security and Department of Defense partners. Supporting KVH in this multi-year effort are network partner ViaSat, Inc., and logistics partner Mackay Communications.
In addition to the deployment of TracPhone V7 on the U.S. Coast Guard cutters, KVH's mini-VSAT Broadband solution is fielded aboard vessels of the U.S. Navy, joint forces, foreign coalition navies, state emergency service organizations, and commercial fleets operating worldwide.
KVH infosite: http://www.kvh.com/
* * * * * * * * *
Bentley Walker—African Extension
United Kingdom-based satellite service provider, Bentley Walker, has extended its reach across Africa and the Middle East using Avanti's HYLAS 2 satellite, signing a multimillion dollar contract extension.

By using their Ka-band services across Afghanistan, Iraq, Libya and Zimbabwe, the company has further enhanced its position as one of the most successful satellite service providers in the World.
Anthony Walker, CEO of the company, said, "The flexibility of Avanti's network has given us the opportunity to develop a range of both niche and mass market services at affordable prices. Avanti satellites also provide 100 percent coverage of the key countries that we want to target."
Matthew O'Connor, Chief Operating Office of Avanti, commented: "By being an early mover in both technology adoption and market entry, Bentley Walker is now an established leader within the satellite industry. Avanti's market changing approach has provided the ultimate flexibility and quality to help them address the demands of their multiple markets."
The Bentley Walker infosite is located at: http://www.bentley-walker.com/
* * * * * * * * *
ViaSat—Patriot's Outpost Support
ViaSat Inc. will be hosting active duty military men and women at the Farmers Insurance Open as the Presenting Sponsor of the Patriots' Outpost, one of the premier locations for watching the PGA tournament.

The Century Club of San Diego will also be using ViaSat Exede® Enterprise satellite services—technology also used by U.S. military personnel—for networking tournament operations.
The Patriots' Outpost is a private chalet both dedicated to and exclusively available for Active Duty military and their dependents. The Outpost is located on the 14th hole at Torrey Pines Golf Course with beautiful views of the Pacific Ocean. Local heroes are provided complimentary food and beverages as well as a great vantage point to watch the action unfold on one of the closing holes of the tournament.
"Our company's roots are in military satellite communications and network security so we have a deep appreciation of the extraordinary job that our service men and women perform every day," said Rick Baldridge, president and COO of ViaSat. "We're looking forward to showing our gratitude for their service at one of the signature San Diego events of the year."
Exede® Enterprise is a turnkey business networking service with the capacity and flexibility to support anything from a large network to a single user. Powered by ViaSat-1, the most powerful communications satellite ever launched, it delivers high-speed IP access instantly, even in locations without terrestrial networks.
Virtually any location can be connected with service available on-demand anywhere within the nationwide Exede service footprint. The Century Club will use a number of the small, portable Exede terminals—similar in size to a home satellite TV dish—to provide wireless Internet and other communications networking during the PGA TOUR event.
"In the past, wireless networks were costly and not always reliable across property for our communications. Dropping temporary cable is costly and inefficient. Exede service has already provided us with cost-effective connections and no downtime. The mobility of the system allows us to expand its use on-course throughout the PGA TOUR event," said Peter Ripa, Farmers Insurance Open CEO.
The Patriots' Outpost is reserved to Active Duty military and their dependents. However, Retired and Reserve military are provided complimentary General Admission to the Farmers Insurance Open. Please log onto http://www.govx.com/e/80 for more information.
For additional Exede information, access: http://www.exede.com/
* * * * * * * * *
ViaSat + Harris—Extended Range Ops Demos
ViaSat Inc. and Harris Corp. have completed demonstrations of the upgraded Small Tactical Terminal (STT) KOR-24A in combination with the Harris high-band power amplifier for extended air to ground range operation of both Soldier Radio Waveform (SRW) and Adaptive Networking Wideband Waveform C (ANW2C).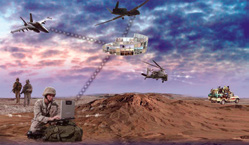 The demonstrations were held in San Diego at the ViaSat facility in Carlsbad and in Huntsville at Redstone Arsenal in early December.
The two-channel STT provides simultaneous 63-watt Link 16 and 50-watt SRW communications in a software-defined radio.
The STT, the first and only fully-certified, two-channel, Link 16 and VHF/UHF radio, includes a range of software-defined VHF/UHF military radio and Link 16 functions.
The terminal is available now to meet program needs for quick turnaround and delivery of units and was recently selected for Apache AH64E Lots 4 and 5. At only 16 pounds, the STT/KOR-24A terminal reduces the size, weight, and power of tactical data link equipment.
Applications include rotary wing and light aircraft, small boats, UAVs, and for ground forces including vehicles and a wide variety of "shelterized" communication nodes.
Additional STT information is available at this direct infopage link: http://www.viasat.com/government-communications/data-links/small-tactical-terminal
* * * * * * * * *
Comtech Teleco

Comtech Telecommunications Corp. has announced that its Orlando, Florida-based subsidiary, Comtech Systems, Inc., has received a $4.4 million contract from the Brazilian Military for an upgrade to its satellite network.
In commenting on this important award, Fred Kornberg, President and Chief Executive Officer of Comtech Telecommunications Corp., said, "Our long-standing leadership positions in all facets of communications has firmly established Comtech as the choice for advanced satellite communication solutions. We look forward to continuing to work with the Brazilian Military on this and future opportunities."

Comtech Systems specializes in system design, integration, supply and commissioning of turnkey communication systems including over-the-horizon microwave, line-of-sight microwave and satellite.
Comtech Systems infosite is located at: http://www.comtechsystems.com/
* * * * * * * * *
Russia Signs Over Baikonur Ownership For 2016
Kazakhstan wants a permanent Russian presence at the Baikonur space center, the head of its space program said on Thursday, after years of argument between Moscow and Astana over Russia's use of the site.
"Neither I nor any sane person in Kazakhstan wants Russia to leave Baikonur. We are partners and allies and at this level of international cooperation it's normal to have joint strategic projects," Talgat Musabaev said in an interview published Thursday by the Izvestia newspaper.
Russian President Vladimir Putin announced last month that the leaders of the two countries had signed a three-year roadmap on the cooperative use of Baikonur.
Musabaev, a former cosmonaut, said if Russia was to leave Baikonur, Kazakhstan would "do everything possible to ensure Baikonur remains a gateway to space."
He claimed Russian resistance to launches of Ukrainian-made Dnepr and Zenit rockets from Baikonur by Kazakhstan and its partners had relaxed following the appointment of Oleg Ostapenko as head of the Russian space agency Roscomos in October.
The newly-signed roadmap with Russia will hand ownership of the new Baiterek launch pad for the Zenit rocket to Kazakhstan, and requires recommendations be made to reduce the ecological impact of Russian heavy-lift Proton rocket launches beginning in 2016, he added.v
Proton launches were suspended for three months following the explosion of one of the rockets shortly after liftoff in July that rained blazing, highly toxic propellants on the Kazakh countryside.
Russia is currently building the Vostochny space center in the Far Eastern Amur region, expected to open in 2018, to reduce its dependence on the Baikonur facility, which it leases from Kazakhstan for $115 million annually.