Avanti Communication's Okays Ultra's Portable + Flyaway Satellite Terminals
Ultra's range of advanced man portable and flyaway satellite terminals, designed to meet the demands of secure government and military SATCOM, have been accredited for operations on Avanti Communication's fleet of high-throughput satellites.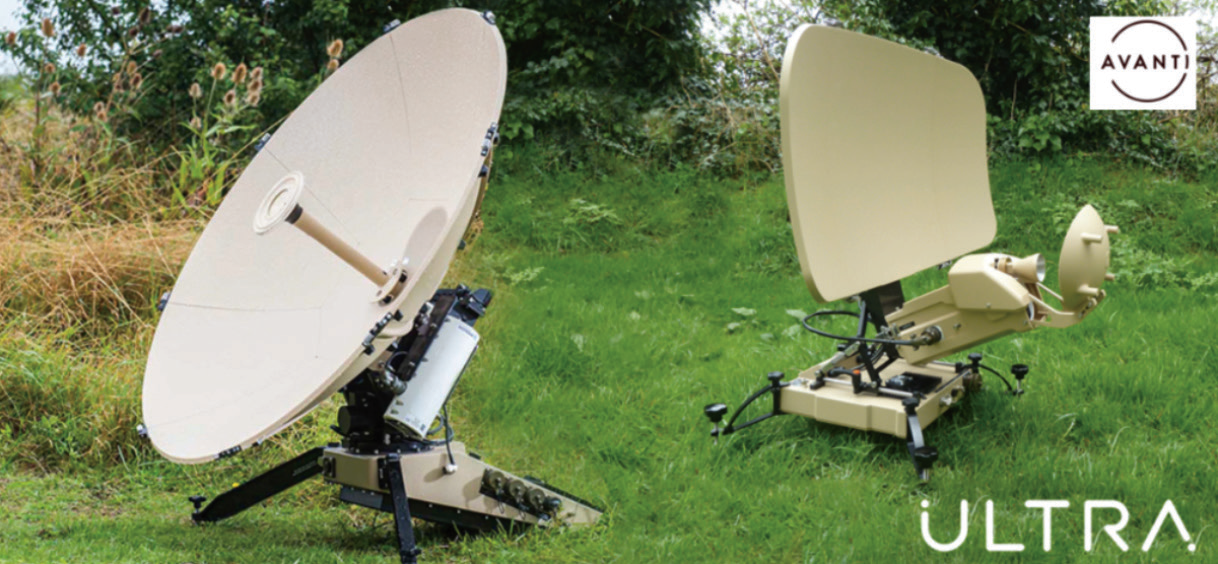 Avanti's high-capacity, Ka-spectrum satellites provide fixed beams covering the EMEA region and steerable beams spanning from the Americas to Asia. Merging this capability with Ultra's range of terminals, specially designed to operate in the harshest environments, means that end users will have continuous access to reliable communications regardless of where they are operating.
Using Avanti's high throughput beams, trials across Ultra's line of terminals showed outstanding throughputs in excess of 150 Mbps in the Forward and Return routes. This capability means government customers now have the ability to provide headquarters-levels of capacity through a terminal that can fit on their back.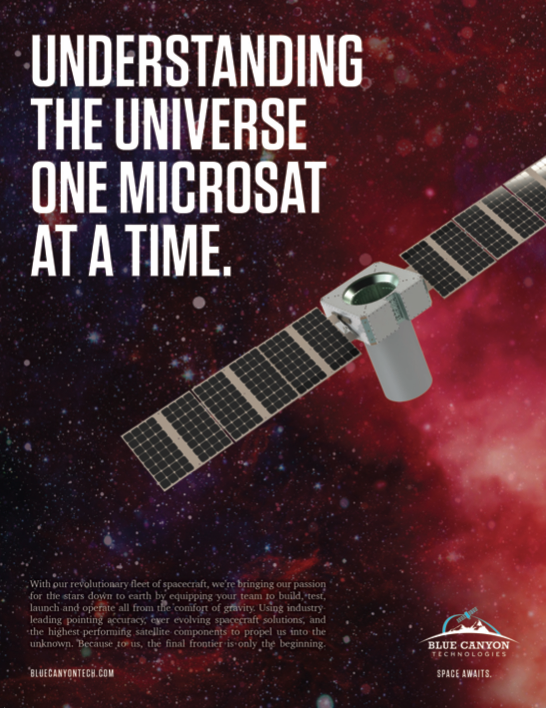 The efficiency of these terminals, coupled with the high capacity of Avanti's high throughput steerable beams, will allow government customers to deploy multiple terminals operating simultaneously on one of Avanti's steerable beams – all delivering in excess of 100 Mbps per terminal.
Donald Walker, Director of Government Sales at Avanti Communications, said, "Avanti's high throughput satellites deliver high levels of capacity making them ideally suited to maximise the benefit of small terminals. Utilising Ultra's ULV- 45, MicroVSat and Fa100 terminals, users can achieve connectivity levels far in excess of that available on conventional satellite networks. We're delighted that together we can deliver the capacity and reliability that early entry forces and first responders need."
---
Northrop Grumman Developing C5ISR + Control Systems For USCG Offshore Patrol Cutters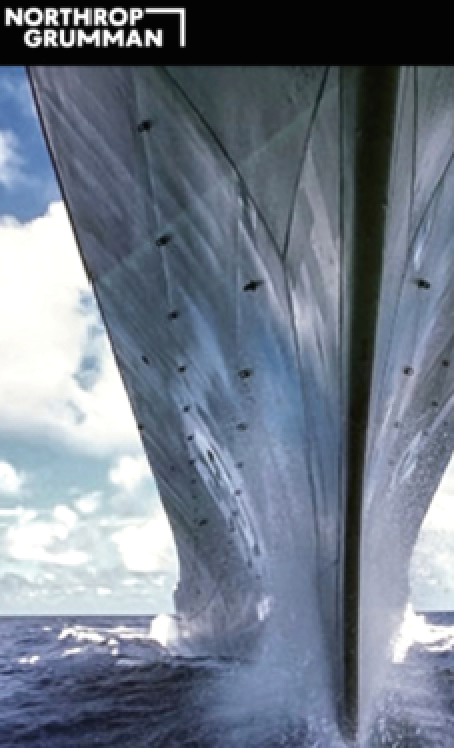 Northrop Grumman Corporation (NYSE: NOC) was recently awarded a newly expanded role as systems integrator for C5ISR and control systems on the U.S. Coast Guard Offshore Patrol Cutter (OPC) by Eastern Shipbuilding Group (ESG), the prime contractor for the OPC program.
In a newly expanded role as C5ISR systems integrator, Northrop Grumman is responsible for integrating all cyber hardened C5ISR systems, including command and control, communications, navigation and the shipboard computer networking systems. Northrop Grumman's responsibilities for the OPC platform include the integrated bridge, navigation, command and control, computing network, data distribution, machinery control, and propulsion control systems, cyber/information assurance, testing and integration work.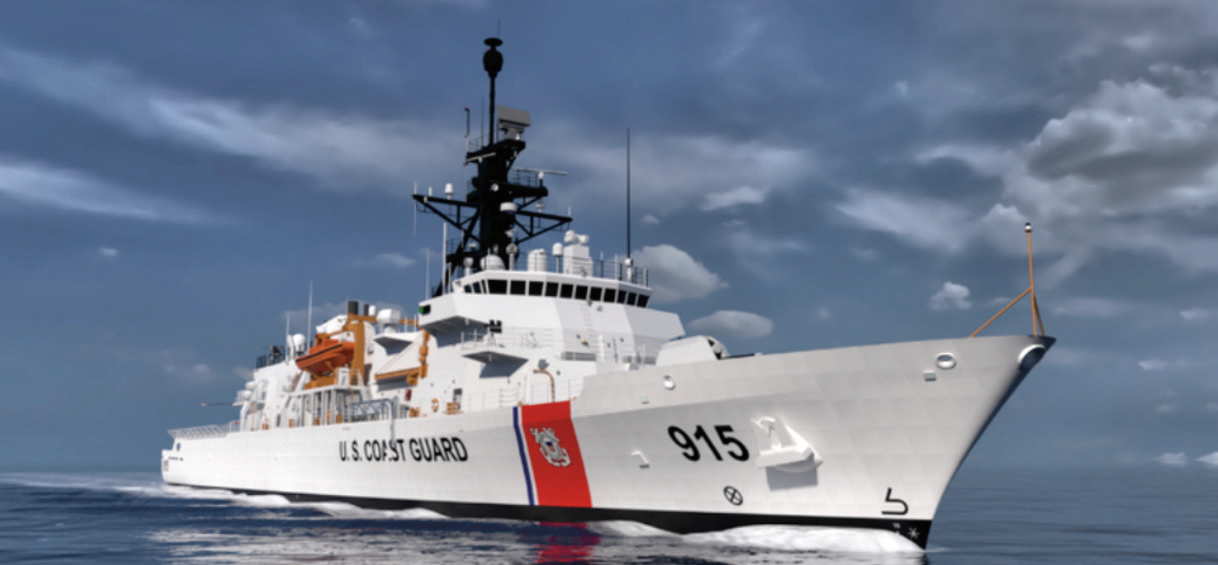 "With C5ISR and control system test and integration underway, the ESG-Northrop Grumman team hasn't missed a beat," said Todd Leavitt, vice president, maritime systems and integration, Northrop Grumman. "The effort and resiliency shown by our teammates at Eastern Shipbuilding Group has been outstanding."
---
Innoflight's CFC-400X Selected By L3Harris
FOR THE SDA's Tracking Layer Program Innoflight has been awarded multiple contracts from L3Harris Technologies (NYSE: LHX) for the delivery of key avionics for four satellites produced by L3Harris Technologies under the Space Development Agency's (SDA) Tracking Layer Tranche 0, consisting of eight space vehicles in total.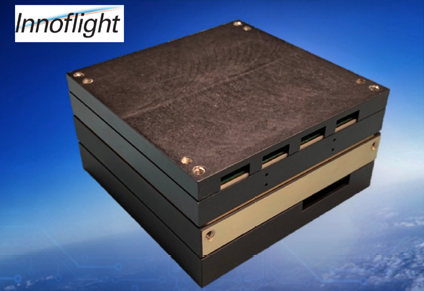 This program will be the first generation of SDA's Tracking Layer, an important step towards the development of a National Defense Space Architecture. The Tracking Layer satellites will provide global indications, warning, tracking, and targeting of advanced missile threats, including hypersonic missile systems.
This capability encompasses space-based sensing, as well as algorithms, novel processing schemes, data fusion across sensors and orbital regimes, and tactical data products able to be delivered to the appropriate user.
"Innoflight's high performance and low Size, Weight, and Power (SWaP) CFC-400X hardware platform was a perfect fit for L3Harris' system architecture for SDA Tracking Layer," said Anthony Wade, L3Harris Technologies' SDA Tracking Layer Program Manager. "The versatility and flexibility of Innoflight's CFC-400X allowed L3Harris to utilize the CFC-400X for three different functions in our space vehicle design with the same hardware configuration."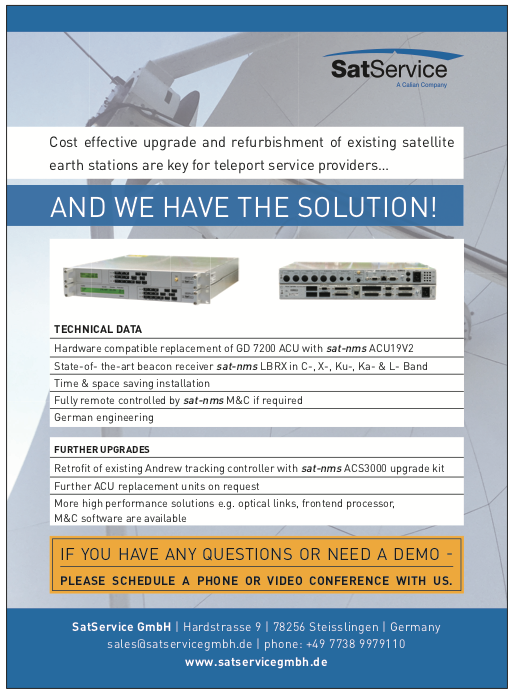 Under its contracts with L3Harris Technologies, Innoflight will be delivering a total of 24, CFC-400X. Each space vehicle will be equipped with thee CFC-400X covering the black side processing, red side processing and Battle Management, Command, Control, and Communications (BMC3) processing functions.
The CFC-400X uses qualified parts and on-board mitigation methods to provide a reliable spaceprocessing platform for small spacecraft in all orbits. It is equipped with a variety of Input Output (IO) interfaces, including Ethernet and SpaceWire interfaces.
"Innoflight is pleased to welcome L3Harris as a new customer," said Vincent Gagnon, Innoflight Vice President, Business Development & Contracts.
"Innoflight's collaboration with 3 out of the 4 SDA Transport and Tracking Layers Tranche 0 prime contractors is a confirmation that our technology, across our 3 product lines, is well aligned with the SDA National Defense Space Architecture objectives for Tranche 0 and beyond."
---
Joining The U.S. Army's ABCT SOTM Pilot Program Is Kymeta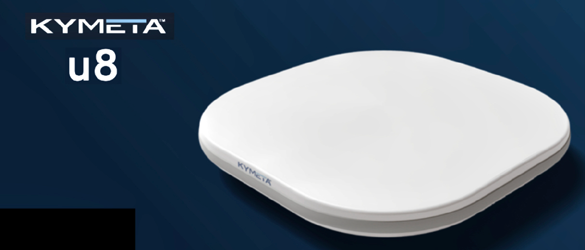 Kymeta has been selected to participate in the U.S. Army's Armored Brigade Combat Team (ABCT) Satellite Communications-On-The-Move (SOTM) pilot program — this program will assess communications solutions on select vehicles to enhance battlefield network and command post communications. The ABCT pilot program will be led by General Dynamics Mission Systems and Kymeta will supply eight u8 terminals for integration and testing on a variety of ABCT vehicles. According to Kymeta, the company is the world's first and only metamaterial-based SOTM terminal and its electronically steered flat panel antenna platform uses satellite and cellular connectivity for SOTM and on the Communications-On-The-Pause (COTP).
Today, the u8 terminal is the only electronically steered antenna available and capable of supporting both LEO and GEO satellite constellations. The u8 includes future-proof capabilities with the ability to automatically switch back and forth from GEO satellite constellations with linear polarization and LEO constellations with circular polarization.

Kymeta's advanced SOTM terminals automatically acquire and track satellites, join associated networks and establish communications without moving parts or operator intervention. In addition, the u8 supports multiple modems and network architectures, ensuring that legacy systems are interoperable and that they have the highest levels of security, encryption, and authentication.
"Kymeta's advanced technology has become an operational asset in many Special Operations units. We are honored to support the U.S. Army in its efforts to modernize ABCT communications," said Rob Weitendorf, Vice President, Business Development, Kymeta. "On-the-move tactical connectivity is essential for combat teams during mission-critical operations, and we are proud to support PEO C3T and PM Tactical Network in its efforts to improve communications in the armored brigades."
---
Xenesis Acquires Minority Interest In Assured Space Access Technologies
Xenesis, Inc. has taken an additional step toward vertical integration in space tech by acquiring a minority interest in Assured Space Access Technologies (ASAT).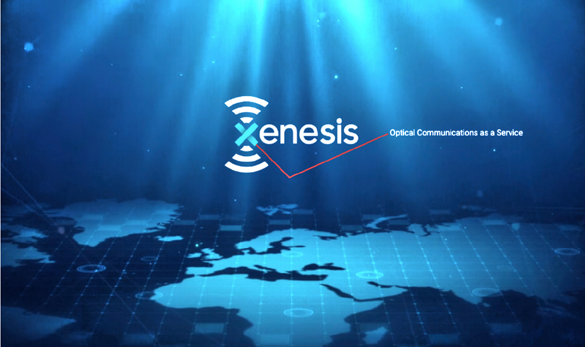 ASAT is led by Sean McDaniel, also CEO and co-founder of Atlas Space Operations (ATLAS). This move is the result of a mutual vision for advanced space communication technology shared between McDaniel and Mark LaPenna, the CEO of Xenesis. While each company focuses their operations in different areas and applications for satellite and space technology, the union will allow for certain synergies to be developed across the teams, as well as lead to better alignment on government and military solutions.
McDaniel spun off ATLAS Space Operations from Assured Space in 2015. Recently, Assured Space was awarded a Phase I SBIR through AFWERX to commercialize their dual purpose RF Lens based antenna technology, while adding value to US Space Force SATCOM and Space Domain Awareness missions. This announcement comes on the heels of another recent acquisition by the Xenesis team of a minority equity position in Space Micro Inc. (SMI).
"We are excited about our equity share in Assured and look forward to further codevelopment of intellectual property for Air Force as well as Space Force and other Xenesis customers that can benefit from the same cutting-edge IP," said LaPenna. "Mark and I have a shared vision for advancing the art of the possible in satellite communications technologies since we met in 2016. ASAT's 20 year history working on advanced US Government satellite programs coupled with our recently acquired RF Lens and Compressed Sensing technology brings interesting possibilities to the satellite communications stage for RF and optical," said McDaniel.
---
Enhanced, Military-Grade Encryption To Be Integrated Into Viasat's First-Ever, Link 16-Capable, Smallsat
Viasat Inc. (NASDAQ: VSAT) will integrate their In-line Network Encryptor (INE) into the world's first Link 16-capable LEO satellite, which the company is developing for the U.S. Air Force Research Laboratory Space Vehicles XVI program. Viasat's KG-250XS HAIPE Encryptor, the firm's lowest SWaP, rugged, HAIPE.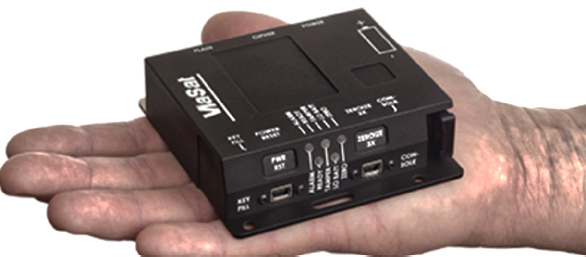 Viasat's INE will be the first crypto deployment on a Link 16-capable LEO satellite, and will provide communications security (COMSEC) and additional enhanced cybersecurity capabilities initially associated with mission data transfer, with future evolutions expected to simultaneously secure user data; telemetry, tracking and command (TT&C) management; and inter-satellite communications—at multiple security levels.
Viasat's INE, which was designed for a very low Size, Weight and Power (SWaP) constrained system, is expected to provide radiation-tolerant network encryption aligned with the LEO space environment and will be capable of supporting speeds exceeding 100 Megabits per second (Mbps) aggregate throughput, which makes it an outstanding encryptor to secure Link 16-to-LEO communications. The INE will also be able to secure the data flow between an unclassified spacecraft bus and the classified processing domain.
Over the past two decades, Viasat's information assurance business has achieved a number of industry milestones. The Company's PSIAM-based rugged, compact Type-1 cryptographic product portfolio already includes a ground-based satellite TT&C crypto (the KS-252) — which is currently deployed in the U.S. Air Force's satellite communications ground station architectures. This crypto is the foundation for providing the same innovative, multi-functional, programmable value proposition to the space segment.
"In addition to building and testing the first-ever Link 16-capable LEO satellite prototype, Viasat is also focused on delivering the first high assurance, fully-programmable crypto deployed in space," said Craig Miller, president, Government Systems, Viasat. "Our focus is on revolutionizing space-based cryptographic and cybersecurity solutions by moving away from embedded, fixed single-application ASICs and moving to 'plug and play,' fully-programmable, multi-functional and highly-efficient military-grade cryptos that can be rapidly deployed by supporting commercial off the shelf technology enhancements for small satellites."
---
Space Report Reveals Five Years Of Growth For The Global Space Economy

Commercial space grew 6.6% in 2020, representing nearly 80% of space economy — the US, China and ESA remain the top three investors in global space economy— US military space spending increased 6.1% in 2020, reaching new height of $26.6 billion.
Space Foundation, a nonprofit advocate organization founded in 1983 for the global space ecosystem, has just released "The Space Report 2021 Q2," which examines global space economy growth and trends in 2020, the continuing growth of commercial space activity, notable shifts in the global space economy, and U.S. military space spending in 2020.

"The Space Report 2021 Q2" found that in 2020 the global space economy rose to $447 billion, an increase of 4.4% from a revised 2019 total of $428 billion. This $447 billion space economy is 55% higher than a decade ago and part of a fiveyear trend of uninterrupted growth.
Commercial space activity grew 6.6% to nearly $357 billion in 2020, still representing close to 80% of the total space economy. Global government space spending fell 1.2% in 2020 to $90.2 billion from a revised 2019 peak of $91.4 billion. Nearly 58% of this total was allocated to space activities by the U.S.
Reflecting on the newly released data, Space Foundation CEO, Tom Zelibor, said, "The global space ecosystem is an emerging force for continued growth and expanded opportunity worldwide. The Space Report's Q2 findings verify that the global space economy not only weathered but actually emerged stronger from the worldwide pandemic that spanned three quarters of the year. It also validates the strength and resilience of the space ecosystem and illustrates why it's well positioned for growing investment, market development, and employment opportunities across multiple sectors."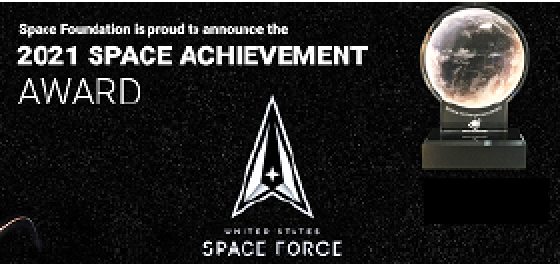 Globally, the top three investors in the global space economy remained the same in 2020: the United States, China and the European Space Agency. Collectively, these three entities constituted more than 81% of government space spending in 2020. This year's analysis also revealed notable shifts in the global space economy. Japan's 3% space budget increase in 2020 played opposite Russia's 37% reduction to make Japan the fourth-highest contributor to the global space economy. France increased its domestic funding by more than 40% in 2020, leapfrogging Germany and India to become the seventh-largest contributor to the global space economy in 2020 after Russia and the European Union. Lastly, Italy's 37% budget reduction shifted its 2019 ranking of 11 down to 12 in 2020, beneath Canada.
"The Space Report 2021 Q2" edition also investigates changing trends in global space spending between 2019 and 2020, revealing surprising spending decreases in traditionally dominant and developing space nations.
The Q2 edition also delves into military space spending in 2020, estimated at $31.4 billion, which constituted the smallest share of global government space spending in a decade — only 35%. Military space spending in the United States, however, increased by 6.1% in 2020, reaching a new height of $26.6 billion and comprising more than 80% of global military space spending for the first time since 2011. Also included in this informative report are additional insights, such as the trends in global space workforce employment, an analysis of President Biden's FY2022 space budget, a midyear update on 2021 launch activity plus Q2 investment and market analysis.
---
Now Qualified For Military Satellites + Space Power Solutions Is Microchip's Radiation-Hardened MOSFET
Power supplies in space applications operate in environments that require enhanced radiation technology to withstand extreme particle interactions and solar and electromagnetic events. These events degrade space-based systems and disrupt operations.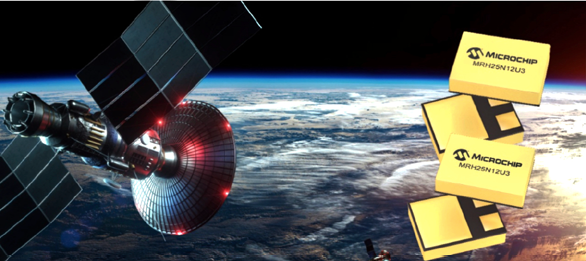 To meet this requirement, Microchip Technology Inc. (Nasdaq: MCHP) has qualified their M6 MRH25N12U3 radiation-hardened 250V, 0.21 Ohm Rds(on), metal–oxide–semiconductor field-effect transistor (MOSFET) for commercial aerospace and defense space applications.
Microchip's radiation-hardened M6 MRH25N12U3 MOSFET provides the primary switching element in power conversion circuits including point-of-load converters, DC-DC converters, motor drives and controls and general-purpose switching. The MOSFET withstands the harsh environments of space, extends reliability of power circuitry and meets all requirements of MIL-PRF19500/746 with enhanced performance.
Microchip completed testing for Defense Logistics Agency (DLA) review and qualification, for the device's sourcing in the U.S. military supply chain (expected JANSR2N7593U3 certification in June 2021).
The M6 MRH25N12U3 MOSFET is designed for future satellite system designs as well as serving as an alternate source in existing systems. The device can withstand total ionizing dose (TID) up to 100 krad and 300 krad and single event effects (SEE) with linear energy transfer (LET) up to 87 MeV/mg/cm2. It provides 100-percent wafer lot radiation hardness assurance in validation tests. "Microchip's entry into the radiation-hardened MOSFET market reflects our long-term commitment to support our customer base and provide aerospace and defense OEMs and integrators with high-performance solutions and continuous supply," said Leon Gross, vice president of Microchip's Discrete Product Group business unit. "In addition to our proven quality and reliability, the M6 MRH25N12U3 provides a value pricing option for developers and offers them full application support."
The M6 MRH25N12U3 is part of Microchip's broad portfolio of aerospace, defense and space technology that includes field programmable gate arrays (FPGAs), microprocessor integrated circuits (ICs), linear ICs, power devices, discretes and power modules that integrate both SiC and Si power solutions.— Microchip teams with space manufacturers and integrators to secure supply chains for existing and future systems.
---