---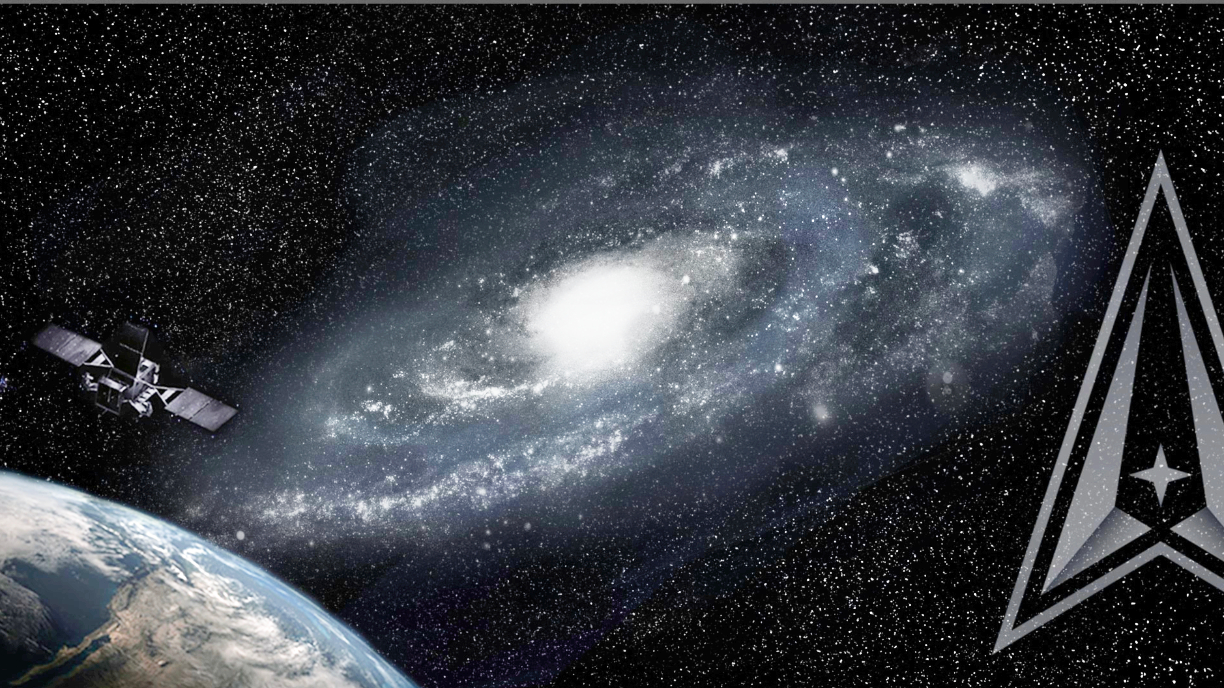 SSC Assured Access to Space
Mission Manifest Office Helps
Satellites Find Their Ride into
Orbit Faster.
Space Systems Command's (SSC) Assured Access to Space (AATS) Mission Manifest Office (MMO) is providing satellite vehicles affordable rides to orbit by maximizing multi-manifest (think rideshare) opportunities while ensuring security, safety and mission success.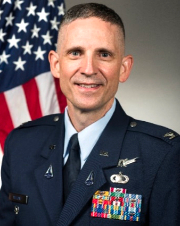 Colonel Chad Malone
"The mission is to survey all National Security Space (NSS) Launch missions for multi- manifest opportunities," said Col. Chad Melone, Director, SSC's Mission Solutions acquisitions delta. "In support of SSC's Operations directorate, we assess mission parameters along with the capability of the launch vehicle to identify the performance available for additional capability.
"After that has been identified, we coordinate across the government space enterprise — the Department of Defense, NASA, and the intelligence community to locate potential manifest opportunities that may integrate on that particular mission," Melone added. "The goal is to maximize capability to orbit for (NSS) Launches to most efficiently use government resources and benefit our space community."
In the past, National Security Space (NSS) satellites were usually launched by themselves — partly due to security concerns and the need to eliminate any integration risk to the mission, said Maj. Julius Williams, chief, Mission Manifest Office (MMO), SSC.
"We had a lot of satellites that were very high value, and if a customer was flying a billion-dollar satellite, they understandably preferred to have the rocket all to themselves," Williams explained. "They didn't want to take the risk of flying with someone else who could have contamination issues or simply be late to the mission and slow their ability to get capability on-orbit."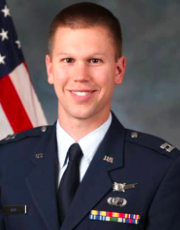 Captain Christopher Box
However, SSC has been able to provide that assurance of mission success through partnership and innovation, in order to use the excess performance available on these launch vehicles, said Maj. Christopher Box, MMO mission manager at SSC.
"There is definitely an increase in mission complexity when we're going down the road of putting additional payloads on a mission," Box said. "However, as space becomes increasingly congested and contested, it is critical to maximize our space capability in a flexible and responsive approach."
"Our goal is to ultimately benefit the warfighter and the taxpayer: putting the taxpayer's dollar to the best use in providing the best capability for the warfighter," said Capt. Carmen J. Riazzi, one of the MMO program managers who worked on two coming missions — EZIO on SBIRS GEO-6 and BLAZE, flying on the USSF 62.
The first multi-manifest mission for the MMO (which was stood up in 2018) was the EZ-1 Flight System on the Advanced Extremely High Frequency (AEHF)-5 that was launched in 2019.
"Since 2018, through multi-manifest efforts, SSC has successfully provided assured access to space for an additional 10,000 lbm (mass equivalent to one pound of force on Earth) of capability with more than another 24,000 lbm planned through 2024," Riazzi said. "That additional capability has enabled launching more than 40 additional satellites that would have otherwise required an additional launch."
"Customers provide a wide range of hardware, including satellites, hosted payloads, propulsive tugs, and other technologies," Williams said. "All capability manifested by the MMO requires a U.S. government sponsor. This requirement does not exclude commercial partnerships and collaboration, it just ensures that any capability flown is meeting vetted government requirements."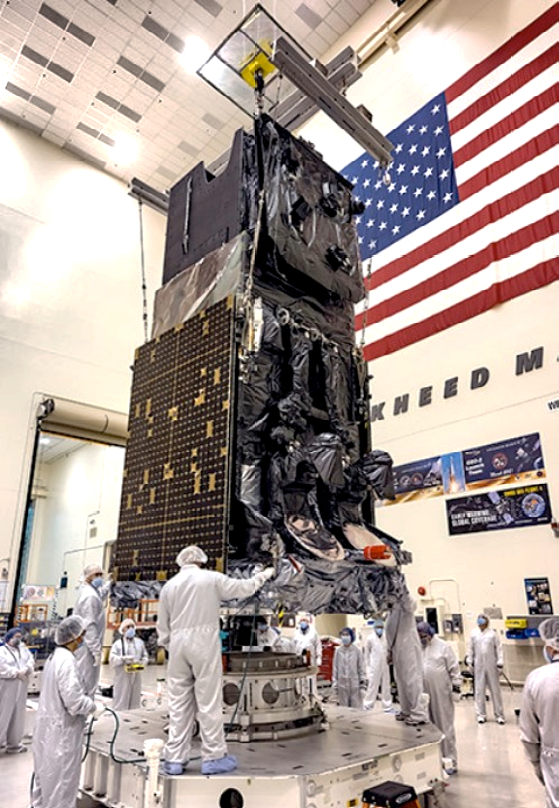 In September of 2021, Space Systems Command's (SSC)
Production Corps achieved a major milestone with the
completion of the final Space Based Infrared System (SBIRS)
satellite, SBIRS Geosynchronous Earth Orbit (GEO)-6 on
Sept. 2 at Lockheed Martin's Sunnyvale, California
production facility. Photo is courtesy of Lockheed Martin.
Multi-manifest launches involve a lot of complexities that various engineering and integrations teams must work through to make sure each mission is successful, Williams said.
Some satellites, particularly those headed for a Geosynchronous Earth Orbit (GEO) or higher than Medium Earth Orbit (MEO) or Highly Elliptical Orbit (HEO) may require substantial battery power or thermal power continuously from the launch pad to the point where they're deployed, Williams said. Other satellites may need additional access doors in the fairing — the smooth protective cover surrounding the space vehicle and its payloads — in order for technicians to access the payload directly until launch.
"There are some satellites that have very strict anti-contamination requirements and need to have the same clean-room environments for the other satellites riding along with it," Williams added. "Furthermore, when you're stacking and integrating a lot of satellite vehicles on top of each other via the various adapters, adequate coupled loads and center of gravity considerations are a must."
ESPA (Evolved Secondary Payload Adapter) rings that are used to transport satellite vehicles can be propulsive, separating from the launch vehicle and taking smaller satellites out to where they need to be positioned on-orbit, Williams said. They also can provide the battery power, electricity and thermal conditions necessary for certain missions. Other types of rings are non-propulsive and do not separate from the upper stage, and deploy the satellites attached to them into whichever orbit the launch vehicle inserts them.
Under the Launch Manifest System Integration contract, SSC has engaged with Parsons Corporation, which acts as the Multi-Manifest Systems Integrator and partners with SSC to help identify satellite vehicle customers who require a ride to space. To date, Parsons has successfully integrated four missions with the MMO and will be partnering on the SBIRS GEO-6 launch later this summer.
"Under the leadership of an assigned MMO mission manager, compatible satellite vehicles are finalized and Parsons works with various subcontractors to meet all necessary requirements for launch," Melone said.
The AATS Mission Integration Branch houses the Government Mission Integration Manager team that performs integration between the Launch Service Providers and the traditional satellite program offices to ensure mission success, Melone explained, noting, "Transparency, communication, and collaboration across agencies is critical to mission success; no one can afford to have a launch go catastrophically wrong or miss any opportunity to launch critical capability. The MMO, along with other SSC entities like the Space Test Program, Innovation & Prototyping, SSC staffs, and the newly minted Space Systems Integration Office are working in sync to ensure DoD priorities are met."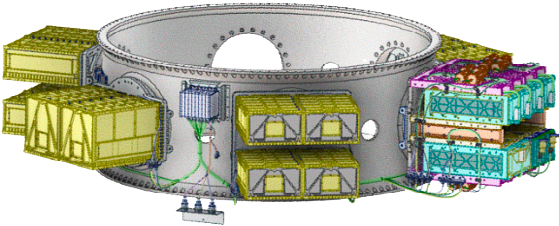 The Landsat 9 EFS – This Evolved Expendable Launch Vehicle
Secondary Payload Adapter (ESPA) Flight System (EFS) shows
how additional satellite vehicles can be integrated on a launch
vehicle to get more capability on orbit. The USSF-developed
EFS flew with NASA's Landsat-9 Earth observation satellite in
The MMO also is developing the Multi-Manifest Design Specification (MMDS) as a resource to small satellite builders and integrators looking to attain a multi-manifested ride to space, Melone added.
The MMDS is being developed in collaboration with the Small Payload Rideshare Association (SPRSA), Parsons Corporation, and numerous academic, commercial and government space organizations to specify recommended design requirements for smallsats to maximize flight opportunities.
The open-source document is analogous to the CubeSat Design Specification but for slightly larger smallsats with masses of up to about 700 kilograms (1,543 pounds). A common, bounded MMDS design will allow the MMO and other multi-manifesting organizations more flexibility to perform a late-stage satellite swap out, Box said, adding, "The current reality is that not all satellites manifested to launch are able to make their scheduled launch date, and the current mitigation is to utilize a mass simulator with the same mass and fit as the intended satellite to ensure the launch mission remains on schedule," Box said. "The ultimate goal is to be able to replace a de-manifested satellite with another satellite that is ready to launch, as opposed to utilizing a mass simulator. The MMDS paves the way to eventually being able to accomplish that goal.
"The MMDS is intended to make it easier for small satellites to find rides, which means it can swap among medium to large- class launch vehicles like the SpaceX Falcon 9 and the ULA Vulcan, or switch between a medium to large-class vehicle and a small dedicated vehicle," Box added. "The launch manifest is getting busier. Therefore, we anticipate an increase in NSS Launches and commercial missions which opens up flight opportunities for satellites of all sizes."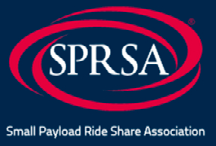 The MMDS provides numerous benefits to the small satellite community, Box said. These benefits include: standardized multi-manifest terminology; consolidation of medium- and small-launch vehicle environments to bound small satellite designs; recommended design requirements to interface with common multi-manifest carriers; appropriate testing and documentation requirements; "best practices" for logistics and launch site ground operations; as well as links to a repository of more detailed references.
For more information on the MMDS, or to provide feedback, interested parties may contact the Small Payload Ride Share Association or MMO team via email: mmds@sprsa.org or through the website at www.sprsa.org.
Contact Space Systems Command at SSC@spaceforce.mil follow on LinkedIn.
---