---
Collins Aerospace brings next-gen SDR to Five Eye and NATO nations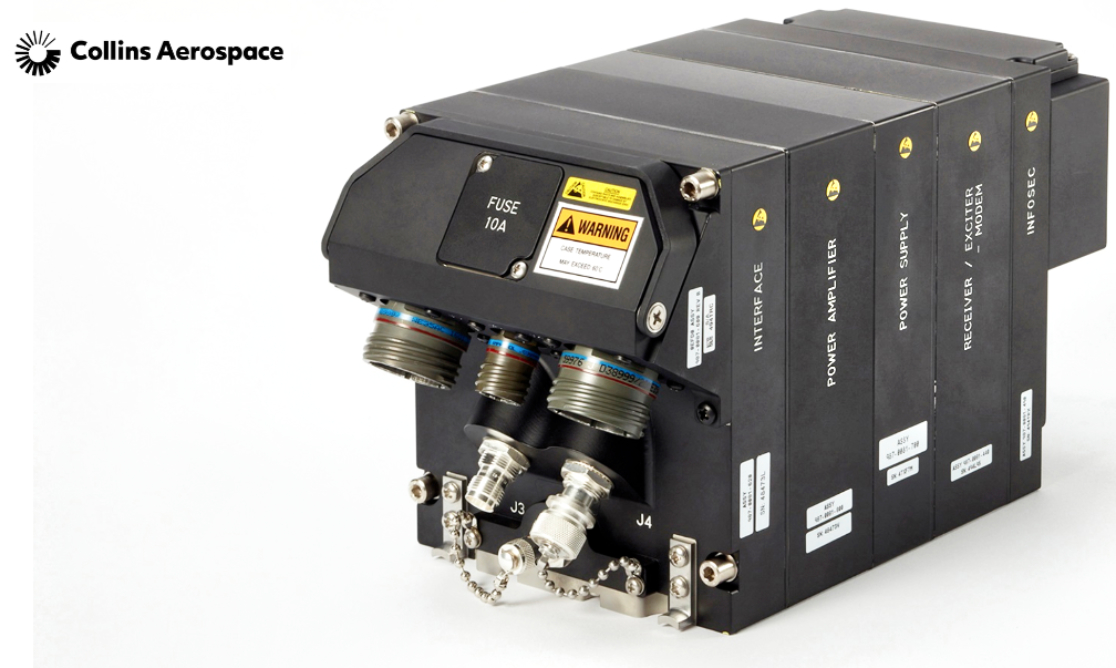 Collins Aerospace's next generation, software-defined, airborne communication system – ARC 210 Gen6 – is now authorized for delivery to Five Eye and NATO nations.

This advanced airborne radio features the latest satellite capability (MUOS), anti-jam technology, embedded high-power output as well as the latest modernized cryptology for enhanced situational awareness (SSA) and seamless communications in challenging/contested environments.

The ARC-210 Gen6 integrates a next-generation networking capability and variants can be reprogrammed and customized as needed, without sacrificing performance or security. It also expands its frequency range from 30 MHz (Tactical VHF) to 1850 MHz (L-band). Variants of ARC-210 are the most widely fielded airborne military V/ UHF radio in the world, with more than 50,000 delivered units operating on more than 200 platforms in over 50 countries.

The ARC-210 Gen6 is now available through Foreign Military Sales (FMS) to authorized countries. Collins' international variant of this architecture — the AR- 1500 — is deployed across the globe with customers in Europe and the Asia-Pacific region. Fully software defined, the AR-1500 provides the same frequency range and RF performance as the ARC- 210 Gen6, but with a selection of waveforms and capabilities unique to the direct commercial sale (DCS) market, including electronic protection and embedded cryptography.

It also features AES256 embedded encryption. "The ARC-210 family of radios has enabled millions of critical messages to be exchanged for more than 25 years, providing U.S. and allied military forces with reliable and secure communications when it's most essential," said Ryan Bunge, vice president and general manager, Communication, Navigation and Guidance Solutions for Collins Aerospace. "It is fully software-defined to bring tomorrow's technologies to the battlespace today and deliver the latest in SATCOM, encryption and anti-jam technologies, ensuring customers' mission success now and as requirements advance in the future."

Collins Aerospace, a Raytheon Technologies business, is a leader in technologically advanced and intelligent solutions for the global aerospace and defense industry. Collins Aerospace has the extensive capabilities, comprehensive portfolio and broad expertise to solve customers' toughest challenges and to meet the demands of a rapidly evolving global market.
www.collinsaerospace.com SlingShot Satellite Communications adds capability to UK Peacekeeping Mission in Mali

Spectra Group in partnership with Inmarsat is enabling strategic communications for the UK peacekeeping mission in Mali (Op Newcombe) with its SlingShot SATCOM system.

This announcement coincides with Eurosatory taking place June 13 to 17 in Paris. Spectra Group's SlingShot is on display at the AADS stand (Hall 5A Booth No F-668) fitted to a protected AADS J8 Command Vehicle to demonstrate this fully integrated, satellite communications capability.

Winner of the Queen's Award for Innovation in 2019, the SlingShot system is low in size, weight and power (SWaP) and can be integrated with current, in-service, UHF and VHF tactical communications systems.

With minimal training and investment, a user can extend radio range from 30 to 1000(+) km. and deliver true Beyond Line of Sight (BLOS) and Communications on the Move (COTM) on all platforms and in all conditions with one system.

Op Newcombe is the UK contribution to the United Nations Multidimensional Integrated Stabilization Mission in Mali (MINUSMA) and is in support of UK Defence Priority Outcome 3 – Enhance global security through persistent engagement and response to crises.

Since October 2020, the United Kingdom has deployed a long- range, reconnaissance task group, using the Supacat Jackal 2 reconnaissance vehicle to provide detailed reconnaissance information to the UN mission, to enhance security for the Mali population and deter insurgent activity. SlingShot was developed for, and is used by, specialist forces globally and is operationally proven in conventional scenarios. As such, it is well suited to the demands of long-range reconnaissance in Mali, where personnel are deployed in remote locations.

The use of such innovative technology as SlingShot also perfectly aligns with the UK's Defence Strategic Enabler Objective 2 – Use of Innovation, Technology and Data.

In addition to robust BLOS voice capability, SlingShot has sufficient bandwidth to carry critical data to support essential applications such as: Situational Awareness tools; GPS tracking; reporting and other data messaging without the need for a ground-based, line-of-sight, re-broadcasting architecture. Finally, SlingShot's omnidirectional antennas provide manpack, land, sea and air platforms with real- time COTM, rather than having to be static, as experienced with traditional TACSAT systems.

These capabilities combine to provide a "battle winning" strategic enabler for UK forces deployed in support of UK Defence objectives, while also showcasing British innovation and technology to global defence markets. Simon Davies, CEO of Spectra Group, said, "We are immensely proud that SlingShot is described by our users as a battle-winning capability, and in how successful it has been in solving the communications challenges faced by both specialist and regular forces.

It is truly plug and play, converting any in-service tactical radio system into a BLOS and COTM satellite communications system, with minimal training, so that users can fully focus on the task in hand."
spectra-group.co.uk
---
ATLAS Space Operations receives a Defense Innovation Unit award for federated network demo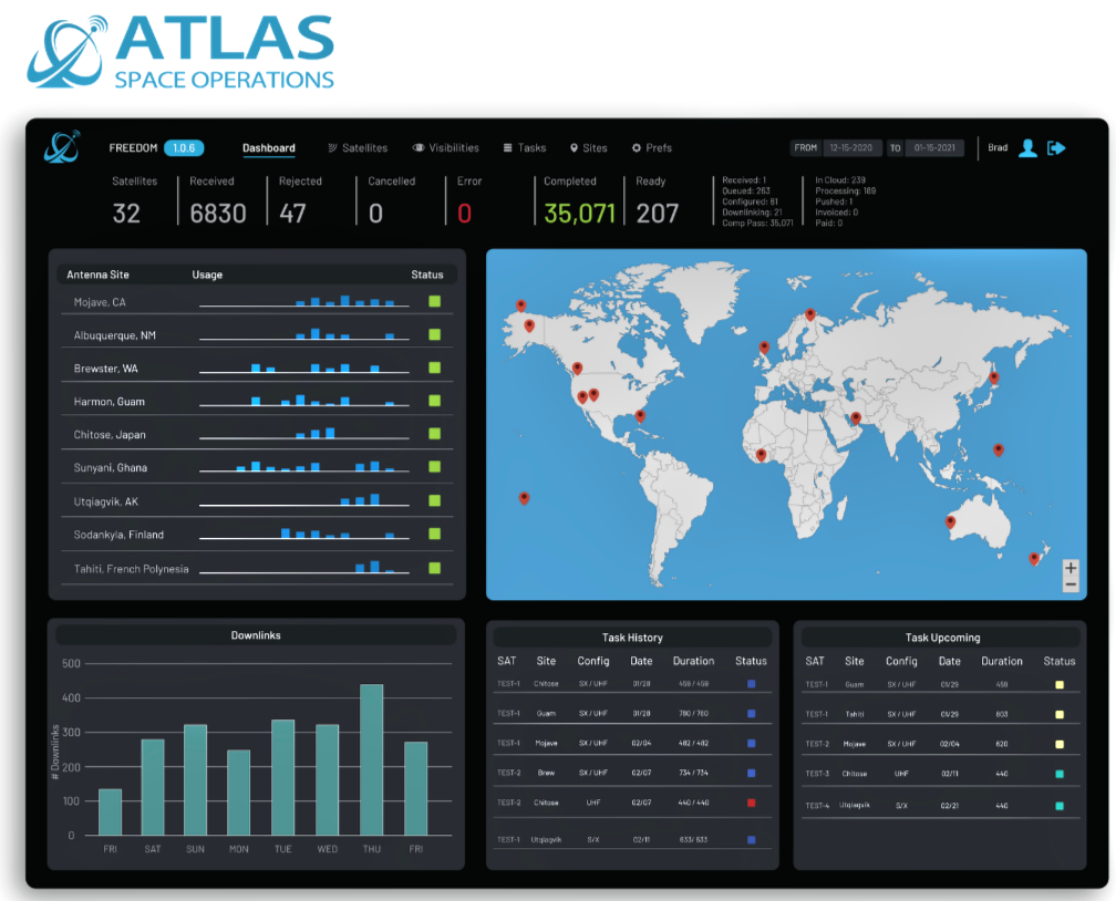 ATLAS Space Operations has announced that the Defense Innovation Unit awarded the company the Hybrid Space Architecture (HSA) contract to demonstrate a federated network.

Leveraging its operational experience and prior development activity, the HSA capability represents a major advancement in network management, which is particularly meaningful for aging communications infrastructure.

Building on ATLAS' proprietary technology to easily integrate complex disparate systems, the federated network invites new possibilities that meet the evolving needs of DoD and commercial clients.

Whereas ATLAS' prior work with disparate networks enabled easy intra-network communications, its HSA initiative introduces capabilities that are fully federated — allowing communication to flow across disparate government and commercial networks.

Now, spacecraft and antenna operators have the opportunity to make use of any participating network regardless of the site owner or hardware. Leveraging its cloud-hosted Freedom™ Network Management Platform, ATLAS enables the seamless transfer of data streams across DoD, Civil, and commercial platforms.

The inter-network operability provided by Freedom™ allows each of these operators to conduct their communications across a newly available slew of infrastructure, enabling easy offloading of expiring infrastructure.

The future of sustainable space communications includes a mix of existing and new infrastructure. ATLAS' Hybrid Space Architecture offers a solution that enables new and old technologies to operate across the same platform, creating new opportunities for the entire domain of ground-space data transfer.

To address the hardware constraints of varied clients, growing satellite counts, and expanding applications, ATLAS is applying its innovative Freedom™ software at a crucial point for the industry.
atlasground.com The NRO is partnering with the UKMOD for the 1st commercial rocket launch from the UK

The National Reconnaissance Office (NRO) is partnering with the United Kingdom's Ministry of Defence (UK MOD) on the historic, first commercial rocket to be launched from the UK, as announced at Defence Space 2022 by Defence Procurement Minister Jeremy Quin.

Virgin Orbit will send nine, multi- national rideshares to orbit using the LauncherOne small launch platform via a modified Boeing 747 aircraft later in 2022.

This mission—launching UK MOD Defence Science and Technology Laboratory's two Prometheus 2 smallsats—is the latest example of increased UK and international space cooperation.

This is the first launch from British soil and will also be the first commercial launch from Western Europe.

Launching from the UK marks a continued expansion of NRO's overseas launch locations in addition to New Zealand providing NRO with the ability to launch from three continents. LauncherOne expands NRO's innovative launch capabilities as the agency's first, horizontal launch A modified Boeing 747 aircraft, Cosmic Girl, with the LauncherOne rocket will take off from Spaceport Cornwall located at Newquay Airport in Cornwall, England.

Additional information on launch timing will be made available from the UK Space Agency and UK Civil Aviation Authority. "Since its inception more than 60 years ago, NRO has been pushing the boundaries – finding ever-more innovative ways to leverage space in order to secure and expand our intelligence advantage, and protect and defend the United States and our allies," said NRO Director, Dr. Chris Scolese.

"It's an honor to join the United Kingdom's Ministry of Defence in announcing this historic enterprise. We look forward to this remarkable achievement as the foundation of an even stronger collaboration between our nations."

"This is a great example of the power of international collaboration – a key tenet of our Defence Space Strategy," said UK MOD Director Space, Air Vice-Marshal Harv Smyth.